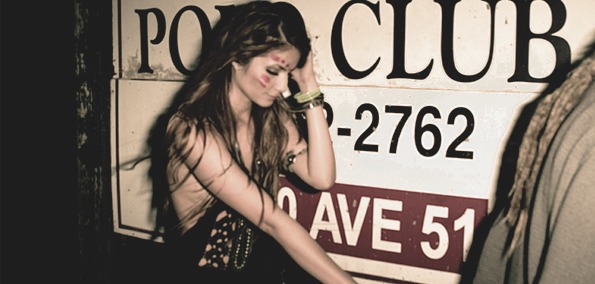 One of our specialties at Earmilk is introducing music that gets you to groove and dance. Whether it's dubstep, indie rock, electro raves or belly twirls, there's a section, a beat and a move for everyone. That said, this next rising band hails from Washington D.C. and they provide dance floor anthems for modern disco nerds.
Previously in a jazz band, members Mike Okusami and Cody Hochheiser have joined forces to form a banging pop duo under Mike and Cody. Here is a brief history from Cody Hochheiser.
"We became friends and would jam on jazz stuff but a few years later we started collaborating on more poppy kinds of music. He went off to Berklee College of Music in Boston and I went to the same area, to Tufts University (where I am senior now). This past summer we started getting kind of serious about making actual songs, so what you're hearing is a few months of writing, recording, production and mixing almost always in Mike's apartment in Boston. The two of us do everything - he is an absolute genius at production and engineering and also plays most of the instruments - bass, guitar, synths - I'll play synth sometimes. We both sing -he is lead vocals on "Headphones On" and "Devilish" and I am lead on the other five songs on the EP (though you can hear Mike singing some back-up on all of those if you listen closely!)
Main influences -- David Bazan (melodies, chords sometimes), Daft Punk (cool party/electronic/robot vibe), Dr. Luke (radio catchiness and some synth sounds and beats), Michael Jackson (groovyness, 'tude, guitar parts), Of Montreal (sad little pretty melodies), Julian Casablancas ('tude, 80's-ness), Phoenix (combination of different elements and just rocking, dance-able sound), nostalgia (we both are extremely nostalgic- so often think of little sounds or melodies we loved in childhood, whether it's the Nintendo-sounding synth you find in a bunch of our songs or the samples of Morse code or sonar that for some reason make us feel all nostalgic)."
Mike and Cody just released a 7 track EP entitled Let's Go!. Being "music first" guys, topics of each song were determined after finding a sound first. While the tunes on Let's Go! have partying beats similar to Chromeo, verbal subjects range from girls to abstract thoughts. This Let's Go! EP is an expression of their feelings and singing what feels right. For a copy of Let's Go!, visit their Bandcamp and pay however much you'd like. Why not let Mike and Cody soundtrack your holiday break? Enjoy a couple favorites below.
01 Im Gonna Steal Your Date
Download:
Mike and Cody - I'm Gonna Steal Your Date
Download:
Mike and Cody - Everything You Do