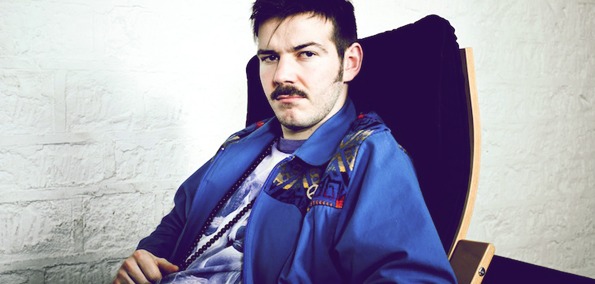 When he's not climbing in yo window and hosing you and hundreds of dollars worth of gear with a fire extinguisher, Club Cheval's Panteros666 is on the tip of spearheading forward thinking club music. Let's set aside the beef and not turn this into dance music's wimpy attempt of Bad Boy vs. Death Row. The 3 originals on Javelin are hard not to kiss, even if the press makes him come off as a dirty asshole. Forging a trance induced coma in spaced out super saws prompted with a rude obnoxious donk. Not to worry about such a guttered genre, it's not jacked enough for the yaks in Northern England - you've never heard anything like this before. And with vivid juvenile imagery of a grown Panteros LARPing about in a twisted forest music video, I think it's safe to say it was drugs not alcohol.
http://www.youtube.com/watch?v=cPNoeoJNjo0
Putting the other two originals under the table would give this EP no justice. What makes this release is the fact that each track can stand up against each other. "Enio Moticone" sounds like it came from the mind of Flat Eric but the elevated breakdown sets it apart, rising your ears only to sentence you back down into fruity pebble melancholia. But its the screwball lunacy and genuine mania on "Saint Louis" that lays the guilty verdict. Cosmic future house stylings are brought to order with the hammer of a hardstyle kick and lamenting vocals.
Panteros666 - Enio Moticone

Panteros666 - Saint Louis

07 Rays (Panteros666 Remix)
Download:
Magnum - Rays Panteros666 Remix
As of writing this the conflict seems to have settled behind closed doors. Either way stay above the drama and take in the audible class both parties have to offer. I'll toss in one of my favourites as a bonus that was remixed for an EP on Nightshifters. Be sure to have a look at the Panteros666 catalog, especially his cameo in Bust 'Em Up and his solo debute on Sound Pellegrino.