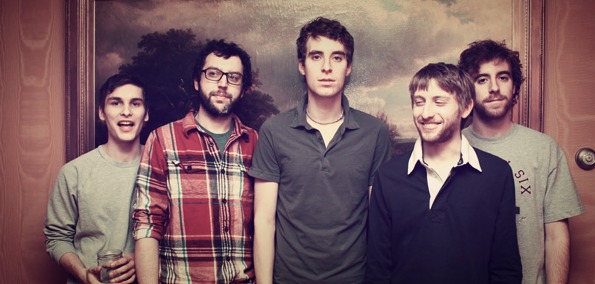 It seems like most of my CMJ band discoveries were made at BirdDog's showcase on Saturday afternoon. Here is a shimmering indie group from Detroit, Prussia. This band tickled my ears with the energetic vocals and perky instrumentals. Take the catchiness of Pomegranates and Vampire Weekend, then add another coat of nasally wails. Prussia is distinctively melodious. They have a series of Poor English EPs, part 1, 2 and part 3 was recently released through Notown Recordings. Here are a few samples.
A little fun fact: If the band members accepted chocolate from two random girls (Lori and I), they must be fun and lighthearted!
04 Saint Elmos Fire Pt. 2
Download:
Prussia - Saint Elmo's Fire Pt. 2
Download:
Prussia - Mediator
Prussia's Upcoming Travels
11/03/11, Lansing, MI- Mac's Bar
11/04/11, Mount Pleasant, MI- Rubble's Bar
11/11/11, Detroit, MI- Old Miami
12/22/11, Pontiac, MI- Crofoot 
Bandcamp Prussia, tweet Prussia.