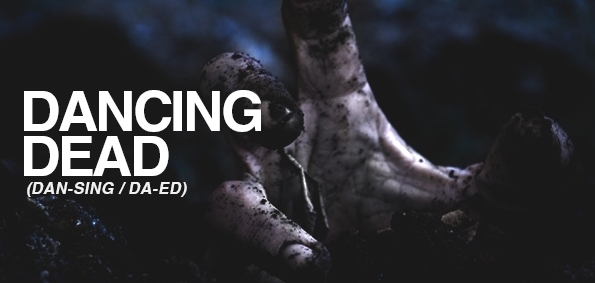 I am Naeleck from Lethe --  once, I was a human being with the foolish dream of becoming the best DJ in the world, but - I've since become deceased.
I'm not quite sure about what happened, and I can't remember shit about my past life. What I do know is, that during the night, I look anything but human and I can't appreciate your polished music. Instead, what many would call "noise" brings me satisfaction. Luckily, as some would say, it seems that despite "my taste" and having curse like characteristics, many other human beings seem to also have this perversion in music. So every month I will share my affliction to those who have grown tired of following the day walkers, the straight and narrow. This is not for the squeamish -- huge beats, dirty basslines and heavy leads full of distortion.
So that said, here we are, Dancing Dead, Month 2, also featured on Taku Takahashi's Radio, TCY Radio Tokyo, soon to be Block.fm.
[soundcloud url="http://api.soundcloud.com/tracks/26625209" params="show_comments=true&auto_play=false&color=000000" width="100%" height="81" ]
Intro
Ferry Corsten - Check It Out (Bassjackers Remix)
No Body - Straight To The Dome (Original Mix) - Exclusive
Dallask - Jupiter (Original Mix)
Flora - Rediscovery (D.I.M. Remix)
The Oddword - Fire (Original Mix)
Freakhouze - My Brain is Bigger than Yours (Lazy Rich Remix)
Ludovic - Dusty (Dirty Disco Youth & Duo Synchron Remix)
Le Castle Vania - Awake (South Central Remix)
Dilemn ft Youthstar - Better World (Blatta & Inesha Remix) - Out soon
Wolfgang Gartner - The Way It Was (Extented Mix)
Dan Sena - Song of Siren (LAZRtag Remix)
Controls - Forever Techno (Ikki Remix)
Controls - Forever Techno (Vengeance Remix)
Hussle Club - Night Society (Your Dirty Habit Remix)
VNNR - What!? (Original Mix)
"He who fights with monsters should look to it that he himself does not become a monster. And when you gaze long into an abyss the abyss also gazes into you."
- Friedrich Nietzsche "Beyond Good and Evil", Aphorism 146 (1886)
Next show gonna be aired live on Block.fm Friday 11/25 from 11 PM (JST) and then available to download here as usual.