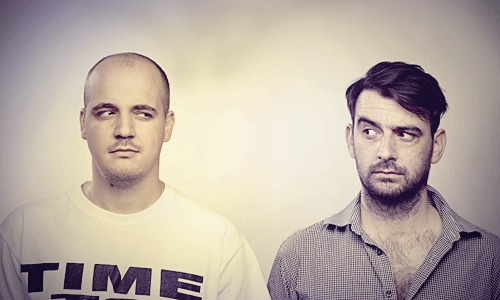 Riding on happy bleepy bloop waves (you kids and your newfangled electronic music) from their latest album release, Monkeytown, Berlin duo Modeselektor have churned out even more greatness with their Essential Mix from last Saturday. I'm certainly a follower of BBC Radio 1's Essential Mix, but it's only occasional that one really gets me excited, and this mix is worthy of posting for sure. 
You can find the tracklist and a stream on BBC Radio 1's website for a few more days, or stream or download the mix below. This mix features Modeselektor's own originals and remixes as well as tracks from varied, fresh artists like Zomby, Surgeon, Plastikman, Blawan, Untold, Instra:Mental, and many more. You won't even realize that it's two hours long. 

Download: Modeselektor - BBC Radio 1 Essential Mix
The best way I can describe the commonalities that bring this mix together is that it's all the music of the future -- these are artists who, within the electronic field, are doing something new and different. There's a dark, bass-laden undertone to these tracks, and even if Modeselektor's production isn't your cup of tea (or milk), there's probably something for you here. And if you're a fan of Modeselektor, it's awesome discovering the diversity of their roots. Chances are, no matter who you are, you'll fall in love with a few new tracks in this mix, and it's not stuff that's been rehashed a million times.
Tracklist:
Surgeon -- Dark Matter
Beasty Respond -- Syncopy (Blawan's Trecther Mechanica)
Bambounou -- Alpha
Zomby -- Mosaik
Lorca -- Holdback
Tom Bulwer & 2deep -- London Nights
Benjamin Damage & Doc Daneeca -- Creeper
Björk -- Dullflame Of Desire (Modeselektor's Remix For Girls)
Moderat -- Rusty Nails
Radiohead -- Morning Mr. Magpie (Modeselektor's Good Evening Mrs. Magpie Remix)
Marcel Dettmann -- Shatter Proof
Radiohead -- Bloom (Blawan Remix)
Ossie -- Creepy Crawlies
2562 -- Flashback
Dark Sky -- Speeding Blue
Brodinski, Djedjotronic, Noob & Havard Bass -- Extreme Compote
Toadally Krossed Out -- Go
Fis-t -- Ultra Night Hunter
Plastikman -- Spastik
Cosmin TRG -- Izolat
Anstam -- Baldwin
Untold -- Stop What You're Doing (James Blake Remix)
Instra:mental -- Thomp
Robert Hood -- Range
Alex Cortex -- Hyendo Pt.2
Equalized 04 -- B
Substance -- Relish Bonus
Vainqueur -- Lyot (Maurizio Remix)