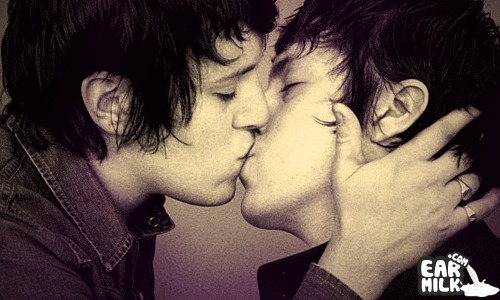 I have to admit that my interview with Ed Banger's Sebastian (he dropped the capital A recently) was not ideal. I like to think this was neither of our fault: the media tent at Electric Zoo on Randall's Island in New York City was located directly next to the main stage, which was emitting pounding, unavoidable bass circa 8:30 pm on Friday. My poor-ass blogger self had only brought my regular digital camera as an audio recording device, hoping that this would be sufficient equipment for recording interviews (as it has proven to be in the past). It wasn't even the ghetto recording device that was an issue: we could barely hear one another speak over the music and basically had to yell into each other's ears. Nonetheless, it was an honor to be able to interview Sebastian right after he played an amazing set and I was definitely still riding waves of excitement from his performance.
Download:
Sebastian - Prime
Sebastian played an hour-long live set in the Red Bull Riverside tent from 6:40 to 7:40 pm on Friday, and his performance was definitely one of the highlights of the festival for me. Everything about it was on point, perfectly orchestrated, from the sinister, dystopian visuals to the dirty electro sounds to the theatrics of Sebastian himself (from constantly drinking and smoking--and looking like a total badass--to behaving like our next authoritarian ruler, one whom most of the crowd would likely welcome the iron-fisted leadership of). He finished his set with one of the few encores of the Zoo, concluding with his own faux assassination. Afterwards, we sat down for a brief interview, with Sebastian holding my camera in one hand and a pack of cigarettes in the other.
How do you usually prepare to do a live set like the one you just did?
You'll have to be more precise, because I don't understand exactly. Like what do you mean exactly?
How do you come up with inspiration for the whole visual setup, do you think a lot before about what music you'll play?
Most of the time, in clubs, or in festivals, you have kind of a nice and empty reverence so I try to make something different about how you can have fun and at the same time be in a very bad mood. Because every time you go to a big festival, something very nice but something very ideal sometimes because people are coming there to forget everything around but I don't want them to forget everything around. I want them to remember that it's not funny. Not so much. But they can have fun with this kind of thing. They can have fun with these kind of evil things which happen everywhere. But this is the point, kind of.
What kind of musical background do you come from?
At the start, I come from kind of the experimental. I have a brother who is 15 years older than me, and when I started he was almost 40 and was trying to make me understand that I should make something that is different. Even in club music, it's very important.
What's your favorite location to do live shows? 
Small clubs, definitely. It's not that I don't like the bigger things, but small clubs, you can see their eyes, they can beat you if you are not doing your job well. In real life, I always prefer to be in front of somebody, and in big festivals it's more abstract, it's more just like, you just have "people", but I believe, big or small, it should be a guy, or a woman, or something.
Are you going to be seeing any of the other acts here today?
The problem is that I just arrived, unfortunately, probably I could say yes, but I don't remember. I arrived maybe two hours ago. 
What kind of music have you been listening to lately in general?
Very, very sweet music. Like Billie Holiday, Carmen Macrae, Sam Cooke, Chetbaker.
What kind of new stuff are working on right now?
I'm working on the next album for Kavinsky. I'm working on my own new album, I'm going to come out with a new album very soon. Another one.
Daft Punk - Human After All (SebastiAn Remix)
Download:
Daft Punk - Human After All (Sebastian Remix)
What's your favorite of the remixes that you've done?
The Daft Punk one. 
If you could work with any artist, who would it be?
Iggy Pop.