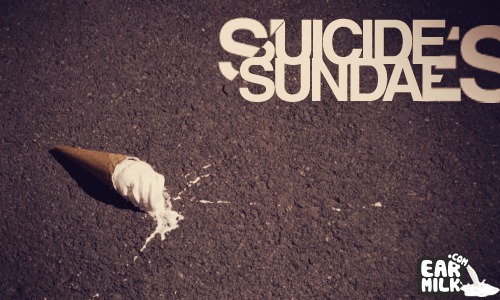 Suicide Sundaes - stop your grinnin' and drop your linen. Every Sunday electblake of Earmilk will bring you the weeks dirty servings, and some old favorites through a throwdown-throwback to simpler times. A time when bangers were big, remixes were bigger, the bassline bled, and we didn't care about anything as long as came in kicking and left screaming. To hell with sketchy Sunday, we want to shove another dragon down the hole.?
So its just one week away from the 52nd week of Suicide Sundaes. It's something I never really envisioned but always aspired to. I started Suicide Sundaes because during those first days of "blog house" the the music industries shift to online medium for tastemakers homes I was a big fan of Palms Out Sounds. Palms Out used to have (and have now restarted) Remix Sunday. Where I found week after week of great new remixes of artists I never knew.
That has always been the goal of Suicide Sundaes - to bring you new tracks from great artists who have been buried by the spam inherit with the internet in general.
Anyway - we'll have more time for reminiscing about SS & Earmilk next week - for now, lets get to this late night banger set of Suicide Sundaes.
On the topic of late, I am sorry. SposhRock got my talking and well, the young Torontian discovered my weakness for people who trust my judgement heh.
This week we have new Drivepilot, Dj Antention, Feadz, Boys Noize, and a killer remix of the latest from the godfathers of electro themselves - The Prodigy.
Be sure to checkout Far Too Loud and some Lucky Date oldies - both are great acts I never really took the time until now - and I'm happy I did / you will.
Skitsnygg, Audiobotz Fuzzy Chest Hair and Half & Hour are the surprises this week that will make for that break-out remix or the unknown gem in your next set.
Happy Winter Everyone. Check those corners and, as always, stay frosty.
The Ultimate Feat. Boys Noize (Original Mix)
Download:
Feadz - The Ultimate Feat. Boys Noize (Original Mix)
Download:
Dj Antention - Nationalism Original Mix
Download:
Drivepilot - Bloody Knuckles
Addicted To You (SUbpRIME Remix)
Download:
The Count & Sinden (feat. Bashy) - Addicted To You (SUbpRIME Remix)
Latin Fever (Lucky Date Remix)
Download:
Wolfgang Gartner - Latin Fever (Lucky Date Remix)
The Anthem (Lucky Date Remix)
Download:
Zedd - The Anthem (Lucky Date Remix)
Everything You Wanted (Disco Of Doom Remix) (Datadex Reworked)
Download:
Kele - Everything You Wanted (Disco Of Doom Remix) (Datadex Reworked)
The 1st (Far Too Loud re-fix)
Download:
X-Dream - The 1st (Far Too Loud re-fix)
Download:
Half & Hour - Dr. Endo
That Money (Defunct Kid Komas Remix)
Download:
DJ Irwan Featuring Lil Wayne - That Money (Defunct! Kid Komas Remix)
Download:
Aniki - Superbooty 2010
Right about now (Audiobotz Fuzzy Chest Hair Bootleg)
Download:
Mousse T - Right about now (Audiobotz Fuzzy Chest Hair Bootleg)
Music Sounds Better With You (Kaytradamus Remix)
Download:
Stardust - Music Sounds Better With You (Kaytradamus Remix)
Download:
NAPT, Bashy, 2Pac, Chromeo - Make My Millionaire
Long Growl - Static Angger Dimas vs Nicky Romero (Helena Bootleg))
Download:
Helena - Long Growl - Static + Angger Dimas vs Nicky Romero (Helena Bootleg))
Download:
Wazabi - Interplay Original Mix
Innocent (Far Too Loud Remix)
Download:
30Hz Ft. Yolanda - Innocent (Far Too Loud Remix)
Download:
The Ting Tings - Hands (Skitsnygg Remix)
Download:
Future Prophecies - Dreadlock (Foamo remix)
Download:
Far Too Loud - Banana Boy