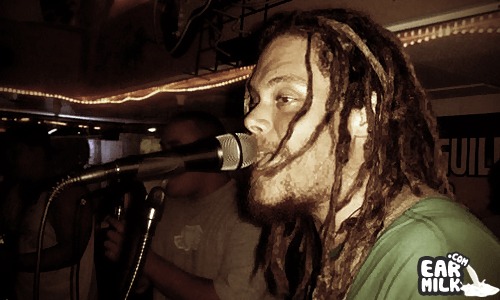 This is your Daily 2% – Chilled and Ready to Serve. We will try to bring you one "chill" track every day. This is for when you get home and you are trying to unwind. You reach for that glass of wine or that unlit Black & Mild or maybe you reach for something more herbal. This track is for those times. We are just your milkmen and I'm here to make a delivery. Chill…
Today's delivery is brought to you by The Green. These guys have slowly been taking the Hawaiian reggae scene by storm and they have just started their North American tour. They have such a chilled vibe but you wouldn't expect much less from a group who has its roots in Hawai'i. Their self-titled debut elbum, The Green, was released in Feburary and quickly made its way up the reggae charts. To celebrate their tour; I've included two tracks from the album which include "Love I" and "Runaway Train". Both of these tracks have the theme of "love" so everyone can relate to the feelings. Even if you wouldn't consider yourself a reggae fan; give this group a try and go in with a chilled out and open mind. Also they are giving away 4 free tracks over on www.thegreen808.com. Check out the tracks and chill….
Formed in 2009 in Oahu, The Green blends roots reggae with traditional Hawaiian vibes. Their self-titled debut album premiered at number three on Billboard's Reggae Chart, and remained in the Top 10 for 25 straight weeks. Released in February 2010, The Green includes the hit song "Love I," which continues to climb the AC Top 50 Chart.
Download:
The Green – Love I
Download:
The Green – Runaway Train
The Green Tour Dates
Nov 11 – Corpus Christi, TX – House Of Rock
Nov 12 – San Antonio, TX – White Rabbit
Nov 13 – Tyler, TX – The Venue at Down Under
Nov 14 – New Orleans, LA – The Parish @ House Of Blues
Nov 16 – Birmingham, AL – The Nick
Nov 17 – Tallahassee, FL – Floyd's Music Store
Nov 18 – Orlando, FL – The Social
Nov 19 – Fort Lauderdale, FL – Culture Room
Nov 20 – Jacksonville Beach, FL – Freebird Cafe
Nov 21 – Atlanta, GA – The Masquerade
Nov 22 – Charleston, SC – Pour House
Nov 23 – Carrboro, NC – Cat's Cradle
Nov 26 – Washington, DC – Rock & Roll Hotel
Nov 27 – New York, NY – Sullivan Hall
Nov 28 – Teaneck, NJ – Mexicali Live
Nov 30 – Pawtucket, RI – The Met
Dec 01 – Cambridge, MA – TT The Bear's Place
Dec 02 – West Chester, PA – The Note
Dec 03 – Baltimore, MD – Sonar
Dec 04 – Cleveland, OH – Beachland Ballroom
Dec 05 – Chicago, IL – Bottom Lounge
Dec 07 – Fort Collins, CO – Aggie Theatre
Dec 08 – Denver, CO – Bluebird Theater
Dec 09 – Salt Lake City, UT – Club Sound
Dec 10 – Flagstaff, AZ – Orpheum Theater
Dec 11 – West Hollywood, CA – Key Club
Dec 12 – Las Vegas, NV – Crown Theater & Nightclub