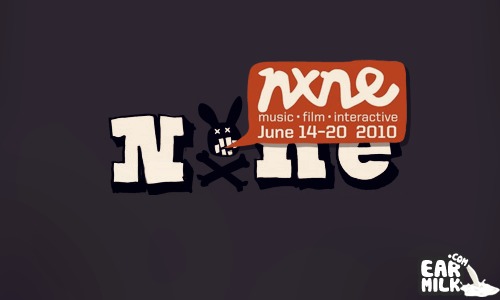 So here in Toronto, we have a music festival every year called North by North East (or nxne). Its modeled after the other Direction by Direction Direction festivals but the spin is that its mostly local and independent bands - I love it.
This is the 16th year and its 650 bands across 7 days and 50 venues across the city and across all musical genres. Be it Country, Electro, Mashup, Indie, Rock, Hardcore or Shoegazai NXNE will deliver. Below I've collected my personal favourites as a guide for tonight's performances. There are a few stand-outs denoted by the * and I want to take a minute to talk to a few of 2 of 'em.
The Balconies are a Toronto band, who I did actually interview a couple of months back after a show through the Tara Secret Sessions out east at Queen & River. They are playing at the CN Tower (?!) tonight which is only appropriate - having caught them those months ago I know that it will be a great show. They are always have a stand-out performance and just ooze that "x" factor.
The Dirty Dishes are the only state-side band on the itinerary for tonight and I'm happy they made the trek. I've never been a huge shoegaze fan but I never turn down an opportunity, and with a great female lead, some interesting instrumentation and of course solid guitars they are a must-see for me.
So, I'll be trying my best to hit up the *'d listings below, with the top 2 mentioned shows being a pretty much 100% so maybe I'll see you guys there :)
EDIT: Small Sins is playing at the Phoenix - my b! (so I'm not going, too far...)
NXNE 2K10 - Wednesday
*The Balconies from Toronto
Female Singer Danceable Rock
CN Tower at 7PM
myspace.com/thebalconies
Brave/Deeds from Toronto
Girl Singing Yeah Yeah Yeahs'ish Indie Rock
The Garrison at 11PM
myspace.com/bravedeedstoronto
The Cavaliers from Newmarket (Toronto)
Indie Alt Country
Bovine Sex Club at 10PM
myspace.com/thecavaliersmusic
*The Dirty Dishes from Boston, Massachusetts
Girl Singing Shoe Gaze Pop
The Garrison at 9pm
http://www.myspace.com/thedirtydishesmusic
Famous Players from Toronto
Pop Song Mashups *shrugs*
Velvet Underground at 1-2AM
myspace.com/famousplayers
The Meligrove Band from Toronto
Fun Pop Rock
CN Tower at 9PM
myspace.com/meligroveband
*Small Sins from Toronto
Indie Electronic Alternative
Phoenix Concert Theatre at 10PM
myspace.com/smallsins
*The Subtitles from St. John's, Newfoundland
Indie Pop Fun Punk
The Garrison at 10PM
myspace.com/therealsubtitles
The Wilderness from Toronto
Moddy Dancey Post-Punk
Velvet Underground at 10PM
myspace.com/thewildernessmusic