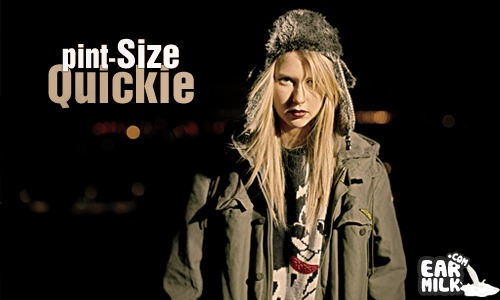 This is your pint Size Quickie where we bring you a little interview with your favorite or up and coming artists. Today's Quickie is brought to you by Goldielocks from the U.K.
She's been a successful DJ and producer for a while now. Playing around the world and having her songs used in Nike campaigns and runway shows. Runs her own clothing store, but still manages to do a lot of community work. Since branching out as a solo artist, South London Singer/rapper GoldieLocks has made a name for herself in the underground scene, but now the mainstream world is taking note. We caught up with the 24-year-old Croydon girl ahead of her show at Tate Britain with Tinie Tempah:
EM: How do you have your milk?
GoldieLocks: Skimmed
EM: What's the best part of being a musician?
GoldieLocks: You get a lot of free clothes, which is great. That's definitely the best part for me.
EM: And what's the worst part?
GoldieLocks: Performing. I hate performing. I'm initially a DJ and producer, so that's where I feel most comfortable. I much prefer being in the studio. I don't really like the performing aspect of it all.
EM: What type of music inspires and influences you?
GoldieLocks: I'm inspired by a whole range of sounds. My dad used to work for a pirate radio station, so 70's and 80's rock bands influenced me a lot at a really young age. Then as I was growing up I was really into old skool garage and grunge. At the moment I listen to a lot of rock, hiphop and dubstep. All those sounds influence me.
EM: If you could invite any three celebrities around your house for a 'come dine with me' style dinner, who would it be?
GoldieLocks: Pharrell Williams, Gordon Brown (Prime Minister) and my late Grand Parent.
EM: We have a general election coming up, you'd have Gordon Brown round for dinner, but who will you be voting for in May: Labour (Gordon Brown), Conservatives (David Cameron), Liberal Democrats (Nick Clegg) or other?
GoldieLocks: I'm pretty undecided at the moment. I've still got a couple of months to make up my mind.
EM: What's you favourite city in the world?
GoldieLocks: It's gotta be London.
EM: What's your favourite colour?
GoldieLocks: Navy blue. Most of my friends are guys and I just feel I connect better with guys. My choice of favourite colour pretty much reflects that.
EM: What's your favourite saying?
GoldieLocks: I don't really have a favourite saying, but I like Karma; "what goes around come around."
http://www.youtube.com/watch?v=F1Vt9KNvIIgGoldielocks - Cold Sweat Official Video

GoldieLocks' EP I'm Not Her is out now and can be downloaded on ITunes here:  http://bit.ly/9RjfIU