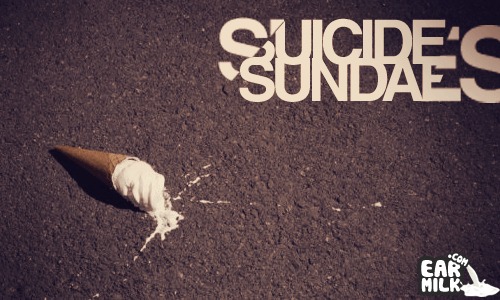 Suicide Sundaes - stop your grinnin' and drop your linen. Every Sunday electblake and jsully of Earmilk will bring you the weeks dirty servings, and some old favorites through a throwdown-throwback to simpler times. A time when bangers were big, remixes were bigger, the bassline bled, and we didn't care about anything as long as came in kicking and left screaming. To hell with sketchy sunday, we want to shove another dragon down the hole.
This weekend took a lot out of me after following some friends down the rabbit hole this Friday. But I managed to scrape myself together toss myself into a cab, and a full 40 hours later, I'm back on the horse pushing the good stuff to you guys.
Today I have some new Crookers, Parallels, Surkin and some then some SS favs like Dirty Disco Youth, and The Bloody Beetroots. Be sure to checkout the Deathface dubstep remix of Drop The Lime's Devil's Eyes - nobody will be outdone by Deathface on this one.
Thanks for Cassette Jam's for dropping their tracks either this week, I snuck too of them in this week and look forward to what comes next :D
Shit, I almost forgot about the Kavinsky track which is not produced by Guy Manuel de Homem Christo of Daft Punk. "Nightcall was the track on the EP that was produced by Guy Manuel de Homem Christo and remixed by SebastiAN." - source - source's source. and no, that track isn't here. Just wanted you all to know.
07 Devils Eyes (Deathface's Son of Perdition Remix)
Download:
Drop The Lime - Devils Eyes (Deathface's Son of Perdition Remix)
myspace.com/dropthelime | myspace.com/deathfaceforever
17 Jump Up Ft. Major Lazer Leftside And Supahype
Download:
Crookers - Jump Up Ft. Major Lazer, Leftside And Supahype
myspace.com/crookers
Download:
Keith & Supabeatz - Like This
myspace.com/djsupabeatz
02 Daydreaming (Jakwob Remix)
Download:
Kid Sister - Daydreaming (Jakwob Remix)
myspace.com/kidsister | myspace.com/jakwob
No More Down (Mikix The Cat Remix)
Download:
Supabeatz - No More Down (Mikix The Cat Remix)
myspace.com/djsupabeatz | myspace.com/mikixthecat
Download:
Dirty Disco Youth - Brains...Off
myspace.com/dirtydiscoyouth
Download:
Surkin - Easy Action
myspace.com/surkin
Tupac Robot Club Rock (Cassette Jam Remix)
Download:
The Filthy Dukes - Tupac Robot Club Rock (Cassette Jam Remix)
myspace.com/filthydukes | myspace.com/cassette_jam
Pacific Coast Highway (Produced By Guy Manuel de Homem Christo of Daft Punk)
Enjoy:
Kavinsky
- Pacific Coast Highway
myspace.com/kavinsky
Download:
The Bloody Beetroots - Warp (R3SET RMX)
myspace.com/thebloodybeetroots
Pass Out (Cassette Jam Remix)
Download:
Tinie Tempah - Pass Out (Cassette Jam Remix)
myspace.com/tinietempah | myspace.com/cassette_jam
Download:
Parallels - Midnight Voices
myspace.com/parallelsfm