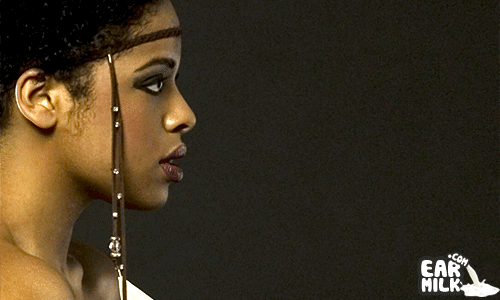 Roxanne Tataei is a rising Soul Diva who's set to become a household name. Tipped by MTV and the BBC as a star for 2010, the 21-year-old London singer songwriter is fast making a name for herself. She's performed with Mark Ronson and opened for Raphael Saadiq, just to name a few. Headlined the HMV "Next Big Thing" event at the Jazz Café earlier this month, winning rave reviews, and is set to headline her own show at the London Tabernacle next month (March 18th).
With the release of her debut single "My Baby Left Me" fast approaching, we had a little chat with the songstress:
Listen:
Rox
- My Baby Left Me
EM: Congratulations on the Jazz Café show last week. I went a long and thought you did a great job.
Rox: Thank you so much. The weird thing is Krystal Warren (Brooklyn based musician) was opening for me, which was pretty amazing. I'm such a huge fan of hers; it was really cool meeting her.
EM: You Seemed very confidant on stage, how do you find performing live and do you ever get nervous?
Rox: I don't get nervous anymore, it's more excitement than nerves. I've been performing for quite a few years now and have learnt to deal with the nerves. I actually feel most comfortable when I'm on stage. I just love performing and interacting with the crowd, so it's definitely more of an exciting feeling than anything.

EM: When did you start singing and realize you wanted to take this seriously as a career option?
Rox: I started singing at a very young age. I used to sing at church and at school, so singing has always been a part of my life. Then I went on a countrywide tour with the National Youth Music Theatre, which taught me a lot about performing. We'd perform in front of huge crowds, so its there I learnt how to become a real performer.
EM: So when you were touring with the NYMT at that young age you knew this was going to be your career path?
Rox: I enjoyed it and knew it was something I wanted to peruse. But it's when I left school and went to performing arts college that I knew there was nothing else I wanted to do with such passion, so I decided to do it properly from then on.
EM: You've performed with Mark Ronson, how did that come about and what was it like?
Rox: It was actually very last minute. One day I got a call from my manager saying they needed me to perform "Valerie" with Mark Ronson. Of course I was happy to do it. I had to learn all the words and only had a short amount of time to rehearse, but it all worked out fine and was a really good show in the end.
EM: Your music sounds like a mixture of quite a few genres. it's got elements of Soul, Jazz, Reggae and RnB. What music influences you and how would you describe your music style?
Rox: Growing up I was influenced by a lot of different sounds. I lived with my Grandmother and she used to play a lot of Reggae and Gospel. I was a huge Mary J Blige fan, and still am, her early music was very influential to me growing up. I also love Sade and Lauryn Hill. I wouldn't describe my music as falling into a specific genre, its soulful music that crosses numerous genres.
EM: Which current artists are you listening to at the moment?
Rox: I'm really liking Liam Bailey at the moment. His got a unique sound, its just really beautiful music.
EM: Your debut single "My Baby Left Me" is out on the 15th March, is it about a personal experience?
Rox: My whole album is pretty much about personal experiences. I like to write songs that are meaningful to me and hopefully others can relate to it as well.
EM: Your headlining your own show next month, are you looking forward to it?
Rox: Very much so. I love being on stage, it's the part I love the most out of everything. I can't wait to show case my songs. This is the moment I've been waiting for.
Rox is definitely a talented young lady, after seeing her perform live on Jools and Holland last year, I knew2010 would be a promising year for the young musician. Her debut album Memoirs is released this spring. For more info visit;