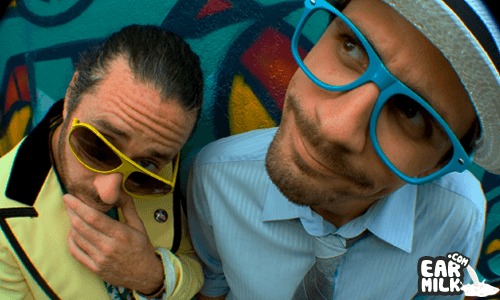 I recently got a chance to go to a Matisyahu concert here in San Diego but what I ended up finding was something even more kosher. I got to the concert pretty late and didn't get to hear all the other bands that played before the featured guest but luckily the first group I heard play that night just so happened to be one of the best performances I've ever witnessed. The group i'm talking about is Vokab Kompany. They are local to the San Diego area and definitely rep their city very well. When i first entered the arena I could faintly hear them performing and as I got closer and closer I heard a mix of sounds i hadn't really heard before. It was a mix of hip-hop, rap, electro, funk, reggae, 80's...you name it and all coming from one band. This is what made me immediately appreciate the performance that had been set before me.
I'm a huge fan of groups that try to mix genres together that don't necessarily belong together and these guys prove that it can be done well. If you listen to their music you will see the eclectic mix of genres and styles that seem to come together flawlessly. Now, it wasn't JUST their music that caught me but also their performance. These guys really know how to move a crowd and they really try to put you in a trance with all the layering they put in their songs. The performance I witnessed at this festival really just blew me away and I really wasn't ready for it.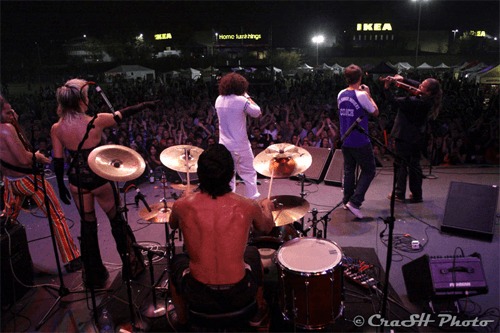 Vokab Kompany has just recently released their sophomoric album entitled The New Kong and once you give a listen to this album you will see what I meant when i said they have such an eclectic style of music. The album features some pretty amazing featured guests such as Lateef the Truth Speaker & Radioactive. One of my favorite tracks on the album is "All The Same People" which features Lateef. This track really shows the skills these guys have and also has a good mix of genres just in this one track. It's even got some electronica mixed in. Anyone who is a fan of music that tries to shake your spine and relaxes your mind will be a fan of these guys. Check out a few of their tracks below and really consider picking up this album if you are tired of hearing the same ole sh*t from the rest of the groups in the game and if you are truly ready to party like a rockstar. The album is available for free digital download so check out the links below.
Vokab Kompany's The New Kong (free digital download) is full of high-energy indie electro hip-hop sounds with a fresh west coast vibe. They are currently on the cover of Revolt in Style Magazine and URB Magazine covered them just last week.
05 All The Same People (feat. Lateef the Truthspeaker)
Download:
Vokab Kompany - All The Same People (feat. Lateef the Truthspeaker)
Download:
Vokab Kompany - That Day
TRACK LISTING
1.
That Day
2.
Sneaker Drip (J Boogie Remix)
3.
All The Same People (feat.

Lateef The Truth Speaker

)
4.
Look At Me

(feat. The Original Radioactive)

5.
Mood Walkin'
6.
Shine (Solovox Remix)

(feat. Souleye)

7.
Merry Go Round

(feat. The Original Radioactive / Karen Mills)

8.
Enterakshun
9.
Get Down
10.
Peace Of My Life

(feat. Deploi / Karen Mills)

11.
Interlude: Hurtbaby (Death to AutoToon Skit)
12.
Krowded Fire

(feat. The Mutaytor)

13.
Jam It All Night

(feat. S Dolon)

14.
They Found Us (The New Kong)