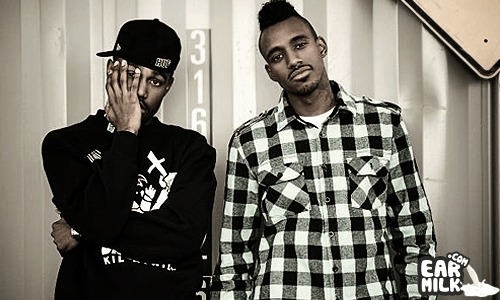 U-N-I defines dope, period. Y-O and Thurz have been killin it as of late. With the recent release of their new single "Land of the Kings." They also just released a quick freestyle over Asher Roths song "Lark On My Go Kart" off of "A sleep in the Breadisle." U-N-I was also featured in this past months URB Magazine, check it out.
01%20Lark%20On%20My%20Go%20Kart%20Freestyle
Download: U-N-I - Lark On My Go-Kart freestyle
u-n-i-land%20of%20the%20kings(2)
Download: U-N-I - Land of the Kings
U-N-I Featured in URB Magazine
URB Magazine writes:
"This will sound familiar: Two twenty-something L.A. kids with an affinity for custom kicks and limited-edition gear wax ill poetics over Marty McFly soulscapes that would make even the late J Dilla grin. But Thurzday and Y-O are not hipsters, they're bearers of a new torch: hybrid-hop. Cultivating a sonic jambalaya of raw lyricism, healthy swag and potent production, the duo landed on the corner of Fairfax & Melrose two years ago with the critically-acclaimed Fried Chick & Watermelon "street album." Fast forward to the present and U-N-I have crafted a distinct sound, and are set to release their post modern opus A Love Supreme-a soundtrack for quasi-gangstas and afrobeat enthusiasts alike."
Check out the video below for a little more insight on who U-N-I are, A Love Supreme Sessions - The Release produced by DRG Films:
If you don't already have it.. download "A Love Supreme," by far one of my favorite albums.. GET IT HERE
Support U-N-I:
http://twitter.com/YonasAfrica
http://twitter.com/thurzday
http://yothurz.com