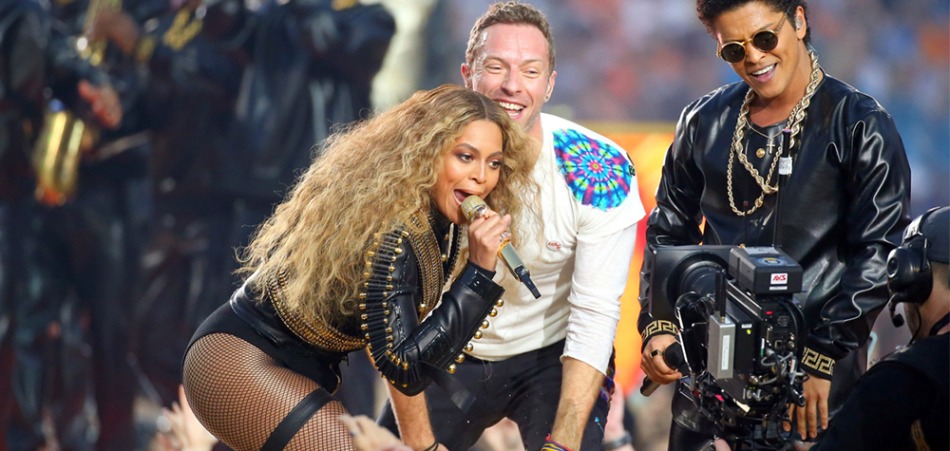 Audiences got a small taste of Beyonce's new album, Formation, but an even lengthier Coldplay set, promoting Head Full of Dreams, during this year's Super Bowl 50 halftime show. But this year's performance left many fans wondering, who would give Queen Bey a back seat to a Coldplay performance? Well, the band paid for it (in a sense).  
Whether it's Bruno Mars, Katy Perry or Madonna, Super Bowl acts do not receive payment or any royalties to perform on the highly viewed halftime show. In many contracts, the National Football League offers reimbursement for travel expenses and overall show production costs but the artists themselves are performing merely for the same income of many freelancers, exposure. With production costs of the last few performances ranging up to $10 million, the NFL has even been requesting compensation for any indirect album and tour sales from performing during their halftime special. 
In 2014, the Wall Street Journal reported the NFL explored what artists have been paying the league for playing the televised event. At the time, the NFL was asking potential Super Bowl 50 performers Katy Perry, Rihanna, and Coldplay to "contribute a portion of their post-Super Bowl tour income" to the NFL, or to "make some other type of financial contribution." It seems that only Coldplay this year was willing to play along with the ambitious requests.
According to Forbes, Katy Perry was previously asked the similar pay-to-play request for the NFL, but she replied: 
I don't want an asterisk by my name for playing the Super Bowl for the rest of my life. I want to be able to say I played the Super Bowl based on my talents and my merit, thank you very much.
The Super Bowl halftime show, which this year featured the return of Coldplay, Beyonce and Bruno Mars, drew a record 114.4 million viewers and was the most-watched televised event in U.S. history. That's more than double the size of the audience for the Academy Awards and four times the viewing for the Grammy Awards. With Coldplay kicking off their seventh tour in March 2016, it seems that all funds and resources were directed towards maximizing their exposure during this year's game. 
In 2013, Beyoncé announced her Mrs. Carter Show Tour following that year's Super Bowl appearance, and her album sales jumped 59% immediately following the performance. And in 2014, Bruno Mars Unorthodox Jukebox went straight to No. 3 on the Billboard 200 after launching his online sales for the Moonshine Jungle Tour following that year's performance.
But how do you determine what percentage of an artist's concert ticket and album sales are a direct result of the halftime show? A band like Coldplay may not have even needed the exposure of the NFL to increase ticket sales as a surprise Tour announcement from the group may have sufficed. The band grossed $171.3 million on their 2012 tour and was named Spotify's most-streamed band in 2014. So if they surpass previous album and ticket sales this year, how much of that would need to be accredited to the NFL? 
With heavyweight music acts like Beyonce and Bruno Mars making the trip all the way down to Santa Clara, just to be special guest performers, we can only imagine what Coldplay agreed to compensate the NFL to take the headlining spot.