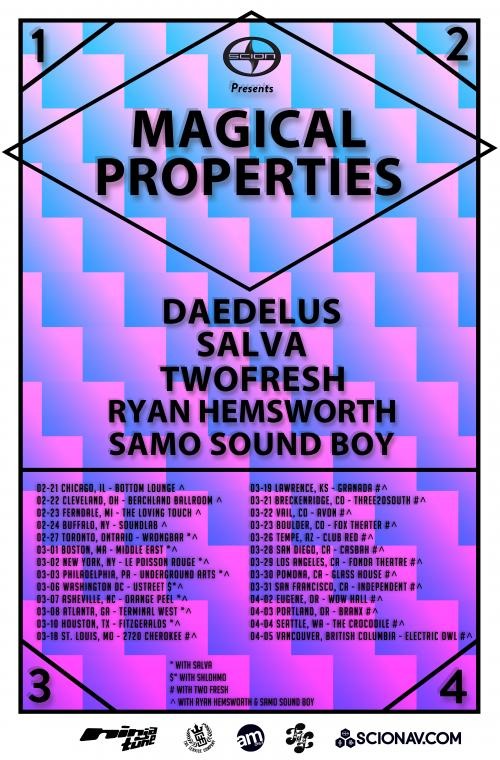 "Care to join us for a weird raving?" Daedelus, a.k.a. Alfred Darlington, asks his Soundcloud followers. To which we, of course, always say yes. On the fourth embarking of Daedelus's Magical Properties Tour, he continues with a track record of bringing together forward-thinking electronic/dance music producers; while we may not always agree with the term "curate" being used for show lineups, in this case, it only seems fitting.
For this tour, Daedelus is joined by four fellow producers. Salva, founder of the Frite Nite label and recently added to the lineup for BBC Radio 1's In New DJs We Trust, can be expected to make the crowd go insane with a blend of dance floor bangers and more subtle beats. The twins of Two Fresh will provide strong beats with instrumental hip-hop influences and playful vibes.
Canada's Ryan Hemsworth, who's been a producer for Main Attrakionz, Shady Blaze, and Deniro Farrar, has now been blowing up as a solo artist for a bit, and his take on hip-hop/R&B production will surely be a welcome addition to this tour. And we certainly can't forget Samo Sound Boy, who, in addition to helping run Los Angeles's Body High label alongside Jerome LOL, also makes his own music that's been released on labels like Trouble & Bass and Palms Out Sound.
This is the kind of show you need to get there early for, with all of the openers having already proven their prowess as headline-worthy acts.
Magical Properties 4 Tour Dates
2/21 - Chicago @ Bottom Lounge
2/22 - Cleveland @ Beachland Ballroom
2/23 - Ferndale, MI @ The Loving Touch 
2/24 - Buffalo, NY @ Soundlab
2/27 - Toronto, ONT @ Wrongbar*
3/1 - Boston, MA @ Middle East*
3/2 - New York City @ Le Poisson Rouge*
3/3 - Philly @ Underground Arts*
3/6 - Washington DC @ Ustreet $
3/7 - Asheville, NC @ Orange Peel*
3/8 - Atlanta, GA @ Terminal West*
3/10 - Houston, TX @ Fitzgeralds*
3/18 - St. Louis, MO @ 2720 Cherokee #
3/19 - Lawrence, KS @ Granada #
3/21 - Breckenridge, CO @ Three20South #
3/22 - Vail, CO @ Avon #
3/23 - Boulder, CO @ Fox Theater #
3/26 - Tempe, AZ @ Club Red #
3/28 - San Diego, CA @ Casbah #
3/29 - Los Angeles, CA @ Fonda Theatre #
3/30 - Pomona, CA @ Glass House #
3/31 - San Francisco, CA @ Independent #
4/2 - Eugene, OR @ WOW Hall #
4/3 - Portland, OR @ Branx #
4/4 -  Seattle, WA @ The Crocodile#
4/5 - Vancouver, BC @ Electric Owl# 
* w/ Salva as direct support
$ w/ Salva + Shlohmo
# w/ Two Fresh as direct support