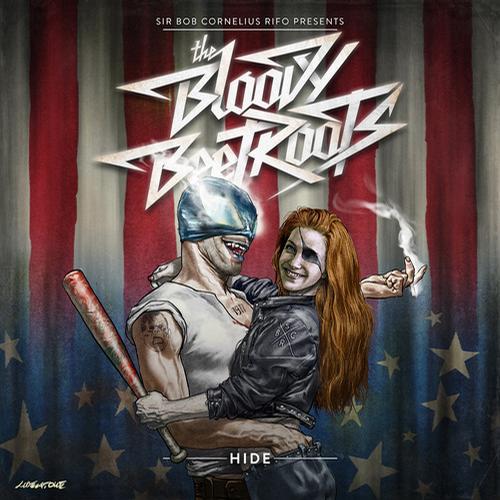 Album Review: The Bloody Beetroots - HIDE
Artist Name:

The Bloody Beetroots

Album Name:

HIDE

Release Type:

Album

Release Date:

Record Label:
Label Location:
Review Author:
Review Date:

EM Review Rating:
Italian artist The Bloody Beetroots released a high octane album today on Ultra Records entitled HIDE. Taking his version of dance punk on a film-like journey through 15 tracks, the man otherwise known as Sir Bob Cornelius Rifo peeks in and out of a multitude of musical stylings to produce a statement for the future of electronic music. Featuring an impressive amount of cameos from Theophilus London to Peter Frampton, HIDE is an album that helps to build a serious case against the critique of recent electro dance music: creativity is alive and well (and you can support Rifo's boundless music by purchasing it on iTunes HERE). The below is a stroll through the most impressive tracks on HIDE as the vignettes they create as we listen to them: let's begin.
"Spank" features TAI and Berlin house aficionado Bart B More and is quite a way to introduce our ears to the album. With screaming electro that winds in and out of scintillating piano and orchestral melodies, the single released a few months back is a great preview to the journey that HIDE plans to take us on.
The Bloody Beetroots remind us of the boundaries that electronic music has seemed to build up for itself. "Raw" is a rock and roll jam featuring the infamous Tommy Lee shredding some acidic guitar riffs, and while this track takes some of the rock and roll influences of contemporary dubstep quite literally, "Raw" eventually gets broken down into French-inspired rock disco. Who knew how well two genres that seem so polar opposite would go together? "Raw" is a stellar movement away from the norm, serving as a reminder that confining ourselves to one type of music is much less fun than the alternative. It doesn't take itself seriously either, as during the funky house break we've got Tommy Lee ranting about losing control over his track. 
"Runaway" is another example of The Bloody Beetroots's impeccable ability to mix emotions and musical stylings. Featuring a eerie lead synth melody, he layers in bubbly piano chords into a hard electro drop. Creating an interesting dichotomy between the 90s-inspired keyboard riff, grinding electro wind up and hip hop break, "Runaway" plays off of so many emotion and tastes that it's almost like watching a movie.
"Chronicles of a Fallen Love" is the lead single off of HIDE. First released back in October of last year, it's a hard-edged symphonic and radio-friendly track that's led by the journey of the yearning but sweet vocals of Greta Svabo Bech. If you haven't heard it by now, check out the video below.
"Out of Sight" is what got me interested in this album release a few months ago. After hearing that Paul McCartney licensed the track and was involved in some of its production, I wondered if this was an attempt by one of the most successful rock and roll artists of all time to get involved with the dance music wave. But it was not. Rifo worked in a great dubstep beat and a little electro wind, making it sound like the track was his all along. "Out of Sight" is a true testament to the creativity that's possible between talented musicians.
"Albion" is another jump to the left, giving us a cheerful, booming melody that borders on progressive trance. While somehow keeping a gritty edge to the track, it's got a sound that will bring you back to the song that the ice cream truck played while going down the street during the summer, or to the time that you were scared in a massive toy store or amusement park. This sound reappears throughout the album, in tracks like "Please Baby" with P-Thugg as well.
We've been seeing an increasing amount of links created between the electronic and hip hop communities, and of course HIDE doesn't miss a chance to touch on that. Slowing things down a bit and really honing in on one style that can accommodate the singing of Theophilus London, "All the Girls (Around the World)" is just about ready for a music video on MTV and some serious radio play.
Of course this review wouldn't be complete without mentioning Peter Frampton's appearance on this album. While at first glance that collaboration may appear very strange, the result is actually pleasing. Frampton's vocals are autotuned, and though when he pioneered using the Talkbox to emulate that specific sound, the technique is now something that makes the track not necessarily all about, well, Peter Frampton. Instead, it is soulfully done and pays homage to the paths electronic devices like that have paved and how far we've come.
HIDE ends on as just about as hardcore of a note as you can get. Working with fellow Italian Gigi Barocoo, both the well known "Rocksteady" and "Volevo Un Gatto Nero (You Promised Me Bob Rifo)" ground us back to the hard electro roots where The Bloody Beetroots started.