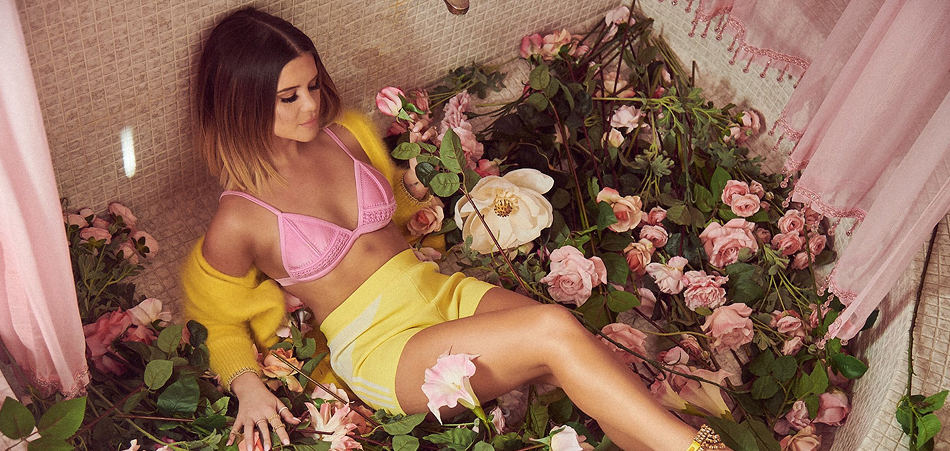 Album Review: Maren Morris gives love a soundtrack on 'GIRL'
Artist Name:

Maren Morris

Album Name:

GIRL

Release Type:

Album

Release Date:

Record Label:
Label Location:
Review Author:
Review Date:

EM Review Rating:
Maren Morris' debut album Hero (2016) arrived with anticipation from those within the country music sphere, but her contribution to Zedd's 2018 hit "The Middle" ushered in a new wave of fans. Her fiery tone was strong enough to have anyone who had previously sworn by their disinterest in country music running to their nearest cowboy hat supplier.
Where Hero occupied a space geared towards country listeners, Morris' sophomore follow-up album GIRL blurs the lines of genre. Having developed a deeper connection with her music and the different sonic areas she's able to occupy with the range of her artistry, this album shows the singer skillfully averting the assumptions about what country music should sound like and what it should include contextually.
The first half of the album is held together with "A Song for Everything" as its centerpiece. Morris warms the track with a wave of nostalgia, urging listeners to rack their brain for the songs that make up the soundtrack of their lives. There's a certain feeling of importance and necessity to the song, as she sings, "When you were looking for the words, somebody said it first so you didn't have to." From the good to the bad, the first love to the last goodbye. The more you listen, the five remaining tracks in this half seem to make their way into your own stories.
"The Feels" courses through the feelings of infatuation, "like the tickle of the bubbles in a bottle of cheap champagne," and "like love in the morning." Another feel-good sing along, "All My Favorite People," Morris' collaboration with Brothers Osborne, plays into the idiosyncrasies that make your relationships with those closest to you so singular–much like the jokes and 'you had to be there' moments shared with friends that would sound crazy to anyone trying to make sense of them. "Flavor" deals with a similar topic, but on a more individual level.
A deeper cut, "Common" recruits Brandi Carlile to set these eccentricities aside in addressing our current societal state, because in the grand scheme of things we're more alike than we'd like to think. "How do we get to the bottom of this, when we're sitting at the top?". The solution, if there is one, may lie with repairing ourselves, as Morris urges on "GIRL."
The title-track and lead single is a self-confronting anthem for anyone who needs to recognize their own unintentionally problematic behavior rooted in inner struggles. The subject matter may seem hyper specific to a past experience of your own, and if that's the case, then maybe look at "GIRL" as a self-care opportunity to make necessary changes. Sometimes you need Maren Morris to call you out so you can call yourself out.
The second half of the album is marked by the beginning of "Make Out With Me," Morris' brief message to an airborne lover. "RSVP" is a standout track that encapsulates this same energy without the reserve found on the former track. The singer's confidence weaves itself through the track's sharp production is sultry, suggesting "If you want more than your eyes on me, yeah / You can let me know privately," before delving into a chorus punctuated with 'Cause I ain't wearing nothing / Nothing you can't take off me."
GIRL shows Morris occupying a more outwardly confident space than we've seen her in before, but she does while using the recognition of both her own flaws and the flaws within her relationship as a safety net.
The rhythm and soul of "Gold Love" and the acoustics within "To Hell & Back" all lend themselves to illustrating the stability of being able to save yourself, but having someone you love to lean on when you need to. On the former, Morris sings, "If my stars burn out of light, if my diamond loses shine / Your gold love gets me through."
"Good Woman" shows Morris flipping the roles, offering a sense of reassurance as she does on the ever-hopeful "The Bones." She is insistent and convincing of her unwavering love and support, locking it in place so long as it's reciprocated and she doesn't have to change herself for it.
This kind of love is the one Morris sings about on "Great Ones," the ones that are spontaneous, and only happen once. "Then I caught your light, then I caught your glow / Didn't dim my shine, but you changed my tone," she laments on "Shade," a guitar and drum-heavy love song about finding the one who "fits just right."
Each of the aforementioned tracks possesses something singularly special about them. Some present their particular element within the spark of their lyrics, like on "Gold Love." Or through their ability to instantly feel like a classic, like "A Song for Everything." Or through Morris' domination of the sonic landscape she possesses, like on "RSVP."
Whether explored from your own perspective, or by switching lenses to place yourself in Morris' position, GIRL is a project worthy of spending time with and unpacking to find the distinct moments that fill the spaces of each song.
Connect with Maren Morris: Twitter | Spotify | Instagram | YouTube | Facebook