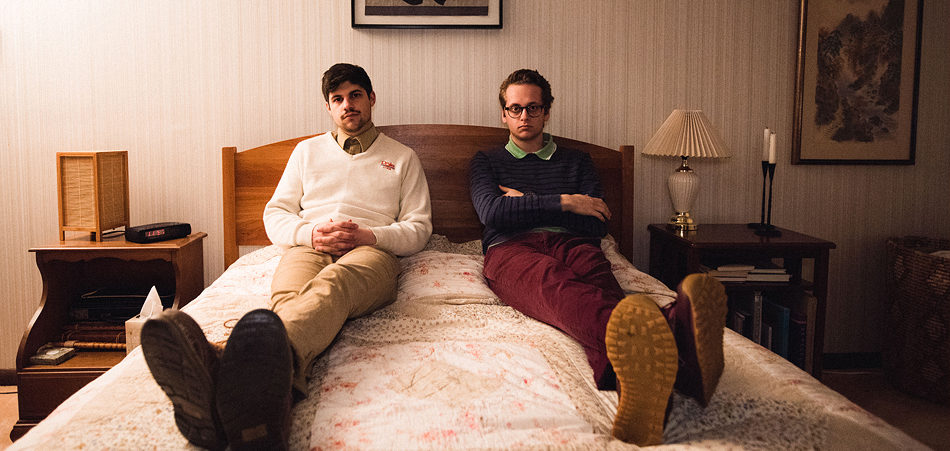 Album Review: The Juice is Worth the Squeeze with Mosie's 'Tangerine'
Artist Name:

Mosie

Album Name:

Tangerine

Release Type:

Album

Release Date:

Record Label:
Label Location:
Review Author:
Review Date:

EM Review Rating:
On their debut album, Tangerine, Boston-based bratwurst bump band, Mosie, blasts through expectations to deliver a project that is sweet and tangy in all the right places.
In mixing multiple genres over Tangerine's 14 tracks (and even, at times, within a single song), Mosie have cooked up a recipe for an exciting and dynamic new sound. While some of the songs get a bit tedious, the majority of Tangerine is a fresh ride through the love life of singer-songwriter Jesse LeVines.
Comprised of Jesse LeVines on all the vocals (except for Hannah Guzman's) and Aidan Brody on the boards, Mosie is a unique presence in music right now. Many contemporary artists are shrugging off genre constraints and blending sounds, but none are doing that with as many unique sounds as Mosie.
Pick any point throughout Tangerine, and you'll stumble upon a different genre. Whether that's electronic, pop, hip-hop, funk, 80s or all of the above, depends on where you land. And even if you start a song with funk, it may very well end in 80s pop right under your nose.
Take the opener and title track, "Tangerine" for example. The song starts off as an electro hip-hop record, with LeVines setting up the story of the album as a whole. But in the middle of rapping his first verse, Brody begins to blend the productions, smoothly transitioning from electro hip-hop to full-on funk. And, damn it, it works.
The fluidity these two bring to each song make Tangerine a pleasure to spin. And with LeVines using vocal manipulation to pitch up or down his voice to play different people throughout the story, there's an unexpected turn in every song. Notice, if you will, that much of the album features a rapper named Bambi. This isn't, in fact, another artist. Rather, it's LeVines with a pitched up voice, spitting bars to give a different character's perspective.
While the above is fantastic for the most part, there are a few times where they try to fit in just a bit too much. The album plays out as a chronological love story. LeVines meets a girl, and then things play out like they do in real life. There are ups and downs ("Strayhorn" and "Pinocchio"), bouts of jealousy ("Sunshine"), periods of depression ("Taxi"), and of course, intoxication ("High Life" and "Roll Up"). Things go overboard during one of our hero's nightmares, which is articulated through the song, "Marilyn."
Even if you weren't paying attention to the story, LeVines and Brody do a fantastic job conveying a woozy majesty and hypnotic air both in the vocal delivery and backing productions on "Marilyn." Brody layers a wafting haze over the track while the percussions are slow and spaced out.  As things go from dream to nightmare, though, the guys take it too far. The repeated refrain of "maybe any man that's ever fuckin wronged her has only ever made her fuckin stronger" starts off as compelling, but after nearly three minutes, it grows tiresome. The idea is appreciated, and execution is exciting with LeVines starting out softly and building to thunderous screams, but it felt gratuitous towards the end.
Likewise, "Clementine" feels out of place for the overall project. The record starts off so hot with its varying deliveries and colorful palette that the conclusion of "Clementine" doesn't sit right. It's not an awful song by any means, but its spacy productions and two-minute outro feel better suited as a bonus track, than a send-off.
These, however, are small gripes. The single, "[email protected]," bounces with zest and delivers epic lines like "don't you gimme no ring, gimme cuffs on my wrists." While "Sunshine" juxtaposes Brody's slap-happy pianos and percussions with LeVines jealous and brooding lyrics. And those are but two examples. For the most part, Tangerine is a wild ride with deep lyricism and fantastic productions. It'll make you laugh. It'll make you dance. And it will make you replay the record over and over.
With a debut like Tangerine, one has to wonder, how long will it be before Massachusetts changes their state food from the Cranberry to something with a bit more zest?
Connect with Mosie: SoundCloud | Instagram | Twitter