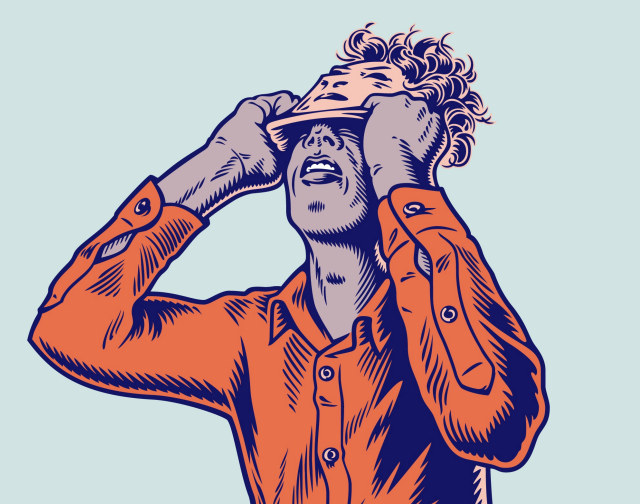 Album Review: Moderat - II
Artist Name:

Moderat

Album Name:

II

Release Type:

Album

Release Date:

Record Label:
Label Location:
Review Author:
Review Date:

EM Review Rating:
Coming off their celebrated self-titled album that launched in 2009, Berliners Sascha Ring, Gernot Bronsert, and Sebastian Szary—better known by their stage acts as Apparat and Modeselektor—resurface again as Moderat to unveil their sophomore album II, set to launch via Monkeytown Records on August 2nd. With the album's announcement being made months ago, along with the emergence of its first single "Bad Kingdom" in late June, many fans have been patiently waiting with crossed arms to get their hands on this, and the wait is just about over.
Moderat---The-Mark-(Interlude)--EM0713
Stream:
Moderat
- The Mark (Interlude)
Making a memorable impression, "The Mark (Interlude)" begins with a wide breadth of lax sounds gradually assorting and tuning themselves in appropriation for entry onto the upcoming phase. "Bad Kingdom" bursts with a splash of rumbling bass and raucous noise—nothing short of true Modeselektor style. Ring's tender vocalizing contrast demonstrates the trio's ability to gracefully blend in components of both pop and club music, without posing any major disruption to either realm. Pulling off (what seems to be) one of the most dynamic track's Moderat has produced, it's no wonder the track was chosen as the leading single.
Muffling its way through, "Versions" demonstrates an even more minimalistic and Apparat-induced approach. Comprised of a matching set of celestial synths and vocals that find each other hovering over a broad scope of auditory affairs, the song comes to a suspenseful break, as its majestic glamour delves into a momentous collapse between beat and pause that couldn't have been better timed. "Let In The Light" is not one of the album's more outstanding or innovative tracks, but it sure hits the sweet spot. In a time where "nice and simple" gets mistakenly overlooked by producers, the trio steers the song higher into another elevated state of consciousness that gorgeously exhibits the flavorful vocal consistency that gets your ears Ring'ing (pun intended). Brushed with a coat of altering pitches that make the devout voices singing in unison seem distantly unclear, it is the vague compensation that sets up the track's fine mutability.
Stream:
Moderat
- Milk
Shifting from the album's dozy and stupor feeling, "Milk" serves as a progressive transitioning track that starts off cursive and humble getting your head to bob, only to switch to a heartier note that quenches our thirst for those awaited hip-hop breakbeats we receive in enriched Berlin form. "Therapy" keeps the flow going, only this time the vibe is in the latter cool-off point from the previous beaming chapter. Before we can turn from the song and make up our minds, declaring it one of the lesser faceted tracks, the trio teases listeners by tiptoeing in a playful Happy Birthday!-esque element that any Modeselektor follower would quickly recognize and get excited over. Alas, as the song doesn't resolve into any drastic twists and turns, the song's momentum does get juiced up quite a bit.
Stream:
Moderat
- Gita
In the following moment, things certainly shift with the song "Gita". Embarking on a less layered process, not much fluff is necessary when you have Modeselektor on boards and Apparat's stripped vocals laid out in all their glory. A track obtaining the beat breaking roughness to be expected from Modeselektor, it is Apparat who, ultimately, shines through and steals the show on here. By this point, "Gita" is what makes a believer out of me when folks say that everything Ring touches—or in this case, sings over—gets turned into nothing less than gold. Keeping us in limbo after such a remarkable encounter with "Gita" is the album's second interlude, "Clouded". Pausing things in order to come down from the dream state Apparat's vocals took us to, the suspended moment proves to be a perfect interim for what awaits.
Stream:
Moderat
- Ilona
Next, "Ilona" depicts a jungling chase between Serenity and Agitation that remains in constant flux during the course of the song. Both compulsive and meditative, the track's enterprising composition and dashing choir forces a focalization through a kaleidoscope of unsettling dimensions. While the hastening breakbeat drums resemble the breakneck rate in which blood starts flowing during a state of adrenaline, the pursuit comes to a sudden standstill leaving us wondering what could possibly come next. "Damage Done" serves as the perfect counteracting agent to the former. Softening down the tempo in order to stabilize the setting, both the words and harmony follow one another accordingly—working in unison to provide the ultimate moving experience.
On a more personal level, Ring's display of poetic lyricism in this track is a notable aspect that you should definitely pay attention to. Heart-felt words with traces of tender sentiment, the apologetic tenor sets up the perfect conclusion for the album. By "This Time", the feeling of completion is finally grasped. Everything slows down as collapsing synths and blinking notes glide over the track's atmosphere supplying a gentle arrival to an end that leaves us in a slight daze as we recollect.  Ahhh…*sigh*
Whatever it took the trio to complete this—from the divergence they admittedly endured due to creative adjustments that turned the collaboration into a, seemingly, never-ending process—the final product is a phenomenal experience that graces the musical sphere at the right time. Full of dynamic facets and countless demeanors, II by Moderat is a convincing album that anyone with a general appeal to music can enjoy in the car, on the dance floor, or with their head on the clouds.