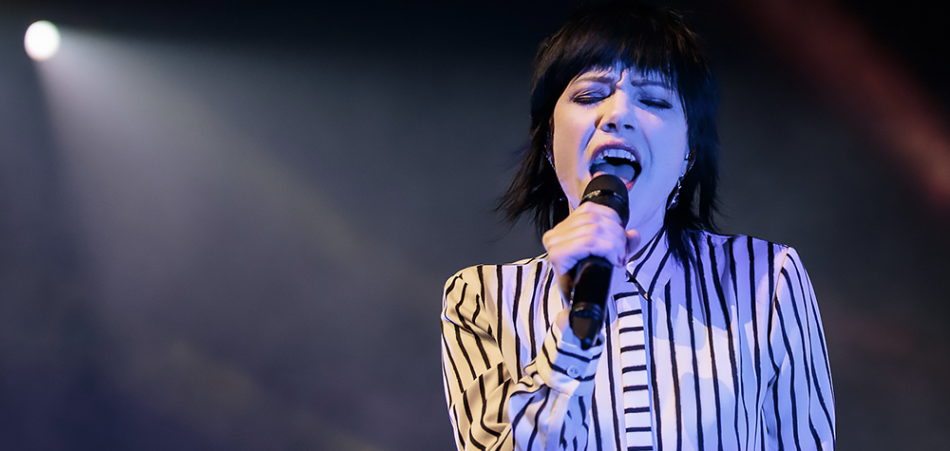 *This is not about the need to take substances to enjoy music but rather an experiment to see how a substance not typically associated with a certain brand of music would compliment or hinder the experience.
Carly Rae Jepsen is not the Grateful Dead and the 30-year-old Canadian pop singer is far from an ambient DJ set at Burning Man for one to get lost in hours of deep thought to. Although her performance is playful and engaging, her visuals are pretty standard when compared to The Flaming Lips. This past weekend I was asked if i would be checking out her performance during San Francisco's legendary Noise Pop Festival, where I jokingly replied "Maybe, if I was tripping." So I decided to go, while living up to what I said.  
So what the hell am I doing at a Carly Rae Jepsen show? To be honest, I'm not %100 familiar with her music, not that I'm against it, it's just not my beat. But Jepsen's latest album has received praise from all sorts of respectable music critics, winning over praises from some of the top producers and fellow musicians throughout the industry, so I was curious as to all the hype. For some quick background, the viral "Call Me Maybe" star took advantage of her quick success and rather than fade into the dust of pop culture as a one hit wonder, she hit the studio with a vengeance and created what's arguably one of the best pop albums of the year. The 12 track album, Emotion, features credits from top artists like the guitarist from the Cardigans, Rostam Batmanglij of Vampire Weekend, rapper Jacob Kasher, Beyoncé and Usher producer Ariel Rechtshaid and even Sia. Yes, it's catchy music, some of it may even be borderline bubblegum pop, but it's also incredibly well produced and performed. 
Now the adventure begins…
I jumped in an Uber and arrived to the Warfield Theatre in downtown San Francisco, on what seemed to be a lively Saturday night. As I left the car and made my way into the venue, pedestrians walking by began leaving trails of their mirrored selves behind them. "It" was kicking in. Luckily my friend had already picked up my ticket for me and allowed me to avoid any unnecessary human interaction.
I walked inside the building and the 1922 built vaudeville theater had never looked more magnificent. The intricate details in the woodwork came alive along the walls and sent my attention scaling each line leading up to the grandiose ceiling. My eyes eventually came back down and averted my attention to the stage. We arrived a little late and a sea of energized fans were already jumping in unison up and down while multicolored spotlights shined through as if it were a prison searching for escaped convicts. Jepsen was already on stage and like an ADHD kid in gym class, she was jumping from side to side, unable to stay in one place for longer than two seconds.
I managed to wedge myself in the crowd and found a safe place behind the sound booth. As my physical self was mesmerized by the prancing pixie on stage, I find my own conscious leaving my body and soaring through the audience trying to gain a better perspective on who actually attends a Carly Rae Jepsen show. The singers demographic is incredibly difficult to pinpoint. Instead of the expected herds of shouting pre-teens, I caught glimpses of big gay bears shouting along to every lyric, pockets of quintessential "Basic" girls twirling around and pools of adult indie hipsters sporting Joywave t-shirts while shying away from anyone noticing their familiarity to the music.  
I jump back into myself and take a long, laborious blink with my eyes before looking back at the stage. I find my myself honing in on the drummer. Jepsen performs alongside a full band during her live performances and I can't help but start wondering what the drummers back story is. Musicians play in different kinds of bands all the time and this guy didn't seem young. I couldn't stop thinking if he was a part of a heavy metal band back in high school and then left home to tour the country out of his van until he wound up in LA. But LA is a tough town and musicians get swallowed up there. So to pay the bills, he took an open casting call looking for a part time supporting drummer and now he backs up Carly Rae Jepsen. (None of this is true and I'm sure it's far from it but again I was in a very unique head space).
Luckily, I got out of that black hole of unnecessary thought and snap back to reality. There's not too much intricacy involved with Jepson's actual lyrics and tracks like "I really like you," lack the need to dig too deep for existential meaning. I did, however, found the easy accessibility to sing along surprisingly perfect given my current struggle to not get lost in deep thought again.
As I stood motionless in the crowd, similar to street performers who stand like statues in the park, I was tormented with the question, "What is she doing that's keeping such a mixed crowd of an audience moving like this?" The choruses were catchy, her live vocals were clear (she was most likely singing over her own vocals, but most pop performers do that anyway) but it was the harmonies of her tracks that were strategically structured in a way that it invited anyone listening to sing along. I even caught myself singing along when the inevitable "Call me Maybe" track came on, before of course realizing the severity of what I was doing and stopped. 
Blue lights were flashing, red lights were flashing, everybody from wall-to-wall was dancing along. The final song ends, Jepsen thanks the audience and the house lights come on.
As I drifted away with the undercurrent of escaping fans, I entered the moonlit streets of San Francisco filled with a radiating sense of genuine happiness. Unless you have a difficult time getting over your cynical self, it would be nearly impossible to leave a Carly Rae Jepsen show unhappy. 
Pop music derived from the early rock 'n' roll era of the 50's and 60's and the name itself is defined as popular music that appeals to the general public. Between the experimental, indie rock, alternative, ambient, underground hip hop, house, techno and every other sub-genre that I listen to, I found myself welcoming this infectious feeling of innocence that came from watching a sold out audience truly letting their inhibitions go for Jepsen's music.
Would I do it again? I don't know but I heard the Spice Girls are going on tour soon…..