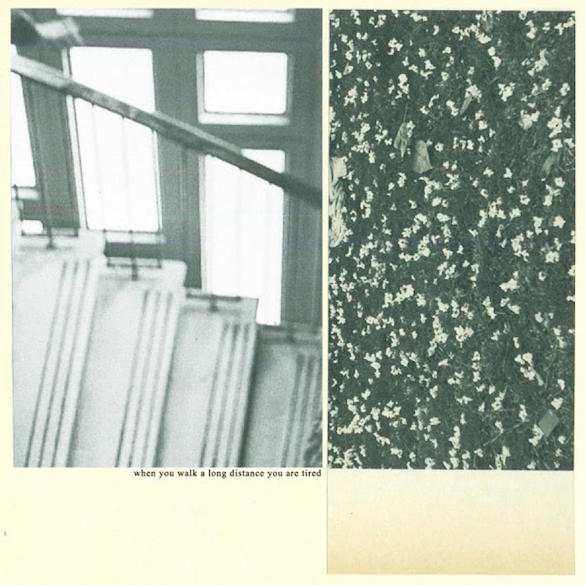 Album Review: Mothers - When You Walk A Long Distance You Are Tired
Artist Name:

Mothers

Album Name:

When You Walk A Long Distance You Are Tired

Release Type:

Album

Release Date:

Record Label:
Label Location:
Review Author:
Review Date:

EM Review Rating:
"Most things are born golden/until they start to notice," former art student Kristine Leschper croons on "Nesting Behavior," a stunningly unself-conscious parable apt to describe Mothers' debut work. The Athens four-piece has been setting up this record for years, quietly and unremarkably weaving a tale of young-adult existential crises. But the quivering vulnerability on When You Walk A Long Distance You Are Tired is a gift, not a cliché. By opening the vein on her own shortcomings and feminine self-doubt, Leschper is able to string her brittle nerves into a thread that, once brought to light, gleams gorgeous and rock-solid.
Mothers marks their entrance into our world with soft, pained cello and plucky mandolin, a sort of creaking head poke that prefaces what will soon be Leschper's room-shaking howl. The story soon unwinds into Waxahatchee-level spook pop, the lead's worn, rattled vocals at times so strained and emotionally saturated that you envision her as more of a midlife wanderer spooling tunes in an empty house than a fresh art-school graduate. Her sprightliness comes through, instead, in the lyrics. They're both unclean and flawlessly beautiful, the sort of un-ironic diary entries that follow "You wore me like a necklace" with "I've been finding new knives to kiss with."
The album's title could easily be a Courtney Barnett re-dub in another life, a comparison that isn't too far off the mark in terms of storytelling prowess and bare-ass honesty. But where Barnett's Sometimes I Sit And Think, And Sometimes I Just Sit takes a fuzzy, staring-at-clouds approach to emotional processing, Leschper catches each passing thought and elevates it to a place where it must be pointedly heard and deeply felt, no matter how agonizing. It's not easy to make growing pains sexy, but this album embraces the struggle in a way that flows oh-so-naturally – the warm flesh and blood in Leschper's existential crisis brings out the primal human in all of us.
Perhaps we shouldn't be surprised by the lead's success in capturing the post-college experience. Athens, Georgia is a breeding ground for artistic expression, and Mothers enlisted the help of hometown heroes Josh McKay (Deerhunter, on the vibraphone) and McKendrick Bearden (Grand Vapids, on the strings) to fill out several tracks. Not that Leschper necessarily needed too much outside assistance. The beauty of When You Walk A Long Distance You Are Tired is in its independent spirit, desolate quarter-life questions turned inside out. Don't call it a breakup album. This is Leschper documenting her own shattered relationship with herself, piecing it back together through careful meditation.
It shouldn't be remarkable that an album as brazenly touching as this came from a woman's mouth, but in the genre of post-psychedelic rock, it certainly is. Singles like "Blood-Letting" and "Too Small For Eyes" syringe a manic dose of emotion into the male-dominated pool of fuzz, shoring up on acts like Kurt Vile and Mac DeMarco. Leschper's high-flying stream of consciousness lets her float above the rest, if only temporarily.
Links: