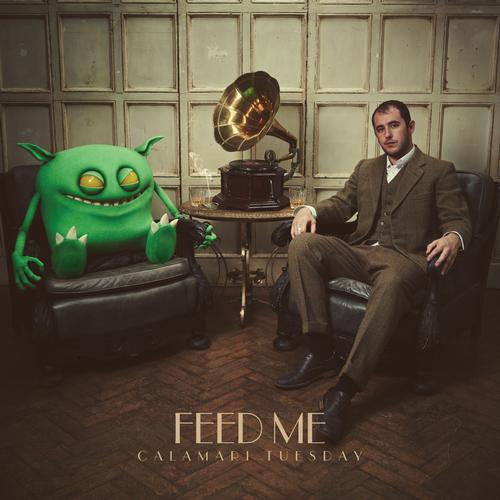 Album Review: Feed Me – Calamari Tuesday
Artist Name:

Feed Me

Album Name:

Calamari Tuesday

Release Type:

Album

Release Date:

Record Label:
Label Location:
Review Author:
Review Date:

EM Review Rating:
To many dance music artists, the involvement of a mask, costume, or alter ego begins and ends on stage. In Jon Gooch's case, his creation of the Feed Me character transcends far beyond an live performance gimmick. His entire production is a personification of the little green goblin, from hard-hitting glitchy electro sounds to his illuminated teeth live show, with the music breathing life into his second self. After a whirlwind year that included news of quitting DJ sets altogether, Feed Me has released his long-awaited album Calamari Tuesday on Sotto Voice Records. If you're curious about the origin of the album name, it was a completely random thought, but that isn't stopping Feed Me from trolling a number of interviews with detailed fabrications about the title's inspiration. Fans will recognize a few familiar tracks in the bundle, but the bulk of the album still sounds completely fresh, jumping back and forth between styles in an extensive 15-track production.
The opening track, "Orion", serves as the perfect welcome to the Feed Me journey. Slow, film score builds serve as the opening credits to Calamari Tuesday, with stabbing synths that build into a thumping bass line. It's a dark, intense leadoff tune, with deep growls and orchestral leads filling the gaps between a pounding kick drum.
Stream: Feed Me – Orion
Feed-Me---01---Orion-2--EM1013
Stream:
Feed Me – Orion
The next four tracks feature full-lengths of tracks we've seen previewed over the weeks leading up to the release, including the feel-good electro on "Death By Robot", the complex chord progressions on "Lonely Mountain", the angelic Tasha Baxter vocals over the dubstep lines of "Ebb and Flow", as well as the grinding two step-synths on "Rat Trap". Real clean production across all four tracks.
Stream: Feed Me – Death By Robot
Feed-Me---02---Death-By-Robot-1--EM1013
Stream:Feed Me – Death By Robot
Stream: Feed Me – Ebb & Flow feat. Tasha Baxter
Feed-Me---04---Ebb-Flow-feat.-Tasha-Baxter-1--EM1013
Stream:
Feed Me – Ebb & Flow feat. Tasha Baxter
The sixth track provides the most unexpected surprise of the album. Even with style switch-ups common to his music, most of Feed Me's productions fall within one of the many sub-genres within electro or bass music. On "Dazed", flashes of emotive progressive house take listeners on an uplifting interlude. Still, there is a slightly brooding tone, especially towards the end of the track, signalling that the green monster is only taking a breather before more relentless offerings.
Stream: Feed Me – Dazed
Feed-Me---06---Dazed-1--EM1013
Stream:Feed Me – Dazed
Later in the album comes a unique back-to-back pairing of the 100 BPM "Fiasco" and the previously released "Love Is All I Got". The former is a funk-driven series of arpeggios and classical piano breakdowns, while the latter is the Feed Me-produced Crystal Fighters single, with Jon's buzzy synths beefing up the British group's brand of indie rock.
Stream: Feed Me – Fiasco
Feed-Me---10---Fiasco-1--EM1013
Stream:Feed Me – Fiasco
Out of all of the album's fast-paced complextro, there may be no more impressive track than "Onstuh". This one is a producer's dream, altering sequences at each stab while keeping energy as high as possible. Finishing off the album is "Last Requests", ending on a more soulful note with vocalist Jenna G. Still, an upbeat kick-snare keeps the dancefloor going until the final bell, where the record closes the same way it opens, with soothing, orchestral acoustics.
Stream: Feed Me – Onstuh
Feed-Me---14---Onstuh-1--EM1013
Stream:Feed Me – Onstuh
Stream: Feed Me – Last Requests
Feed-Me---15---Last-Requests-1--EM1013
Stream:
Feed Me – Last Requests
It's difficult to make an album full of club-ready electro and dubstep tell a story, but Feed Me does just that on Calamari Tuesday. He's just as likely to use big-room synth arpeggios as he is acoustic piano. The dark themes on every track remind us that the Feed Me green goblin is much more than a gimmick: it is the phantom of Jon Gooch's opera.