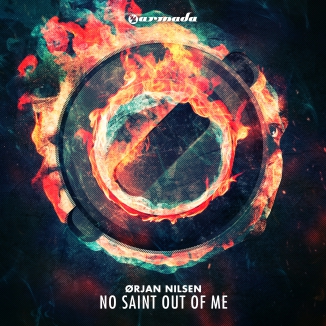 Album Review: Ørjan Nilsen - No Saint Out of Me
Artist Name:

Orjan Nilsen

Album Name:

No Saint Out of Me

Release Type:

Album

Release Date:

Record Label:
Label Location:
Review Author:
Review Date:

EM Review Rating:
While many of us were rushing off to music festivals or prepping to savor the last official weekend of summer, Norwegian producer Orjan Nilsen was celebrating the release of his second artist album, No Saint Out of Me that's now out on Armada. Touring the world, thriving in his #32 spot on 2012's DJ Mag Top 100 Poll and striking a lightning bolt of edginess on electro trance on tracks like "Violetta" and "XIING" are things that Nilsen has been known for, but after this release he has solidified his presence as a collaborator, composer and a force within dance music that we will be seeing on the Beatport Top 100 for a long time to come. Unique music is something to be expected from Orjan Nilsen, but with No Saint Out of Me, he spreads his wings to tackle newly explored techniques and prove his breadth of knowledge of electronic music.
Stream:
Orjan Nilsen - Untouchable
Hurricane-(Extended-Mix)--EM0913
Stream:
Orjan Nilsen & Christina Novelli - Hurricane (Extended Mix)
Orjan Nilsen has filled the shoes left empty by Dash Berlin when he directed his music toward the more mainstream progressive and electo audiences. After listening to this album in its entirety, we can welcome Nilsen as the new breed of a king of vocal progressive trance. There are multiple vocal anthems on No Saint out of Me featuring beloved vocalists like Christina Novelli and Senadee, with "Hurricane" being the first sign that Nilsen really knows what he's doing in composing a vocal track.  But the one that solidified my assurance of this was "Apart," that features Jonathan Mendelsohn. Mendelsohn is already a a talented and emotive vocalist, but "Apart" is a perfect combination of beautiful sing-songy vocals with nostalgic guitar synth strung through the track that sounds like it's been resurrected for the first time since ATB's "9 AM" in 2009 to shoot this track straight to the heart.
Stream:
Orjan Nilsen - Apart
In-The-Air-(Radio-Edit)--EM0913
Stream:
Orjan Nilsen feat. Adam Young - In The Air (Radio Edit)
"Smile Honey" and "Knobtwister" are two songs that follow "Apart" and take us back to what really got Nilsen to where he is today. Both are dark, piercing instrumental tracks and each have their own voice that reminds us that talented producers who really know their craft can take something ordinary and reinvent it as they choose. In this case, something that might sound cheesy or mainstream if done by someone else is amplified and a head-turner when done by Nilsen. "You Will Never Be" closes out the album as a well-rounded calmer piano-vocal synth that is of course done in Nilsen's own way.
Tracklist: 
Orjan Nilsen feat. Senadee - Hands (05:04)
Orjan Nilsen - Mafioso (03:40) 
Orjan Nilsen feat. Natalie Peris - Saint Out Of Me (03:15)
Orjan Nilsen presents OVO - Untouchable (04:47)
Orjan Nilsen - XIING (04:09) 
Orjan Nilsen feat. Christina Novelli - Hurricane (05:06)
Orjan Nilsen feat. Adam Young - In The Air (04:09)
Orjan Nilsen - Violetta (05:51)
Orjan Nilsen - This Traktor (04:07)
Orjan Nilsen & Jonathan Mendelsohn - Apart (03:38)
Orjan Nilsen - Smile Honey (04:24)
Orjan Nilsen - Knobtwister (03:51)
Orjan Nilsen - You Will Never Be (06:54)