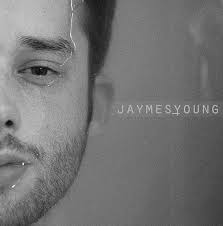 I'm going to get straight to the point. You will be a fan of Jaymes Young by the end of listening to his latest effort, Dark Star. The L.A. based musician has been dropping sad fire for a minute. His stripped down performance of Haddaway's "What Is Love" got the buzz started with us in June, and successful outings on "Fragments" and "Moondust" have showcased a writer vulnerable to love, loss, and redemption. Young is equipped with a captivating and versatile voice that excels over the heavier bass/synth/wobble tracks of "Dark Star," "Moondust," and "Northern Lights." However, Young is not a one trick alternative R&B pony. In fact, there is almost a greater rawness in his songwriting on the records where the production was a little more restrained a la "One Last Time" and "As Long As You Love Me." On "One Last Time" he writes, "Could I breathe please, one last time/You in my lungs before I curl up and die/All my world is losin' light/I'm leavin' this cold world of mine/No pleadin' is gonna turn back time." Yet, while this melancholy type of styling is prominent on Dark Star, it does not define the entire project. Young is savvy enough to include some cleaner indie rock rhythms on tracks on "Hold You Down" and "Running On Fume" and even a little indie pop on "Two More Minutes."
Overall the album is extremely cohesive beginning emphatically on "Dark Star," enjoying a brief high on "Two More Minutes" and then plummeting into the despair of Young's previous relationships. Young continues through the grieving and reconciliation as witnessed in the song titles "One Last Time," "Fragments," "Wondering," "What Is Love," "Parachute," and "Waiting For The Sun," only to storm back on the dance friendly "Hold You Down." Young then uses the remaining three tracks to ground the project in a peaceful albeit somber state on "Northern Lights." You'll leave the initial listening with a few favorites, but you'll definitely want to keep Dark Star on repeat.
So what else do you need to know? Jaymes Young is the newest "Dark Star." 
Summary
Written By
Review Date
Release
Rating