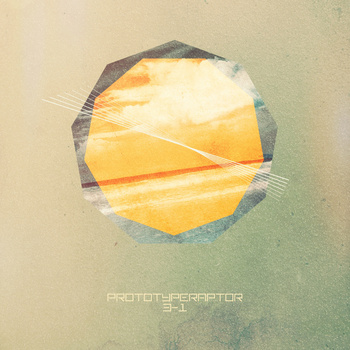 If you love classic video games, funky talk boxes, and complex piano melodies, then boy do I have the guy for you. At the pivotal age of 13, Jonathan Paulsen (better known as PrototypeRaptor) began his venture into the world of house and electronic music production. Complex melodic design and fidgety staccato synth lines distinguish him from the rest of the electrohouse community, leaving his relatively unknown status a mystery to many. You may have heard his remix of Wolfgang Gartner's "Push and Rise", or his original "Timeless". If you haven't, be prepared to have your musical preferences changed forever. Go ahead, take a minute to check them out…
Mind blown, right?! Those two examples are but a fraction of what Raptor has brought to the table in the past decade. As of now, he has 74 tracks and mixes up on his Soundcloud—more than some big-name DJs and producers. Enough ego stroking, let's get to his latest release, his third full-length album titled 3-1 (a nod to Mario, if you didn't catch it). The first track off the album, "Bring Back the Funk", is a testament to the seemingly monotonous and banal productions being "featured" on music blogs or played out at big festivals by [enter typical headliner name here].
Remember those countless hours spent on video games, skipping school the next day because you couldn't beat that one level of Mega Man 2? By the time you walked away with that Pyrrhic victory, the monophonic SID-based theme music was burned in your mind forever. Fast-forward a couple decades to the peak of electronic music, where the average 20-year-old producer's influence comes from those long hours behind the eight-button interface. What better way to honor a childhood well-spent than to make a living turning those painstaking victories into musical gold? A perfect example of this is "Mode 7", a true testament to the first-world struggles of Generation Y.
3-1 isn't a one-trick pony focusing on a single genre or mood. The uplifting melody of "Mode 7" is perfectly contrasted by the darkness of the glitch-heavy "Juggernaut". It is unclear whether or not it is hat-tip at the all-too-familiar compression junkies, but Juggernaut "has a higher ratio of compressors per channel than any other song" he's ever worked on. If you're not familiar with what that sounds like, it's heard in the bounciness of the synths as a factor of the kick drum or bass line. Compressors are also the reason why the fattest bass kicks don't conflict with the even heavier bass lines. Either way, there is such a thing as too much, but a glitch tune like Juggernaut serves to only benefit from it, m8.
Other tunes, like "The Storm" and "F#", assume the challenge of competing with the cliché Beatport Top 100 tracks running rampant these days. "The Storm" begins with the typical clubby kick-snare-synth combination, but quickly evolves into a monstrosity of piano chords and layered saw waves likened to that of Mord Fustang and Porter Robinson. "F#" is a great example of "festival music" fit for the main stage of the average European house-focused gathering. The gritty synths combined with the punching kicks make for the perfect drop after a melodic breakdown. What distinguishes these two PR originals is hard to put into words, but it is clearly visible in the unique sound design and song structure.
PrototypeRaptor---F--EM0713
Stream:
PrototypeRaptor
 - F#
Let's discuss talk boxes and funk for a second. Back in the 1960s and 70s, musicians competed for funkiness, not loudness. Their goal was to bring out the soul of the instruments and create a feel-good atmosphere that could uplift any bad mood. Funk music typically featured talk boxes, upright basses, Hammond organs, rhythmic drums, and the occasional horn section if the band was big enough. Luckily for modern electronic producers, music is no longer limited by how many "instrument players" you have at your disposal. Take "Weapons of Mass Refunktion" and "Play 'em Off", two of the grooviest songs on the album. These tunes are the reincarnation of soul in an age where funkiness is more easily obtained than a blunt on April 20th. They possess that factor, the Chemical X that can turn any club hit into a requirement for any playlist, be it gym or poolside.
If the words of praise before you aren't enough to convince you that 3-1 is a revolutionary album in a society filled with complacency, don't worry—funk is not for everybody. Regardless of your sentiments towards the album, it is hard to dispute the fact that PrototypeRaptor is one of the most forward-thinking and unique producers around today. You'll soon find his name on lineups around the world, destroying the dance floor of every festival and club that has the privilege of booking him. When that time comes, make him priority number-one for your schedule and witness a moment in musical history.