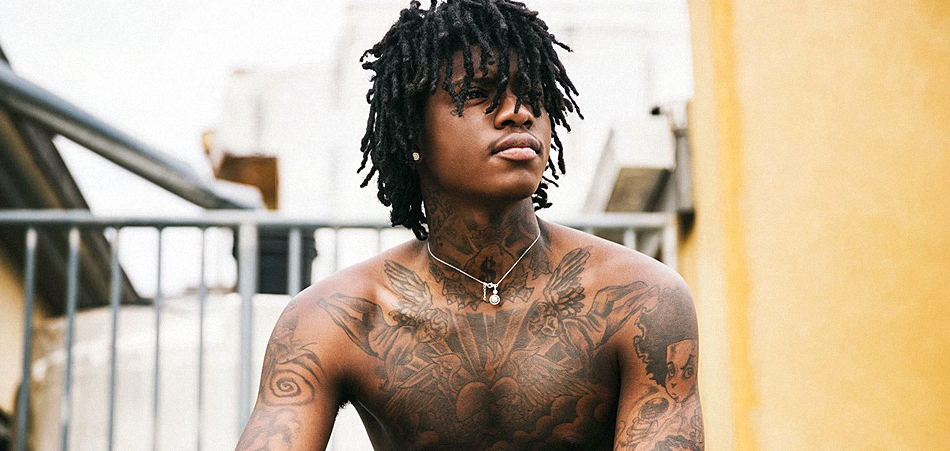 Album Review: SahBabii - Barnacles
Artist Name:

SahBabii

Album Name:

Barnacles

Release Type:

Album

Release Date:

Record Label:
Label Location:
Review Author:
Review Date:

EM Review Rating:
Underground Atlanta vocalist SahBabii has just come through with a brand new full length album Barnacles, a glamorous trap dream with an infectious pace. This is Sah's latest batch of tracks since the 2019 EP 3p, and the first full length project since Squidtastic two years ago. The album is a healthy 41 minutes in length and features previously released singles "Double Dick" and "Tongue Demon."
If Barnacles is any indicator of the trap prodigy's staying power in the saturated rap scene, it's clear that he isn't going anywhere, as the rapper delivers catchy hooks, off the wall flows, quirky trap beats, and undeniable charisma throughout. More importantly, this new effort shows SahBabii refining his vocal chops, beat selection, and personality to new heights, elevating him to an upper echelon of style and class.
The title track of Barnacles sets the tone strongly, featuring quick bars over a lightly ringing beat with charming bells, all while maintaining the nautical and animal themes consistent with SahBabii's discography. Next is "Ready to Eat," a glitchier and more psychedelic cut that shows Sah slowly crooning over the beat with patience. With "Giraffes & Elephants," he takes a pace on the side of balladry, as the whistling of the angelic beat backs a bouncy flow. The upbeat, more traditional trap aesthetic of the early songs transition well to some more melodic, luxurious ones later on.
The middle leg of the album brings "Poppin' Shit," one of the strongest tracks on the album. The smooth sung raps from SahBabii match the warm, piano based neo-soul beat excellently, conveying the lavish materiality of his lifestyle. Later on, "Purple Umbrella" brings heavenly flute runs in the background while Sah bares his soul through a dense autotuned lens. The balance between the thumping trap beat and the gorgeous voices of the instrumental is impressive to say the least. "House Party" delivers a straight up R&B jam from SahBabii, as his voice brings soft echoes of glamorous tales of love and nightlife.
Closing out the project, "711" brings an eastern influence in the instrumental for a slower ballad with lush strings and dense vocal samples. It feels like the relief and excitement of looking out over the lights as your flight lands in a major city. With "Hey Mr." the final track, SahBabii reiterates the simple hook, "Hey Mr. you're not a killer," over warm synth runs and a choppy trap beat. It's a true mood, ending with contemplation and warmth.
Overall, Barnacles is an effortless work of swagger and luxury, showcasing a vocalist that has never been more comfortable and confident in his own style. The ability to fuse striking trap beats, angelic melodies, and dynamic vocal performances so seamlessly is a feat in and of itself, not to mention being a sheer joy to listen to as well. SahBabii is really on to something here; he's distancing himself from the monotonous circle of Atlanta trap-rappers with infectious individuality, and he's having a blast doing it. This weird world of expansive dream-trap is truly a sight to see and a thrill to explore.
Connect with SahBabii: Instagram| Soundcloud | Twitter