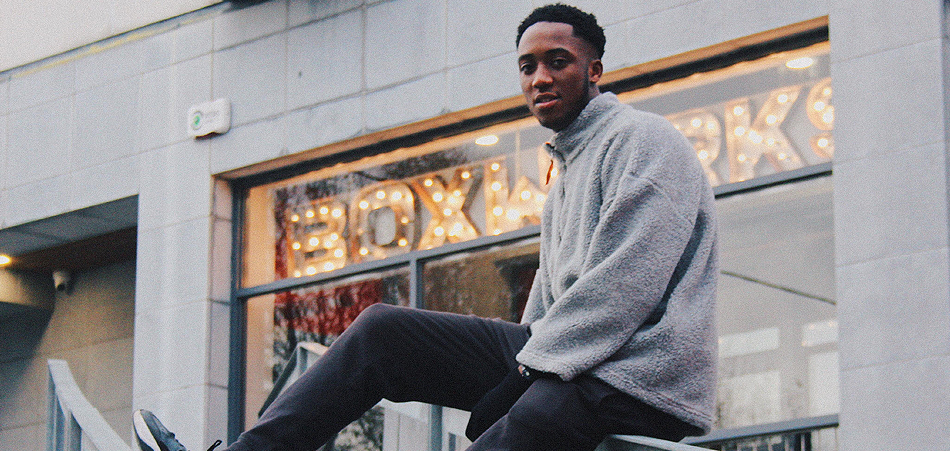 Album Review: Pat Lagoon - Box Room
Artist Name:

Pat Lagoon

Album Name:

Box Room

Release Type:

Album

Release Date:

Record Label:
Label Location:
Review Author:
Review Date:

EM Review Rating:
After building a fanbase with a slew of single releases, Pat Lagoon drops his debut solo EP Box Room. 
Since his debut single "Love Bites" way back in 2018, the growth of Waterfords Pat Lagoon has been nothing short of astonishing. Dropping off single after single, hit after hit, he seemed invincible and had his budding fanbase waiting for him to miss. On top of this, his collaborative project with Rikshaw entitled Recess was further proof that the new kid on the block not only knew how to put together a song but also a body of work. This led to both acts joining up with the incredible stacked Anomaly roster. After huge singles such as "Let Loose", "Shadow" and "Take Time", the only question left was can he do it on his own? 
We now have the answer. After much anticipation, Pat Lagoon has released his debut solo project titled Box Room. The 6 track extended play is a deep dive into the mind of "The Goon" and we find out more than we ever did before. This body of work is a moment of discovery despite having two years worth of songs to his name. We are finally welcomed into Pat Lagoons Box Room. 
The intro track "Problem" is exactly what was to be expected. The spacey midi pianos matched with the heavy 808 patterns create an interesting soundscape for Pat to shell out on. He of course obliges with a blend of sweet melodies and hard hitting punchlines. Pat shows off all the weapons in his arsenal on this track. He proves he can bar with the best of them with impeccable timing and tight flows as well as voicing pinpoint melodies and penning a catchy chorus. This is the palette cleanser it needed to be in order for you to be prepared for what is to come next. The door to the Box Room is officially open. 
As we step into the dimly lit room we are greeted by a guest. Cork singer songwriter Morethan joins Pat on the second track titled "Digital Love". Morethan handles the chorus with expertise not seen from many. The melodies are ear catching and its a very sticky hook that will sit in your head for days. As for Lagoon, he steps up to the plate with more bars but this time it is much deeper than the surface level. Discussing emotions such as love, lust and longing on this track, Pat shows a side of him who is in touch with his emotions and what he wants but voices them in an extremely unique way. The production feels very neon with shimmering vocal layers laid on top of laid back, smooth but knocking instrumentation. A true feeling of where Pat is at currently and an overall perfectly constructed song. Definitely one of the highlights on this project. 
On the third track "Fears" we are smacked in the face with an extremely hard trap beat. Pat proceeds to deliver one of his best chorus's he's ever delivered. The true highlight of this track is the extremely wordy but tight flows on the verses. This is further proof that Pat is extremely gifted when it comes to rapping and songwriting. He delves into the importance of staying focused on your growth and plays down his fears. He expresses the belief he has in himself on this track. One thing is clear once it wraps, we have a really diverse talent is on our hands. The synth line on this song adds an extremely catchy element but the drums are the hardest hitting part of the track with phenomenal kick/snare conversation and trippy hi-hats. 
The CXDY produced single "Take Time" track comes next. The acoustic trap ballad presents more of the melodies we have come to expect from Lagoon. His interesting takes on love and taking it slow as well as stories of past heartbreak prove this track to be a warning. The production is all the elements CXDY has become known for with stuttering hi-hats, heavy 808's and perfect drum patterns. The acoustic element of this track is a surprise but it perfectly sets the table for Lagoon to come in and give us this story. It opens a further dimension to his writing ability as he goes into a more reflective mode. 
Continuing the acoustic vibe on the next track, Lagoon teams up with BENZY and production from Irish heavyweight LHK for the banger "Out The Globe". The UK/Ireland link up presents a new dimension to this project. Another stellar hook from "The Goon" but he does not shy away from going bar for bar with his Cardiff counterpart. The flows are tight, the bars a braggadocios and the production is hitting hard. LHK implements all the things we have grown to expect from him like slapping bass lines and drum patterns that consume the listener but I want you to pay particular attention to the percussive elements in this track. This is another standout track on the album and according to the response, a locked in fan favourite. 
We then reach the final track of this odyssey. The first single from the project "Smooth With It" brings in those vaporwave vibes that are to be expected from another Lagoon/LHK link up. In this track like its introductory counterpart, The Goon shows all sides to his arsenal. He flows between melodies and bars seamlessly and creates an impeccable feeling of finality. Another stellar hook on this one that is layered fantastically. The beat is a lot more relaxed for LHK, the glossy midi pianos along with the sharp bass notes create an interesting juxtaposition. The drum pattern is busy but reserved, allowing a lot of room for Lagoon to experiment and play with flows and cadences. A fitting way for us to close the door on the Box Room. 
As we shut this door, we look back and see an artist who has proven that he has the capability to become a genuine star in the industry. This listen was masterfully crafted to feel claustrophobic but spacious at the same time. The Box Room implies that this would be a cluster of music from a small space but there is nothing small minded or small scale about this. This EP is proof that the stuff created in the room has the ability to go global and become something that we won't forget. Lagoon has proved himself numerous times to be a fantastic songwriter and this further solidifies that statement and confirms Pat Lagoon as a serious one to watch in the bubbling hip-hop scene in Ireland. 
Some would claim that Lagoon is a jack of all trades and master of none and to them I say I disagree. Absolutely, there is room for improvement in all the assets that he possesses but if anything that is even more terrifying. He can and most definitely will get better and grow into an even stronger force in the industry. That is something that artist should be aware of and follow his moves. I feel some budding artists can learn a lot from not only his artistry but his business moves. Pardon my pun but he really did "Take Time". 2 years spent building his fanbase, learning his craft and growing as an artist has all paid off and we are now on the verge of having our next groundbreaking hip-hop act from Ireland. 
In regards to what's next for The Goon, he has teased that he is far from finished with serious rumours of a follow up to his tape with Rikshaw in the works and he isn't one to ever slow down. He is an extremely hard worker who shows no signs of slowing down and now he has a grip on his portion of the pie, I don't think Pat Lagoon is going anywhere but up anytime soon.