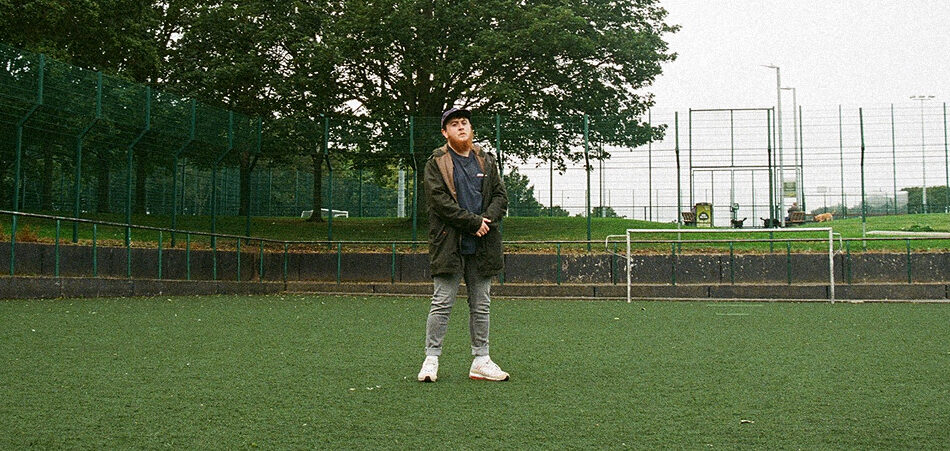 Album Review: Fynch - Bookies Pens & Loose Ends
Artist Name:

Fynch

Album Name:

Bookies Pens & Loose Ends

Release Type:

Album

Release Date:

Record Label:
Label Location:
Review Author:
Review Date:

EM Review Rating:
Our early to mid-twenties is a time of constant change and chase, a time of toil and struggle as we adjust to post education life and the real world of work. This is exact state of stasis is where we are placed by "Drimnagh's Human Sacrifice" Fynch on his debut EP Bookies Pen's & Loose Ends and to call it a thing of beauty would be the understatement of the century.
Sean "Fynch" Meehan is a 23-year-old hip-hop artist from Drimnagh in Dublin, Ireland. Bursting onto the bubbling Dublin rap scene in 2017 with his debut single "burner", Fynch has found way to be extremely witty and his use of obscure sport references from football to horse racing made him an artist with a level of anticipation around him. This anticipation and hype the attention of District Recordings who stepped up and backed the budding lyricist with his debut mixtape, ironically titled "MIXVAPE".  After the success of this project and a festival performance at Electric Picnic 2018, Fynch would continue his legacy by co-founding the Burner Records independent label, with his artistic counterparts Marcus Woods, Local Boy, ARBU & Sick Nanley. This imprint would be the platform for Fynch to release his debut EP to the world and, as always, he did not disappoint.
This short listen is devoid of hope and a clear look at what it is like to have very little self confidence in yourself. Fynch takes a no nonsense look at what the human brain does to convince its host body that things are going to change, only to proceed and remain the exact same way in a pit of wallow and self-pity. It is not all doom and gloom however, there is a sense of embrace of all his flaws on this project. Fynch finds a way to create a sense of rising and hope in a hopeless place. He does this in masterful fashion from his experiences and never losing an ounce of heart and home.
Irish hip-hop has always been built on this vision of self-deprecation. As with all artists from all over the world, you look to your immediate surroundings for inspiration. Unfortunately, Ireland in the modern day is devoid of much of anything to inspire happiness, moreover, it is place that is currently in a state of wallow and sadness. Whether it is the housing crisis, the nightlife scene that is being trampled to create more office space and hotels or the extreme lack of funding and ridiculous amount of cuts the arts have been dealt, the modern Ireland and specifically the modern Dublin, is a place devoid of much good news lately. This state of uneasiness and confusion is the perfect grey canvas for the Burner Records co-founder to give his explosive and passionate take on what he has experienced since he reached the post education section of his life.
The opening title track is an introduction to the current landscape of Fynch's mind. He flows impeccably over a very alternative beat and hits us with some amazing quotables and he proves that he has one of the most underrated pens in the Irish Hip-Hop scene right now. There is a tinge of hope in this track but a level of honesty not often seen from Irish men. The hope for change is here. Overthinking and over analysis are all on show here and shows a multi-dimensional human being who has many flaws and is clearly effected differently by every one of them despite his hope for change.
"Like Me" is a darker turn but the hope continues in this second track. The element of being wanted is on show here and Fynch's insecurities around the dream he's chasing and the likelihood of success being slim compared to if he settles for a job that is linked to his degree but the inevitable depression and dissatisfaction that will come from that decision is hinging on his mind. The alternative production continues and is the perfect backdrop for this self-exploration.
The project continues with the lead single "Saipan". This track is a deeper dive into the dream he is chasing and how he can balance his life and expectations. The on the nose comparison to the incidents that took place at the 2002 World Cup in Japan with Roy Keane and Mick McCarthy is very well described in relation to his current situation and he continues to prove through this, he is an extremely prolific writer.
By far the darkest moment on the project for me is the next track "Rotten". This track see's Fynch begin to look at himself and realize he hates himself. That he himself is Rotten. The mirror is cracked and he wants to see change. He talks about the fact that he is scumbag because that is who he is and it's not just some aloft construct created in his head. Despite the clunky and dark beat and the down-trodden sound of this song, this track is the first look inward by the Burner Records founder. By far one of the most introspective and harsh listens this year.
The project comes to a close to with the Marcus Woods assisted "Milk Teeth". This is the final moment of reflection for Fynch and it shows. It feels like he is offloading for the last time all of his feelings and insecurities, and it's harrowing yet beautiful. This is the first time on the whole listen you can hear a sense of acceptance and embrace. Fynch has seen the hopeless and found the hope he was looking for all along. On that note, the beat is a thing of beauty and a testament to the main man Marcus Woods. Marcus is the lone feature of the project and it is obvious why. The multi-talented super producer crafted this ending to perfection and laid the groundwork for Fynch to finally release all this pent-up emotion he has been leaking out through this project. The weight has finally been lifted.
Then it ends just as soon as it came. The credits roll and you are left to pick up the pieces and form the jigsaw yourself. There are many different outcomes and many different opinions produced. It is a 14-minute journey that is presented in such harrowing detail that it leaves you to reflect and ponder what you just experienced. The most important thing is that this journey in itself is universal. We will all experience this segment of our livelihoods and we will all face or have already faced the state of hopelessness that Fynch is describing to us and talking to us from. From my experience, I have been in this pit myself and never before has someone spoke with such authenticity and described the feelings that swirl around your head so well as Fynch does with relative ease on this extended play.
It is beautiful and it is what will become known as the start of one of our great commentators in this Irish hip-hop culture of ours. I think it would be absolutely criminal to let this project go under your radar. Please support this project and let's hope we get to see Fynch achieve his dreams and play the big festivals next summer and from there become the artist we all know he can be. The story is far from finished for Drimnagh's Human Sacrifice, in fact, it has literally just started.