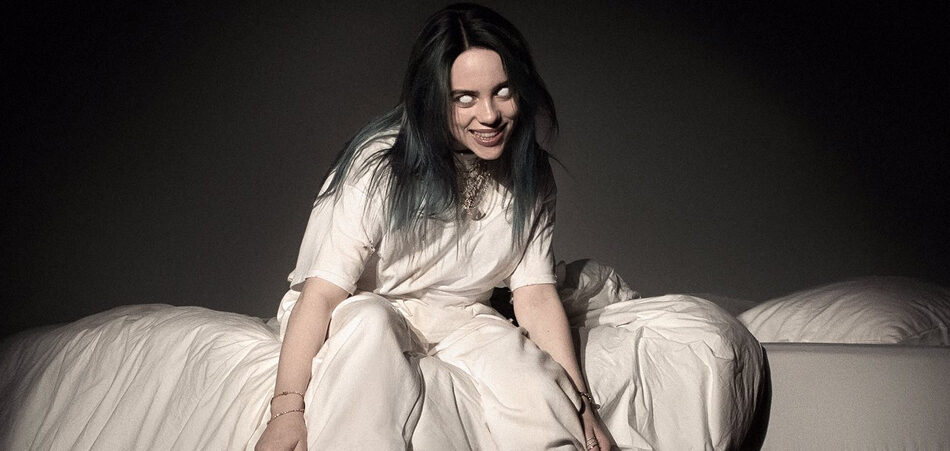 Album Review: Billie Eilish—When We All Fall Asleep, Where do We Go?
Artist Name:

Billie Eilish

Album Name:

When We All Fall Asleep, Where Do We Go?

Release Type:

Album

Release Date:

Record Label:
Label Location:
Review Author:
Review Date:

EM Review Rating:
When We All Fall Asleep, Where Do We Go? feels like the culmination of a life's work. Naturally, it's only the beginning, but the world—and I really do mean the world—has been waiting for this since Billie Eilish released the Soundcloud-born instant hit "ocean eyes" three years ago. The pop prodigy's debut album, out today via Darkroom/Interscope, has been so highly anticipated that rumours of a full-album leak have been circulating since last week. 
If Eilish is an ultra bored Alice-in-Wonderland, her brother Finneas is the mad hatter. Taking up the mantle of producer once more, he casts a choral quality on his sister's near perfect vocal. On stunning slow-burner "i love you," she echoes larger than life. "ocean eyes" was remarkable. Impressive, even, considering Finneas was not yet old enough to legally consume alcohol upon its release. But one of When We All Fall Asleep's more dizzying triumphs is the twenty-one-year-old's heavy-handed, bass-driven production. It bears his signature stamp: there's no doubt this is Finneas' work, blending jazz, rock, pop, and hip-hop with Eilish's punk-as-fuck attitude. In anyone else's hands, the genre fusion could go easily awry, but the exponential growth of his skill is equally as staggering as that of his sister's ascension to a semi-concerning level of fame. The final track "goodbye" is a breakdown of specific moments from every other song on When We All Fall Asleep, as if Finneas pressed a rewind button in an attempt to pull Alice from the rabbit hole. 
When We All Fall Asleep indulges in every vice. "bad guy" is confrontational in its bacchanalia. The song fits the Eilish persona like a glove. The album is thematically apocalyptic and biblical. In "all the good girls go to hell" Eilish references Saint Peter, keeper of the pearly gates to heaven. In a single track, she manages to satirize both fame and the American dream as well as chastise adults twice and three times her age for climate change. "Man is such a fool, why are we saving him?" she quips, along with other knife-edged one-liners seasoned songwriters could only dream of imagining. She sings of hills burning in California, and although most of When We All Fall Asleep presents Eilish like a mischievous Dionysus, bored and playing with the world, one does get the impression that she cares quite a bit about, well, everything. 
When We All Fall Asleep hits its boiling point at "my strange addiction." If there is anything wrong with this album, it's that the energy begins to fade after this masterpiece of a song. The melody is infectious and the beat is irresistible. Plus, they even manage to sample The Office. What's not to like?
Part of Eilish's enigma is that teenagers just aren't quite like they used to be. A child of the information age, I don't think she remembers a time when social media didn't exist. Additionally, she's cutting her teeth in Trump's America and it's no secret that Gen Z'ers have it existentially harder than even millennials. Is Eilish medicated? Who knows, really. Certainly, songs like "xanny" might suggest so, but I suppose the obvious response is that she wouldn't be much different from many other Americans age 14-25 if she were. She's become rapidly and dangerously famous in a short amount of time, and When We All Fall Asleep, its artistic achievements aside, manages to exist somewhere between critique, honest reflection of the zeitgeist and a progression of the Billie Eilish mystery. The teens are alright, everyone. 
Connect with Billie Eilish: Spotify | Twitter | Instagram