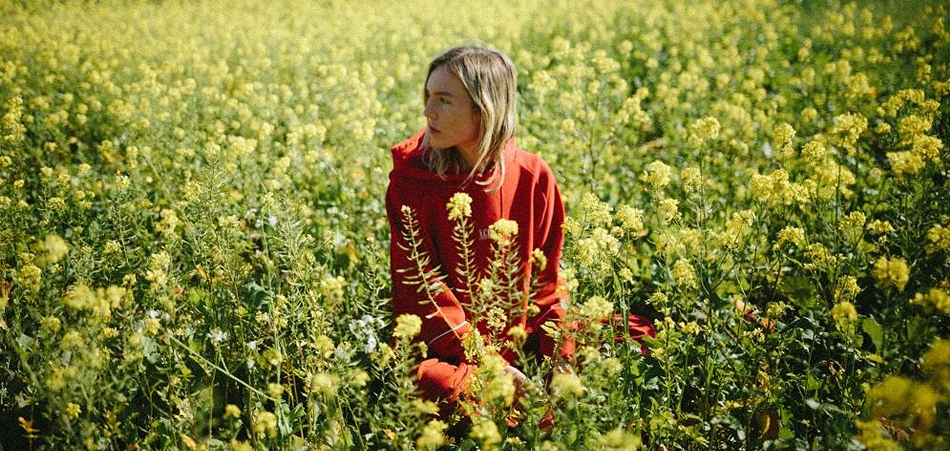 Album Review: The Japanese House's first full length "Good at Falling", is a gem of innocent maturity
Artist Name:

The Japanese House

Album Name:

Good at Falling

Release Type:

Album

Release Date:

Record Label:
Label Location:
Review Author:
Review Date:

EM Review Rating:
At only 23 years old, Amber Bain, aka The Japanese House, has both vision, and a list of accomplishments well beyond her years. Her first full length, Good at Falling, out now through Dirty Hit, comes after four lush (and equally well received) EPs. Since Bain's debut in 2015, she's already wowed the music world. Counting among her friends, co-producer George Daniel of The 1975 and others. Much of Good at Falling was recorded with BJ Burton (James Blake, Bon Iver) at Bon Iver's cabin. However, even with such players on her side, the true magic of her music comes from its honesty, immediacy, and Bain's unique way of pulling you into her perspective.  
The name The Japanese House refers to a vacation home that Bain stayed in for a week when she was six or seven. During her time there, she dressed as a boy and hung out with the girl next door. At the end of the week, her neighbour wrote her a love note. When Bain tried to explain that she was actually, in fact a girl, the neighbour wouldn't believe her. It's a nice origin story, but it also reveals how the idea of examining and exploring identity has always been at Bain's core.
Her newest music video for "Maybe You're the Reason" plays explicitly with this kind of self examination. Scene after scene, in a dreamy, shadowy nightscape, Bain continues to literally look at herself — whether it's an image in the mirror, or her double laying beside her in bed. She sings, "I keep looking for something, even though I know that it's nothing." Even as she relentlessly digs deeper, the song (and video) is suffused with absence. "Should I be searching for some hollow feeling?" Bain's always been upfront about the psychological reflection in her music. As a result, much of her power comes from her unflinching honesty.
After a series of four-track releases, her debut full length, Good at Falling, reveals the virtues of working in a longer form. There's more patience, and Bain has the time to embody and explore a greater array of emotions and dynamics. From the final acoustic track "i saw you in a dream", to dancier hits like "Follow My Girl" or "We Talk all the Time", the album dips and rises, all while maintaining a dreamy cohesion. In "You Seemed so Happy" Bain opens up into some of the most straight ahead (and gripping) rock moments of her music to date. In another more rock based track, "somethingfartoogoodtofeel", she frames a powerful 6/8 shuffle chorus, but cleverly sandwiching it between a slower paced intro and a haunting outro. This then transitions into "Lilo", one of the rawest tracks on the album. (The video features Marika Hackman , Bain's ex, including a scene where they kiss). Even though it was filmed after their breakup, Bain is clearly never one to shy away from her feelings, especially the painful ones. The result is a gorgeous and heartbreaking video, one that Bain admits even brought her to tears as she watched it.
Good at Falling also has more moments of angst compared to her earlier music. In "Everybody Hates Me" the sorrowful descending piano line gets taken over by an aggressive, in your face synth arp chorus (complete with roto tom fills), to a kind of James Blake effect. Again, this moment of catharsis is followed by a reprise of tenderness in the next track, "Marika is Sleeping". Bain deftly manipulates the placement of the songs, drawing the listener along this oscillation of catharsis and introspection.
Bain has a knack for balancing pop sensibility (the saccharine synth tones, the heavily layered beats) with undeniable honesty in her lyrics. The ambient sounds swirling in the background add another level of depth to the project. They create a world that we can sink into, familiar for any fans of The Japanese House as a special atmospheric space. A key component to this sound are the heavily processed vocals. A weaker artist might use such heavy handed vocal techniques to mask or overcompensate for shallow lyrics. But, with Bain's depth of intimacy, the sounds serve instead to create this dreamlike space of sound that's so easy to lose yourself in.
This is appropriate since dreams take on a large role for her. She's admitted before to being an active dreamer, often going lucid. But dreams themselves also play a role in her songs, whether it's watching her ex sleep in "Marika is Sleeping" and imagining what she may be thinking, or the only song on the album reworked from an earlier ep, "i saw you in a dream", which serves as a little reprise at the end of a beat heavy album. Or again in "Maybe You're the Reason" when she sings "I tried my best at sleeping but my dreams were unappealing."
Between the atmospheric synth pop sound and her tendency towards total self examination, dreams feel like an appropriate theme for Bain. It helps draw you into her personal headspace, almost as if you're given a little glimpse of her thoughts. And if it didn't seem so natural coming from her, we might be more surprised by how readily she lets the listener in. One fear is that Bain, like many artists, would shed her intimacy as her vision grows. On the contrary, as Bain's scope expands, she dives ever more uncompromisingly inward. It's a welcome grace of her music that maturity and innocent honesty aren't exclusive.
Connect with The Japanese House: Facebook | Twitter | Instagram | Spotify
Summary
Written By
Review Date
Release
Rating