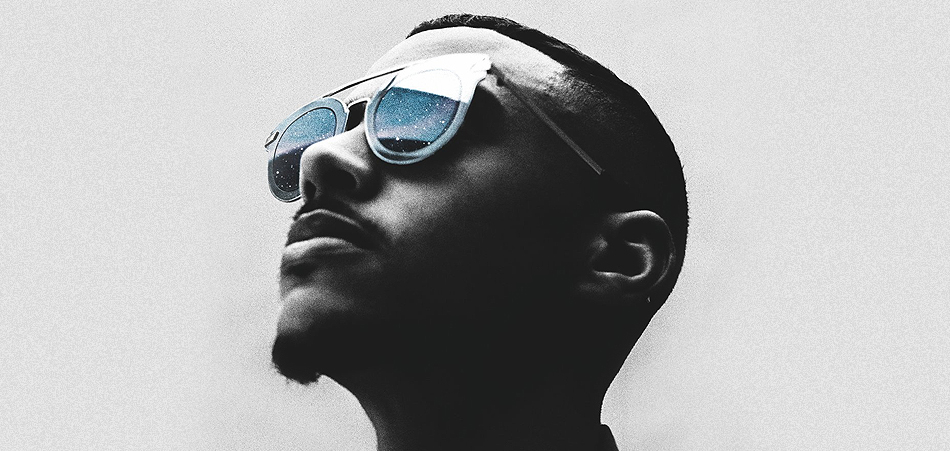 Album Review: Swindle - No More Normal
Artist Name:

Swindle

Album Name:

No New Normal

Release Type:

Album

Release Date:

Record Label:
Label Location:
Review Author:
Review Date:

EM Review Rating:
In the opening moments of Swindle's new album No More Normal, Rider Shafique asks, "Do you, do I, do we ever stop to question why we do what we do?" The poet's words reverberate throughout the album, which is an odyssey in the search for peace. No More Normal is a sprawling snapshot of life in the current moment, which can be confounding, challenging, and awe-inspiring all at once. The maestro Swindle crafts everything together with help from an impressive array of guests for an end product that is bursting with vitality. The diverse influences from hip-hop, jazz, and Swindle's own background in grime and dubstep, all coalesce seamlessly under the umbrella of his undeniably stylish sonic aesthetic. The "normal" in the album's title seems to refer to a status quo, making the music and lyrical themes a sort of rebuke of any preconceived notion of how things are and what they should be. No More Normal finds Swindle venturing into uncharted musical realms with help from an all-star cast and the result is a truly astounding work.
Even with the eclectic palette of voices and energies on the album, Swindle's production takes the forefront. Each track is a world unto itself, dense with material from all kinds of musical sources and production techniques. There are the beats themselves, which are reliably extraordinary, as well as string and horn arrangements from Neil Waters, all of which naturally gel to support the various vocalists. A multifaceted project like this could have easily slipped into oversaturated chaos, but Swindle's consistent, tasteful vision keeps everything cohesive in a way that celebrates the multitudes of influences and highlights the connectedness of it all.
As much as Swindle's production is the focal point of No More Normal, the album wouldn't be what it is without its vocalists. The various singers, poets, and MCs offer engaging tales and musings that reinforce the idea that amid all of our differences, we ultimately have much in common as we traverse the journey of life. In the aforementioned verse by Rider Shafique on "What We Do," he writes, "I can relate to your struggle / I overstand the hustle / but it's the music that moves," further setting the tone for what's to come.
Bristol singer Eva Lazarus makes a strong showing on the album, offering some striking social commentary with effortless flow. In the opening of the song "Knowledge," she spits a fiery spoken word verse that quotes the adage: "Knowledge is power." She writes, "Connect the dots to open the doors / if you pay attention then the world if yours." Later on the album Lazarus returns with a message in a similar vein on "Talk A Lot" where she repeatedly sings, "You talk a lot but you ain't sayin' nothin' / say something." She cleverly emphasizes the point by refraining from adding more lyrics on the song, giving space for the angular bass lines, crackling percussion, and fluttery guitar lines from Mansur Brown, who closes the track with a blistering solo.
There is an underlying theme throughout the album's lyrics of triumph in the face adversity. We get a perspective from Ghetts of the dangers of coming up in East London on the album's most aggressive track "Drill Work." Later, we get a more nostalgic look at the past from D Double E who shares time with Kiko Bun in the soulful choruses where he croons, "Only I can design where I go from here." The theme is perhaps most prevalent on the bombastic album centerpiece "Coming Home," which features Kojey Radical and Manchester's Riot Jazz Brass Band. In the song's hooks, Kojey calls out, as if from the mountaintops, "Many don't make it where I come from / I think we should make a toast / come a mighty long way from the road / tell them I'm coming home." These three tracks and their vocalists clearly have varying perspectives on life yet Swindle is able to couch them all within his own sonic universe, emphasizing the notion of strength in diversity and collaboration.
Other highlights of No More Normal include the plodding, synth-heavy "Reach The Stars," which features some heartfelt vocals from Andrew Ashong against Swindle's intricate production. Not to be outdone, Etta Bond joins in on "California," another laid back, sultry production that perfectly matches the singer's alluring delivery. Elsewhere, the saxophonist Nubya Garcia makes a memorable appearance on the atmospheric slow jam "Run Up" with an understated, luscious solo to close out the track.
At the end of the unpredictable and astonishing journey that is No More Normal, Swindle brings things back to familiar terrain, closing with the gentle and reassuring track "Grateful." The song features another Rider Shafique verse as a bookend to the album's opening. Here he describes his gratitude in life and in art, writing, "I'm grateful that we've survived the storms, through both good or bad times / we've always defied the norm / it's what we do." In listening back to his words from the album's introduction, we see Swindle's complete narrative arch, which implores us to question the way we live our lives, ensuring that we celebrate our differences and use them as power as we forge new pathways into the future. There is nothing normal about that pursuit, and that's how it should be.
Download No More Normal here and find Swindle tour dates here.
Connect with Swindle: Facebook | Twitter | Spotify | Soundcloud