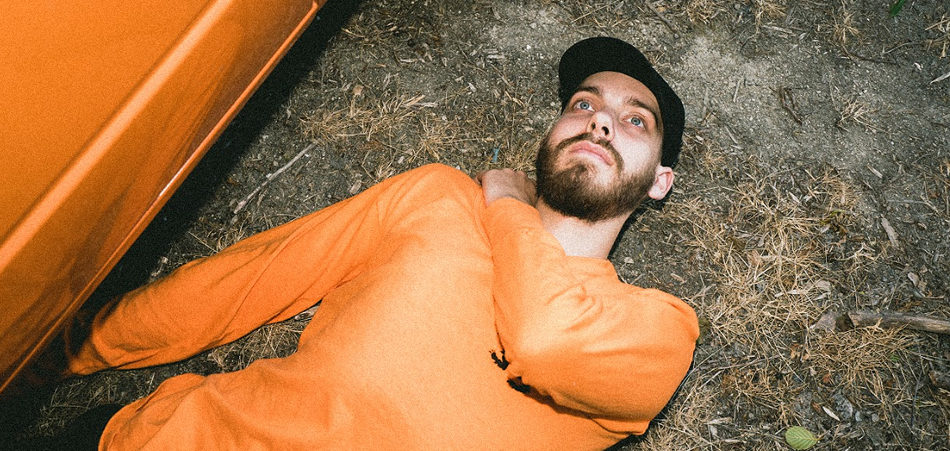 Album Review: San Holo shows us nostalgia is a magical feeling in 'album1'
Artist Name:

San Holo

Album Name:

album1

Release Type:

Album

Release Date:

Record Label:
Label Location:
Review Author:
Review Date:

EM Review Rating:
Like a flash of light, future bass luminary San Holo finally releases his highly anticipated debut album album1 - an instant hit that masterfully exhibits a collection of heartwarming, bittersweet tunes sure to pull at your heartstrings. After teasing us with single releases such as "worthy" and "brighter days" with Bipolar Sunshine, the Dutch DJ, guitarist, and producer extraordinaire is now leading electronic music into a soundscape of organic nostalgia and moody reverie with his album, a rainbow of raw human emotions drenched in pastels and shimmering gold.
Refreshing and utterly innovative, San's experimental forays of amalgamating electronic music with the organic stringing of indie and folk, has built him a throne in which he perches, bringing his unique sound to the forefront of music. There's no better career-defining moment than that of album1, a complete collection of what he stands for and what he believes music should be. Whilst true to San's sound, album1 also showcases tracks that see him stepping outside of his typical perimeters, further challenging himself to innovate, to craft and to explore his abilities to blur the lines of music genres.
San's distinct vocals alongside his soft yet powerful guitar riffs, is the basis of the album, weaving a deeply personal production and story. The exquisite and meticulous details in each and every track is a testament to San's dedication, honouring his ambitions while exhibiting a sonically more mature him - one who has taken in all his lived experiences in both music and in life. The familiar and new sounds heard is his story - one that essentially reels us in for a journey of love, hope, and nostalgia.
album1 opens up the 12-track production with "everything matters (when it comes to you)", a beautiful uplifting song that perfectly showcases his signature electronica/future bass sound. The airy yet energetic song utilizes breaks to give emphasis on the following melodies and chords, crafting effervescence. San also samples his friend Appleby's vocals for the titular lyrics, setting stone for the personal nature of the song but also, paving the way for San to introduce to his fans the new sounds he'd been working towards (as heard in the ending guitar riffs) - a preamble to the sonic styles that emerge in later tracks.
Sofie Winterson's soothing vocals headline for the next track "lift me from the ground" in a nostalgia-fuelled track that indeed, lifts one off of the ground sonically and emotionally. Ethereally angelic, San and Sofie weave together an experiential juxtaposition of downtempo and lively chords that rings true for people. Slowing down, "show me" displays San's mastery of evocative future-bass sounds, utilizing twists of folksy-guitar before the lighter drop to create a unique track. 
"brighter days" follows, an exquisite masterpiece of infectious dance beats paired with Bipolar Sunshine's hopeful croons; it's a song that captures the wistfulness of intrinsically and wholeheartedly wondering about the other person, and if they've thought about the past experiences you shared. In contrast, "always on my mind" with James Vincent McMorrow and Yvette Young is a more enigmatic take on wistfulness, but nevertheless, sinking listeners into the depths of a dream-like world. In continuation of mystic, dream-like takes on music, "go back in time" sends listeners back into a visceral emotive journey that is both hopeful and heart-aching. The packed vocal layers and eclectic synths almost seem like a lullaby, distinguishing itself from the rest of the tracks in its simple beauty.
Magical, "love (wip)" with Cassini is a dreamy track created with tapes and the scratchy pitch effects is proof of it. Its distinct raw sound, is warm and inviting, seemingly embodying the warmth of love. "voices in my head" with The Nicholas and "worthy", also echoes this warmth, though with a higher tempo and intrepid drum beat - showcasing the intimacy and vulnerabilities within the lyrics.
"forever free" with Duskus also harnesses a lo-fi guitar melody and a violin outro, a song that exhibits San's abilities as a producer while also emphasizing his love for organic instrumentals - once again, setting himself apart from others. The simple vocal chops indeed adds this sense of 'freeness' to the song, giving us a sentiment that everything is okay as long as we take it step by step - there's no rush to fix it now. In his collaboration with Caspian in "surface", San continues the warbly drawn out croons to weave another atmospheric love song. The ambient instrumentals, post-rock vibe heavily uses layered synths and guitar strumming to create heart-aching reverbs. 
Capping off the album, "vestal avenue" is a futuristic, space-y track reminiscent of classical music. The melodic drop makes way for an orchestral sounding piece, with sounds of birds flying by, dogs barking, buses hitting the brakes - a song that places us into the present, capturing the sounds of life and ending the album with a soothing peace of mind.
San spoke exclusively to Billboard about each track on album1, stating; "I wanted this album to introduce people to a new kind of sound. A warmer, organic, and less polished version of EDM." San continues, ""show me" is a good example that represents this new sound. I recorded a lot of guitars on cassette tape, to give it that warm, warbly, lo-fi sound. You can clearly hear this in the guitar intro of the song. The beauty of recording actual instruments on tape is the fact that you can never record the same thing twice."
San will embark on a 30+ date tour across North America, which kicks off on October 31st.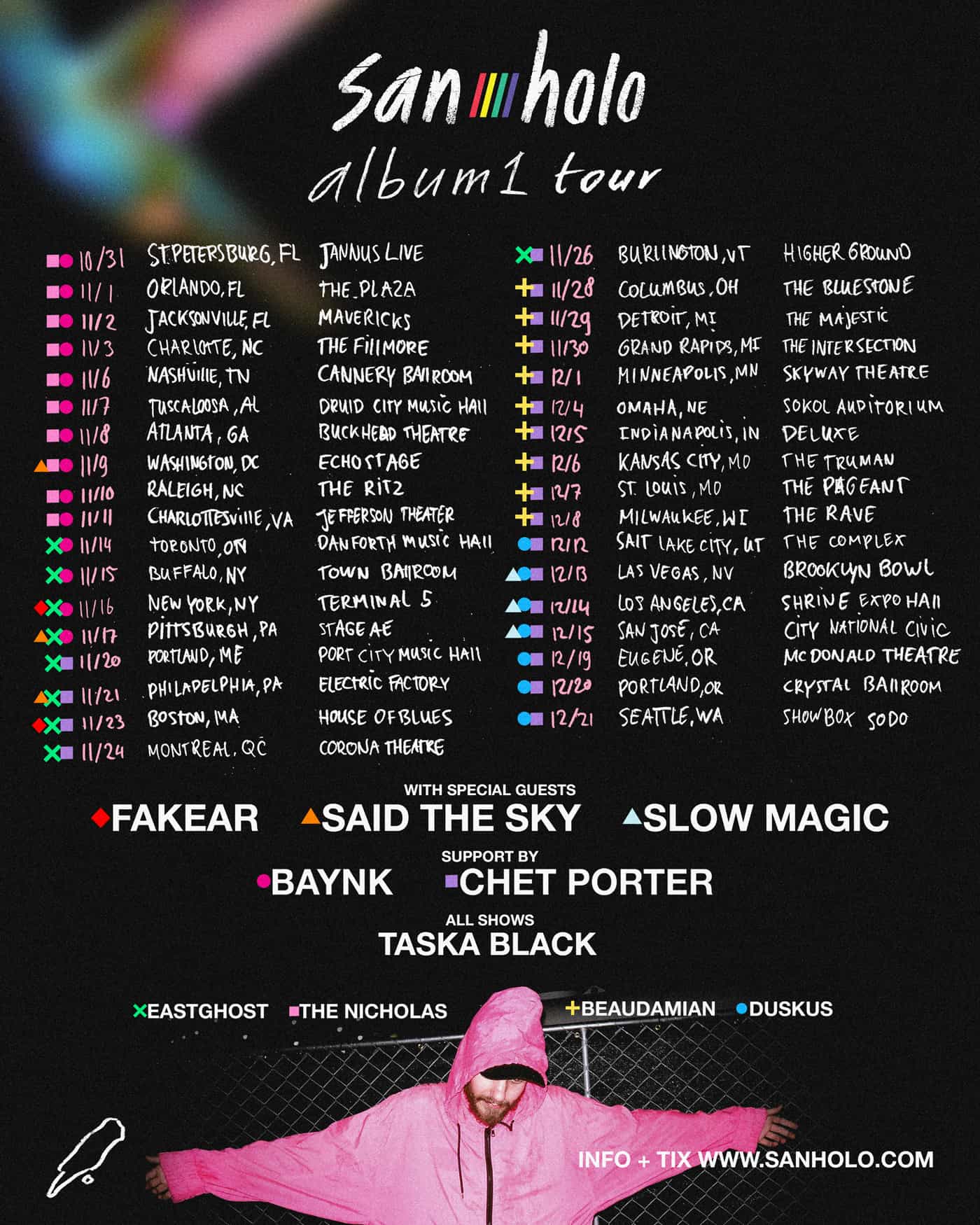 Connect with San Holo: Facebook | SoundCloud | Twitter