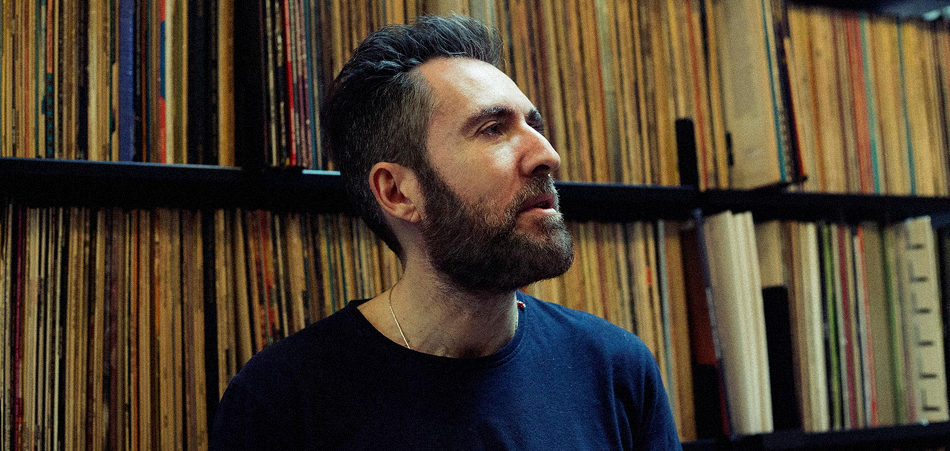 Album Review: Everything Is Recorded - Everything Is Recorded by Richard Russell
Artist Name:

Richard Russell

Album Name:

Everything Is Recorded by Richard Russell

Release Type:

Album

Release Date:

Record Label:
Label Location:
Review Author:
Review Date:

EM Review Rating:
Everything Is Recorded is the debut solo album of Richard Russell. If that name is unfamiliar to you, it's probably because his role in the music industry has been one mostly spent behind the scenes. As the head of XL Recordings, Russell has built an incredibly impressive resumé, gathering mega acts like Adele, Vampire Weekend, and Radiohead onto the same label that's been shared by smaller, but equally stellar contemporary artists like Sampha, Ibeyi, and Kaytranada. Spurred on by a diagnosis of Guillain-Barré syndrome in 2013, Russell decided to take his days of music making off the decades long back-burner and get together with his talented roster of artists to create the end result, Everything Is Recorded. What comes out of this album is an earnest, yet unfocused collection of songs.
In the world of producer-curated albums, Everything Is Recorded finds itself seeking to stand out among some less than stellar company. When Damon Albarn took a backseat on the latest Gorillaz comeback album, HUMANZ, many bemoaned the overstuffed, guest-heavy nature of the album. A few years earlier, Bruno Mars producer Emile Haynie released his album We Fall in 2015. It featured an almost laborious list of guest artists, including Charlotte Gainsbourg, Brian Wilson, Father John Misty, and Randy Newman, and wasn't awful by any means, but has largely been forgotten since. Even Cashmere Cat's long-awaited debut album, 9, had its share of behind-the-scenes drama, leaking months early, then being retitled and almost completely retooled, delaying its release by almost a year.
Sampha's presence is easily one of the highlights of Everything Is Recorded, showing up on a quarter of the album's tracks, including its best, "Close But Not Quite". Here he sings gracefully across a plinking piano melody and organic percussion. It sounds very much like a bonus track from his affecting album Process, which helps kick the album off on a high note. "She Said" follows immediately after, and contains an island vibe, with tropical shakers and Obongjayar providing husky vocals over squelchy square basslines. Kamasi Washington, another XL artist who shows up several times on the album, contributes a sax solo that sounds more like a sample. With the way it's placed within the mix, among the field recording of what sounds like a busy market, it makes it sound as though it was part of the ambiance, like an anonymous busker instead of someone whose debut album was one of the most critically acclaimed jazz albums of the decade.
"Mountains of Gold" provides a Grace Jones "Nightclubbing" sample that causes too much dissonance to give Ibeyi and Sampha enough room to give a memorable vocal performance. "Show Love" works sonically because its backbone doesn't rely on a sample, instead letting amorous electric piano and synth sweeps twinkle away. The track is also aided by stellar turns from Syd and Sampha. On "Bloodshot Red Eyes", the biggest revelation of the song is that Ghostface Killa's son, who performs as Infinite, has the voice of an angel. His heavenly vocals dart masterfully over some soulful electric piano, as well as some well placed strings and minimal percussion. This stripped back approach allows the tracks individual elements to stand out better and create another highlight on the record. 
"Be My Friend" layers Infinite's vocals in creative ways, and the song builds an intriguing melody with a slinky bass line and forms a tense, lamplit beat out of metallic taps and tones. The album's closer, also the title track, features cinematic string arrangements by Owen Pallett, and impressively gritty drums. A trip-hop tune at its core, the dusky mood is palpable, as Sampha sings about the importance of not getting caught up in recording everything and experiencing life outside the lens of a camera or the screen of a cell phone. "Because everything's recorded/And nothing is distorted/Deep beneath the surface/Do you know what your worth is?" are great lines, but there's little else lyrically in the album up until this point to back up the theme of the title track. 
Looking back, with two interludes and an intro on an album that doesn't even reach 38 minutes, they feel tacked on and unnecessary. They don't add much to an album that doesn't say much as it is. We don't get a better picture of who Richard Russell is as a person or an artist, just who his friends are. Ultimately, the album's theme, loose as it is, becomes its main fault. When you record everything, it's sometimes difficult to organize the pieces into something meaningful and fully coherent.