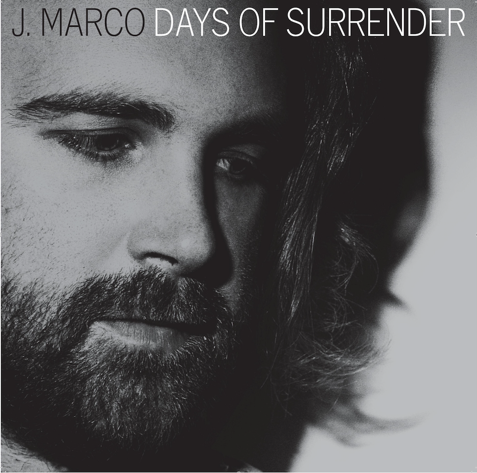 Album Review: J. Marco - Days of Surrender [Premiere]
Artist Name:

J. Marco

Album Name:

Days of Surrender

Release Type:

Album

Release Date:

Record Label:
Label Location:
Review Author:
Review Date:

EM Review Rating:
Nashville-based artist J. Marco is releasing a new album, Days of Surrender, this Friday, which is available exclusively on our site today. In a bold move in today's ever-changing music landscape, J. Marco is releasing the album independently, forgoing the assistance of a label. But he has always been an independent artist, first crafting songs in his Massachusetts bedroom before making the bold move to Nashville's vibrant Southern music scene. 
Despite his current location, Days of Surrender is anything but country and plays more to the city's rock and funk scene, particularly with the horns on "Give It Up." On other standout tunes "Bad News" and "Love Don't Matter" he places a passion-driven emphasis on pure alt-rock guitar riffs and catchy yet accessible melodies. He goes softer and more acoustic on the title track "Days of Surrender," showing his musical range. 
In support of the album, he is gearing up for a national tour, with dates in Nashville at Lightning 100 Presents: The High Watt (Album Release Show) on Oct. 7, a show at Gabe's in Iowa City on Oct. 24, and a turn at Rockwood Music Hall on Nov. 8th. 
On the process behind the album, he said, "Days Of Surrender' came from a lot of self-imposed time in isolation.  It also came from not knowing what the future holds, following the release of my previous record, Myth.  Playing the previous record live injected me with this new kind of energy and perspective that I've never felt before, and that energy carried me into the writing process.  I felt like I could not rest, or do anything else until these songs were finished and every idea had been explored.  That same energy propelled my band and me into Battle Tapes Recording in East Nashville to record Days Of Surrender.  My band; Johnny Rees, Andrew Benfante, and Stephen Harms laid the groundwork for the songs in just two days.  Over the next two weeks, in what seemed like a whirlwind, Jeremy Ferguson (The owner of Battle Tapes and co-producer of 'Days Of Surrender') and I worked every day into night on getting these songs right.  The end result is a record that I'm extremely proud of.  I've never worked harder on anything in my life than I have on these songs, and this record."