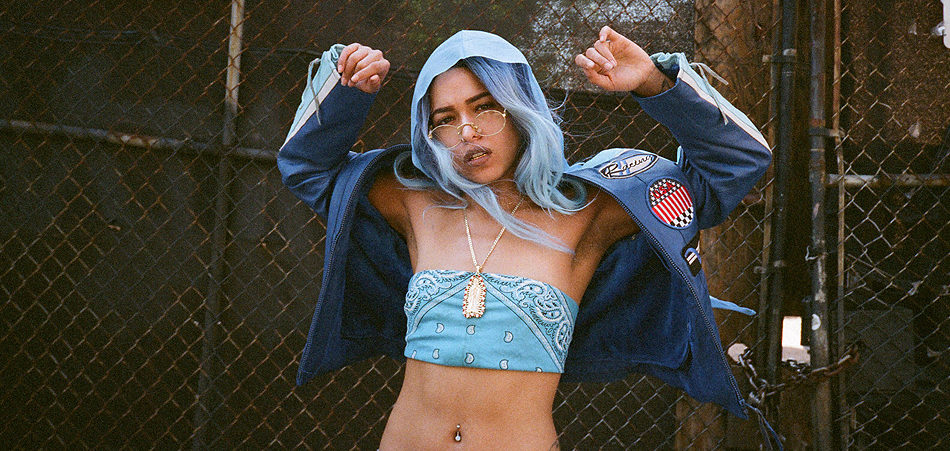 Album Review: Princess Nokia - 1992 Deluxe
Artist Name:

Princess Nokia

Album Name:

1992 Deluxe

Release Type:

Album

Release Date:

Record Label:
Label Location:
Review Author:
Review Date:

EM Review Rating:
spotify:album:0HDrblLFAsyyytu3xKtbnL
In 1920 while on a train ride to Mexico to visit his father, Langston Hughes wrote "The Negro Speaks of Rivers." As the story goes, he was inspired by the beauty of the Mississippi River but was conflicted, knowing too well its role in perpetuating the institution of slavery. On one hand, the deeds of the brave men and women who ran the Underground Railroad can be remembered but on that same stream are memories of auction blocks and slaves being imported and exported. The fourth line in the poem reads, "My soul has grown deep like the rivers." He then invokes images of the Euphrates, the Congo, the Nile, and the Mississippi. He follows succinctly, "I've known rivers / Ancient, dusky rivers." Hughes had never been to Asia or Africa but he understood the depth of his struggle, an experience he shared with his fellow black and brown people.
This week, Princess Nokia released her debut album 1992 Deluxe, a redux of last year's 1992. In an interview with Le Drone, she said of herself that she is "not a hip-hop head" but rather that "[she] is hip-hop because [she] is a black and brown woman from New York." Decades following the works of men like Hughes and Walter Dean Myers, whom she has singled out as artistic influences, her voice on 1992 Deluxe is stern, strong, and unique.
Nokia's music is very much rooted in today: a social, political, and cultural climate where identity is suddenly at the forefront of discourse. Like Hughes, she understands that her struggle is just one of many. Born to parents of Afro-Puerto Rican descent and growing up sandwiched between New York's Spanish Harlem and LES, this was apparent to her from a very young age. She understands that she is different from other girls and wears this deviation on her sleeve. No callouts are made on "Receipts" but she makes sure to separate herself from her competition, man or woman be damned ("You're all the court jesters then I am the queen / All y'all do is walk SoHo and y'all act like fiends").
Despite her claim that she is not a "hip-hop head" or "hip-hop buff," she sounds just as studied as the rappers of New York who have preceded her from Cam'ron to Camp Lo. Throughout the album, she carefully chooses from a wide spectrum of sounds and beats on which to show off her, at times, relaxed and deep, and at other times, energetic and barraging, flows. Her short career has led her to this moment and her growth in such short time is apparent at all times. She channels the energy of her earliest monkier Wavy Spice on the aggressive, frenzied "Kitana" and goes toe-to-toe with New York compatriot and frequent collaborator Wiki on "Saggy Denim" ("I speak that Gualla Gualla / That Spanish hoochie mama / That Puerto Rican drama / That fuck you, pay me, nana").
If there is a shortcoming to be found on 1992 Deluxe, it is that Nokia has so much to say in so little time. When she is not busy declaring her proud heritage on "Brujas" ("I'm that Black a-Rican bruja straight out from the Yoruba / And my people come from Africa diaspora, Cuba"), she is crafting stories of New York in "ABCs of New York" ("B is for bodega, eating on your mama couch / Low bazooka with a Puerto Rican chula"). On the mellow, D.A. Doman-produced "Green Line," her flow provokes memories of Left Eye with a swagger and flow matched by few, "I'm back, I'm back, I'm back / Don't know how to act / What I got is what you lack / I give it up, you hold back."
While songs like "Brick City" and "Flava" showcase her ability to effortlessly fit into many sounds, flows, and templates, Nokia is at her best on songs such as "Brujas" and the sly, simple "Mine," which serves as the angry sequel to Solange's "Don't Touch My Hair." She shouts out Dominican, Puerto Rican, African, West Indian, and Asian girls and their various hairstyles while boasting one of the best hooks on 1992 Deluxe ("Bundles, bundles, bundles / Hit that plug up for the bundles").
How appropriate her birth name is Destiny Frasqueri since Princess Nokia's arrival seems fated. Musically, she is the perfect foil to today's women of rap, such as nouveau rap star and fellow New York resident Cardi B or Chicago standout Dreezy, but more importantly, she is a manifestation of the times as they are. She is defiantly Taino, defiantly bruja, defiantly tomboy, feminist, queer, New York, et al. Her music speaks to a deeper ability to be able to not only appreciate other people's differences but practice self-love. 1992 Deluxe is not just an album about Princess Nokia but about other women of color too and being able to be themselves. As Hughes claimed his soul had grown deep, so has Destiny Frasqueri's.
1992 Deluxe is available for purchase on iTunes and for streaming on Spotify, Apple Music, and TIDAL. You can see Princess Nokia live as she travels through pockets of Europe, Asia, and the United States with shows listed through the rest of the year.