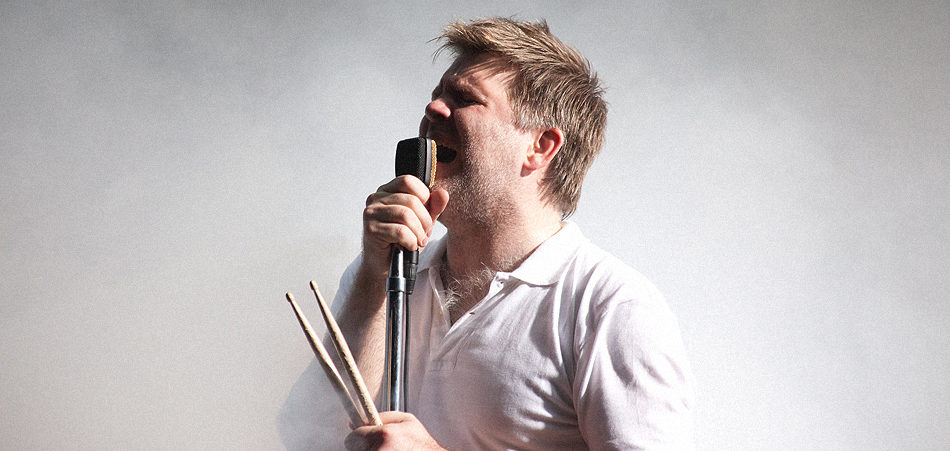 Album Review: LCD Soundsystem – American Dream
Artist Name:

LCD Soundsystem

Album Name:

American Dream

Release Type:

Album

Release Date:

Record Label:
Label Location:
Review Author:
Review Date:

EM Review Rating:
LCD Soundsystem - the electronic rock band with dance and disco tendencies of the 2000's, that made Brooklyn, New York cool and James Murphy and friends legends with a strong cult-like following, have finally dropped the highly anticipated new album, American Dream with DFA records.
After a successful trilogy of outstanding albums, filled with epic anthems like "Daft Punk Is Playing in my House" and "Dance Yrself Clean", the band announced in 2011 it was all over. They ended loudly, playing a massive final show at Madison Square Garden, that had fans scrambling to find tickets and attending in black and white funeral attire to pay their respect to the end of the iconic group. Leaving a final piece of legacy behind, LCD Soundsystem released "Shut Up and Play the Hits", a documentary that captured the final show and days of the band, and then it all went dark. 
James Murphy has occupied his time since with some quirky endeavors, such as creating his own coffee, attempting to reinvent subway turnstile sounds, and opening a wine bar. He's also kept himself busy with several music projects, from producing Arcade Fire's Reflektor to adding percussion to David Bowie's final album Blackstar, an artist Murphy claims was truly influential to his own music. 
Then in early 2016, after five years of silence, LCD announced a string of scheduled live performances and surprisingly a new album. Although met with a huge wave of excitement and euphoria, some fans had mixed reactions stemming from feelings of betrayal. For invested fans, the break up of the band was emotional and the massive blow out ending in 2011 now felt like a sham. It was such a dramatic and unexpected reaction from fans that Murphy felt the need to address it and apologize, explaining he had written too much music over the years and releasing it under a different name or with different people just did not feel right. 
Seven years since the release of This Is Happening, there was a massive amount of pressure on this album. It was unclear the direction James Murphy would venture in. What if this ruined the hype that LCD Soundsystem created in the 2000's? Well, prepare yourself to forget all the unnecessary babble surrounding the return and to be blown away by the most cohesive album from LCD yet. American Dream does not disappoint. 
From the beginning to the end of the 10th final track (yes...a 10th track! A subtle mark of leaving the past in the past) is a cohesive and unfolding musical story that builds on itself to an arc and diminishes to an ultimate sleepy ending. The guitar riffs and kick drums intensify as we hit the middle (and in my opinion, some of the best) tracks "How Do You Sleep", Tonite" and "Call The Police" and we hit a dream like state with album enders "American Dream" and "Black Screen". 
Some definite stand out differences to prior LCD releases are the darker lyrical direction and the lack of catchy dance bangers. To some this may be a disappointment, but in my opinion, it pays respect to the exceptional talent that LCD Soundsystem is, in that they can do something slightly different and still sound authentic and just as damn bold. Each track is all the more subdued and leveled from what we've known from them in the past, which truly lets the talent shine. 
The album opens with "Oh Baby" a tribute to Suicide's "Dream Baby Dream", a mid beat ticking track with rich synths complete with pleading lyrics that feel earnest and filled with heartache. Next up, "Other Voices", a groovy bass track paired with paranoid lyrics where Nancy Whang sings "Who can you trust/ And who are your friends/ Who is impossible/ And who is the enemy". A track heavily influenced by the 80's Talking Heads that emits an immense amount of energy bound to get you moving.  
In the center on the album, is the darkest and moodiest track "How Do You Sleep?". Cleverly sharing the title with John Lennon's track that was a direct diss to McCartney after The Beatles broke up, LCD's version is a dig at former DFA co-founder Tim Goldsworthy, who DFA sued for $90,000 in unjust funds and Murphy no longer speaks to. The track starts with over 3 minutes of brooding drum rolls and string assortments and then hits hard with a heavy combo of synths and drum kicks along with lines such as "You warned me about the cocaine/ Then dove straight in". A masterpiece assortment of drums and synths with the perfect build up and release, making this one of the stand out tracks of the album.
Following this is "Tonite", the catchiest dance track on the album that is perfectly placed after the despondent predecessor. You'll find yourself unknowingly jamming out to a new but old school feel track with robot altered vocals, heavy synths and repeating beats, while Murphy tears apart modern mindless pop songs. 
The album closer "Black Screen", opening up with "You fell between a friend and a father", is an earnest and deep eulogy to Murphy's dear friend and musical mentor David Bowie.  The longest on the album at 12 minutes, with a down beat tempo and remorseful lyrics, "I'm bad with people things / but I should have tried more", this is a different style to the typical upbeat LCD dance tracks that we know and it completely works. The heaviest moments of the track is when Murphy laments "I had fear in the room / So I stopped showing up" which is a reference to him not producing Bowie's Blackstar, as originally planned, due to other obligations. The final 5 minutes are a beautiful arrangement of light instrumentals that completes this eulogy and flawlessly executed and risky album. A perfect close to the well rounded 4th album from LCD Soundsystem, who proved they can stay relevant in 2017 and still kick ass. 
Buy/Stream the album here.
Connect with LCD Soundsystem: Soundcloud | Facebook | Twitter | Instagram