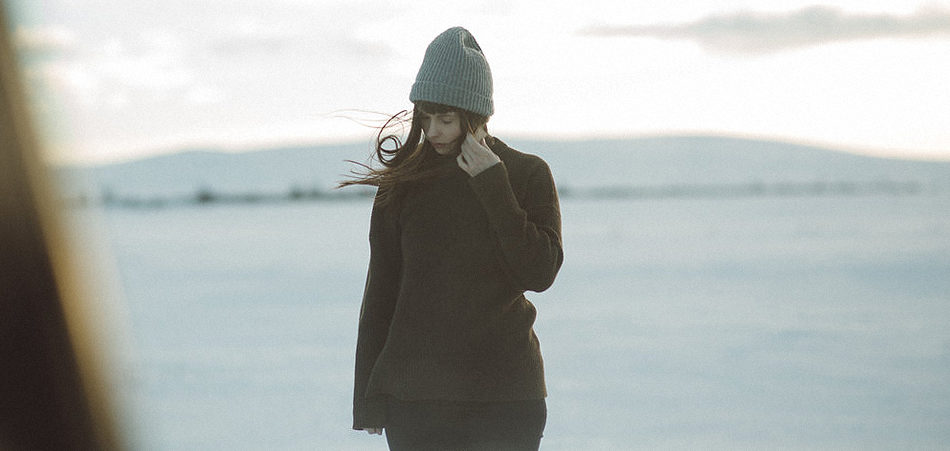 I stumbled on Siv Jakobsen quite accidentally one evening, after a long day and while trying to write an article about something entirely different. The article didn't get written. It's still sitting in my drafts folder on my computer. I can't remember how the last sentence was supposed to end. "Berry & Whythe" was in a queue of related songs on Soundcloud, and it has been a long time since anything has pulled me so abruptly and completely out of my work. What ensued in the following weeks was my favourite kind of love affair: I've had Jakobsen's debut LP The Nordic Mellow on repeat since that day, and don't anticipate it coming out of rotation for a long while.
Each track moves effortlessly into the next - you could be listening to a film score rather than an album, and the Norwegian singer/songwriter has scored this movie we call life with only the good sounds. The Nordic Mellow is an atmosphere in which to dwell; its sound is drastically unique. The album opens with "To Leave You", a hauntingly beautiful tune which sets the bar extremely high, but fear not: the remaining nine songs serve to push that bar ever higher. Jakobsen layers her willowy vocal over a taut string section as she whispers "I don't know for who I'm longing. Is it you, or your reflection in my mind?" The entirety of the album is deeply personal, and perhaps the most attention grabbing aspect of this first track is that you seem to have intruded on a conversation not meant for your ears. The next few songs are spent establishing The Nordic Mellow's easy ebb and flow; that continuous tension and release which can only come from the very bottom of a person's soul. 
[soundcloud url="https://api.soundcloud.com/tracks/329620848" params="color=ff5500&auto_play=false&hide_related=false&show_comments=true&show_user=true&show_reposts=false&visual=true" width="100%" height="450" iframe="true" /]
At ten tracks long, it is the perfect length. Jakobsen has managed not to fall into that terrible trap of filler tracks, and each song has been given the utmost attention and care. The Nordic Mellow is required listening, and silence is necessary in order to fully experience the magic Siv Jakobsen has created. "Blanket" and "Like I Used To" feel as if you're listening to someone's dreams. The rambling rhythm of "Berry and Whythe" is pulled off as expertly and seamlessly as any Van Morrison song. And, like Morrison, the sheer poetry in the songwriting would put some of the more famous folk singers to shame. The nature of "Shallow Digger", with its tribal percussion and stormy guitar, has a slight bluegrass twang to it. The final song on the album is called "Space". The track is full of simple strings and sparse piano; it is the last note as the credits roll on this stunning portrait of love, broken and whole, in human life. 
Her debut is arresting and forceful. It is folk music at its best. The Nordic Mellow is absolute proof that despite her soothing, quiet voice, she is talented and here to stay. 
The Nordic Mellow is out August 25th and available now for pre-order. To tide you over for the next three days, Siv has provided EARMILK with an exclusive acoustic performance of "Berry & Whythe", which you can watch below: 
Pre-order The Nordic Mellow here
Connect with Siv Jakobsen: Twitter | Soundcloud | Instagram