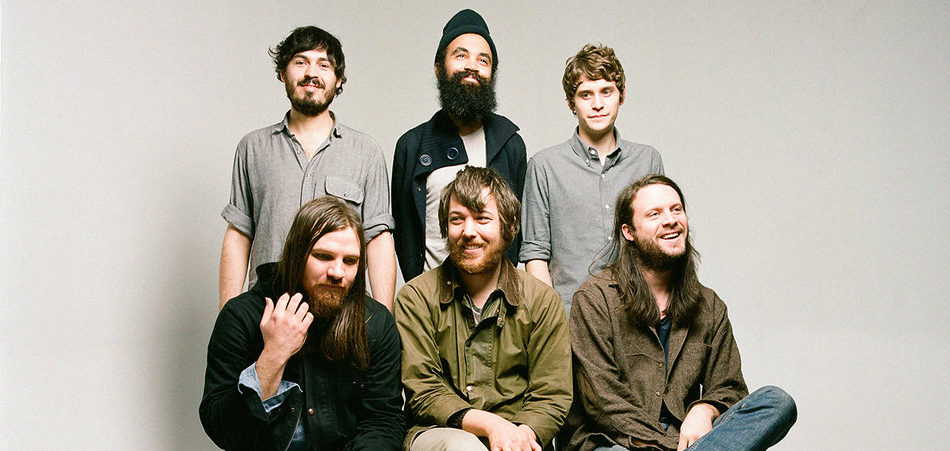 Album Review: Fleet Foxes - Crack-Up
Artist Name:

Fleet Foxes

Album Name:

Crack-Up

Release Type:

Album

Release Date:

Record Label:
Label Location:
Review Author:
Review Date:

EM Review Rating:
Seattle-based Fleet Foxes, a typical staple in the music library of folk lovers and alternative music fans alike, have left the world without the sweet sound of heavy guitar and harmonious lead vocals for over five years; their sophomore album, Helplessness Blues, dropped in 2011. This summer, the band returns from their healthy hiatus without former drummer and vocalist Josh Tillman, better known by stage name Father John Misty, with Crack-Up, an eleven-tracked full-length album through Sub Pop Records.
The album opens up with "I Am All That I Need / Arroyo Seco / Thumbprint Scar," a song almost as long as it's title. Seven minutes of familiar sounding Fleet Foxes greets its listeners like an old friend, something considerate of the band to consider after over a half a decade of silence. However, with the familiarity comes moments of subtle changes. The unmistakable lead vocals of Robin Pecknold are as strong as ever, but the seven-minute track offers moments of experimentalism in between the drum-banging and heavy guitar. Whispers echo in the background periodically, windchimes are subtle in between banjo riffs, and a symphony or violins precede a chorus of birds chattering in the distance.
The sound of a river allows the title track to flow seamlessly into the next, allowing listeners to glide through the songs with ease, a theme which stays coherent throughout the entirety of Crack-Up, which eventually comes together to be more comparable to a one-hour mega-track than an album separated by song. "-Naidas, Cassadies" titles the third track of the album, borrowing names from Greek mythology to accompany their song focused on questioning it's subject on the source of their grief and is a prime example of the beauty in minimalism. The song showcases minimal use of instrumentals and even fewer lyrics; there are less than 70 words in the entire three-minute interlude. This is something Fleet Foxes does best and allows it's music and vocals to speak for themselves. In a world full of synthesizers and 20 piece bands, it's nice to find solace in something smaller, like "-Naidas, Cassadies."
Following tracks on the album are dark but intriguing, comparable to the cover artwork of Crack-Up, which features waves aside a rocky cliff before a thunderstorm. There is something mystifying and intense about the water before the weather turns, a feeling mirrored by tracks such as "Kept Woman" and "I Should See Memphis," which sound like anticipation and anxiety in the best way possible. Amongst moments of darkness, however, lay songs a little louder, longer, and complex. "Third of May / Odaigahara" still sounds mirrors a feeling of longing, but this time as a higher volume. Fleet Foxes have always had the ability to sound both loud and quiet all the same, but this track is unignorable in its difference from the rest of the album, using instruments to perfectly portray how strong feelings such as anger or passion might sound if they were brought to life by music.
Emotions continue to fly high throughout Crack-Up, mixing perfect harmonies with a matching instrumental background giving listeners truly the best of everything good music has to offer. The album is undeniably the most complex of the band's history, with "Mearcstapa" showcasing a Radiohead-like guitar and drums combo and the album's closing track utilizing the sounds of an orchestra to gently say goodbye to listeners until next time.
Crack-Up does not disappoint. In fact, it does the exact opposite. It brings variety and emotion, brings folk to a new level without abandoning the sound that made them recognizable, and surprise listeners with the positive growth many only hope for after a long time away from the studio, cohesively adding yet another impressive album to their own discography.
Listen to "Fool's Errand" below.
Follow Fleet Foxes on Facebook