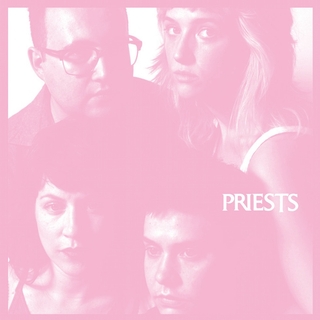 Album Review: Priests - Nothing Feels Natural
Artist Name:

Priests

Album Name:

Nothing Feels Natural

Release Type:

Album

Release Date:

Record Label:
Label Location:
Review Author:
Review Date:

EM Review Rating:
Quality punk has always gained power from what it opposes. With Nothing Feels Natural, out January 27 via Sister Polygon, D.C. quartet Priests have crafted an album full of opposition. In sound and message, this record reflects the unsettling structures dominating contemporary society and politics. Priests make their critiques through personal narratives made to address broadly political ends. This ability to jump around this ladder of abstraction, coupled with a diverse sound that folds elements from jazz to noise to R&B into the band's post-punk sound, that makes for such a unique listen.
            Nothing Feels Natural builds a percussive energy right from the first track and maintains that energy for nearly the entire album. There are missteps, sure: the album's lush string interlude is beautiful in its own right but disrupts the album's flow. But for the most part, the album stays consistently driving. Hugh McElroy of Black Eyes joined previous Priests collaborator Kevin Erickson on production, helping to focus the lo-fi sound of the band's earlier tapes. This sharper production underpins a diverse set of stylistic diversions, from the blue saxophone that plays out the end of "Suck" to shades of Siouxsie and the Banshees on the title track.
            Most clearly, however, Priests shares a clear lineage with the academic, feminist, and sharply political songwriting of Le Tigre. On "Pink White House," vocalist Katie Alice Greer chants a sing-song chorus over jangly guitars. "Come on palm trees, come on soft seas, come on vacation, come on SUV. Ooh baby my American dream." Priests attack the complacency of American consumerism through the soda jerk surf aesthetic that appears to celebrate it. The track "No Big Bang" more clearly states this critique. This song's structure – a sort of sung-talked polemic delivered over a repetitive vamp – has been used by post-punk bands before, but for good reason. "No Big Bang" is the most dizzying, immediate moment on this album. Greer has talked about how much of this album was penned during a period of severe depression, and nowhere is her existential horror more palpable than here.
Priests are very much of its time and place as a D.C. band in this current political climate, where frustration and alienation are becoming familiar expressions to many. It's as vital as ever to rally against stagnating comfort and the rigidity of mass culture, a message that Nothing Feels Natural delivers confidently.