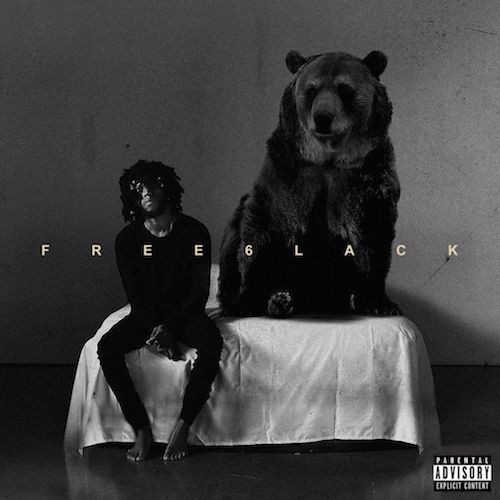 Last night, 6lack had his listening party at The Chateau Marmont hotel (and it was so dope as you felt just reading that sentence out loud). I met 6lack in all of his mysterious glory. Homie had his hair in his face and was relatively quiet. And I fucking loved it. Whenever I meet artists, I'm so much more captivated by the introverted ones. Mainly cause you know for damn sure they got a wild ass imagination. You know that their intellectual ability and creative stimulation moves in silence - making it much more profound when spoken. He got on the mic and thanked us all for being there (everyone fucks with gratitude), and #BlamedTheLabel because most record labels try and steal your soul and that's a fact, then told us he is free and here to stay. Today, he's graced us with his emancipative project, Free 6lack. 
First off, you've probably never seen a sicker album cover in your life. The cover is a still shot of 6lack and Bam Bam (A REAL ASS BEAR). 6lack referenced in an interview with Pigeons and Planes that the bear was like a representation of himself.
"Yeah. I feel like as big and vicious as a bear can be, a bear also has grounding qualities. They're peaceful in a way, and they have qualities that are healing in a way. With this album, I wanted it to be powerful, I wanted it to be aggressive, but I also wanted it to be calming. I want people to feel something. Regardless of how personal it can be at sometimes, and how intense the message is, it can still give you a soothing feel. That's what I feel when I think about a bear.
6lack is from the 6, so he incorporate a classic trap sounds mixed with some more ethereal R&B and some definite soul in his tone. We've heard "PRBLMS" & "Ex Calling", which came in incredibly hot - both bangers really whet listeners appetite for the release of the project. The project starts with angelic pulsing synths on "Never Know" - which makes me feel like he's starting off on a new note, sorta like homie was reborn after being freed from the label. He then transitions into "Rules" which hits a little harder with a classic rolling trap snare and features wavy vocals from 6lack combined with lyrical content referencing his learning period for the past 6 years, while in the 6. On songs like "Free","Learn Ya", "Luving U" and "Worst Luck" - he slows it way down while getting every lady real wet. Using his vocals as an instrument and leaning heavier on the R&B side, these songs are about to be sing alongs for the the post-breakup when you're deep in your feels. Then "MTFU" hits as an alternative, ethereal, R&B with a lil hint of jazz at the end. "Gettin' Old" reminds me of a Frank Ocean track. The song has 6lack riffing over a steady percussion by showing his vocal range while telling a story on lost time. Finishing off the album is the last track titled "Alone/ EA6" which starts with an interlude that is hopefully him throwing shade at the creative incarceration felt from his past label. During the track he touches on identity, on being more than just a song or a number - being a human and an artist appreciated for their craft. Around 6 minutes into the track, he cops one of my favorite flows on the entire album until the music fades out and you get mad emotional. Like something has just come to a complete end, like shit maybe you've flatlined. Then there is all this static and it just reminds you to replay the album again from start to finish, one time. Two Times. Shit, maybe even three. Good shit, 6lack. Good shit. #Free6lack
Connect with 6lack: Twitter | SoundCloud | Facebook | TheGram | Buy 6lack's Album Cause It's $6.99 & I'm Sure You Just Bought a Burrito for $10 and I Doesn't Last As Long As The Feels From This Album