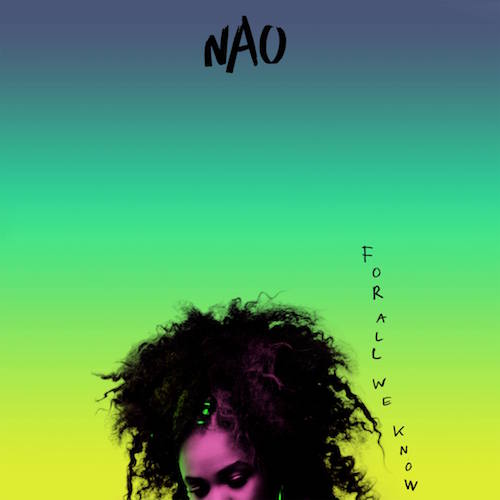 Album Review: NAO - For All We Know
Artist Name:

NAO

Album Name:

For All We Know

Release Type:

Album

Release Date:

Record Label:
Label Location:
Review Author:
Review Date:

EM Review Rating:
British singer-songwriter NAO burst onto the scene in 2014 with the self-released "So Good", a fresh, funky electronic take on the R&B slow jam featuring A.K. Paul. The song spread like wildfire across social media, getting shares from industry heavyweights like Disclosure, in part because the song sounded like the second coming of Paul's brother Jai, whose album leaked in 2013 to great critical acclaim. NAO followed up with the So Good EP, a collection of songs that melded NAO's R&B sensibilities as a singer and songwriter with left-of-center electronic productions.  Then she signed a major deal with Sony, linked up with UK dance producer GRADES and kept pumping out songs with her February 15 EP, a collection of offbeat and appealing new tracks led by the charismatic "Inhale Exhale" and infectious "Zillionaire."
Now NAO has dropped her first proper LP, For All We Know, featuring a few familiar tracks and a handful of new ones that place the singer-songwriter on the forefront of the collision between pop, electronic, funk and R&B music.
Unfortunately, the album kicks off with the forgettable "Intro (Like Velvet)".  Sure, the song shows off NAO's distinctive voice but it also gives the impression that the album is focused on the nexus between R&B and gospel, which it is certainly not.
"Get To Know Ya", a slinky, futuristic funk song produced by Jungle quickly dispels with that vibe, picking up not only the bpm but also packing in some flirty fun. Next up is February 15 standout, "Inhale Exhale", all stuttering drums, growling bass and fierce vocals from NAO.
An interlude titled "Voice Memo 161" seemingly previews the production process of the next track, "Happy." Where Pharrell's "Happy" was the universal song of feeling happy, NAO's version presents a promise to a prospective lover to make them happy. That message is guided along with a funk guitar, a "wah wah" bass synthesizer and a whirring, piercing synth that buffs up the mix on the top end so NAO's grainy yet angelic vocals can cut right through the middle.
The 13-second "Voice Memo 162" sounds like a promising start to a song but is otherwise unnecessary on a debut album where so many other songs stand out. "Adore You" is one of those songs, and while it was featured on NAO's original EP, it sounds fresh and new alongside the rest of For All We Know. It's a slow and sexy R&B jam apt for the bedroom that is cool, calm and confident.
"In The Morning" is the come-down from the high of "Adore You". Where "Adore You" celebrates a new love, "In The Morning" simmers with regret and heartbreak. After a dark atmospheric intro that listeners' could easily mistake for the Weeknd, NAO dives in to singing about her lover's unrequited love for her, ultimately deciding to end things, warbling, "I've got to let him go" in the chorus. The song picks up sonically from there, introducing a pulsing electronic drop halfway through that rides through the rest of the song, reminiscent of productions by Porter Robinson or Flume.
NAO and A.K. Paul pick up where "So Good" left off with "Trophy", a defiant and minimal track based mostly off electric guitar shredding and a basic drum kit. It's not as dynamic or fresh as "So Good" but very little music out there today is, so you can't really blame the duo for coming up short on their second try.
"Bad Blood", a single from NAO's second EP, is a roller coaster of an R&B song. At first, it sounds like another love song, all bright synth pads and climbing melodies. Then, the chorus comes in with a roar, shaking things up with hard-hitting drums, warped vocal samples and an entrancing guitar synth. 
For All We Know hits its stride after "Bad Blood" with the slowed-down disco heartbreak anthem "DYWM", the funky, feel-good "We Don't Give A", the electronic stutter stepping "Give Me a Little", and infectious lead single "Fool To Love", arguably the album's high point.
"Fool To Love" harks back to the glory of early 2000s R&B, with melody, harmony and lyrics that sound straight out of a Destiny's Child, Brandy or TLC song. But the song is dressed up in a lush, modern, electronic production that surprises and delights at every turn, lending a futuristic quality to something that otherwise sounds purely nostalgic. 
Track 15 is another interlude, and not an especially good or exciting one at that. It's unclear why or how these song snippets made the cut when there is so many other compelling songs in NAO's catalogue she could have added instead.
NAO slows things down with "Blue Wine", a slow-building ballad accompanied by a sweeping atmospheric production, towards the end of the album. The next song, "Girlfriend", is much more in line with the rest of the album. It features NAO's voice swimming through throbbing and wobbling electronics as she proposes getting together with a prospective lover, telling them, "When I'm your lady, You'll know how beautiful and mystical you are." 
The album closes with "Feels Like (Perfume)", another slow jam with even heavier allusions of sex. NAO sings, "You know I'm worth the wait, I'll take your breath away" over a simple drum beat that stutters along beneath the singer's saccharine sweet vocals. 
For All We Know has a handful of very bright spots that offer a promising glimpse at the future of R&B. But, it is not without its problems. At 18 songs, it stretches on for far too long, especially when taking into account that a few songs are recycled from previous releases, a few are interludes that add very little, and a few just don't seem to fit the pace of the rest of the album. In addition, drums that seem fresh and crisp in their design and delivery at first get stale as the album progresses. That said, For All We Know is a solid album showcasing a rising talent just as she's getting her start. It will be interesting to see what NAO comes up with next.