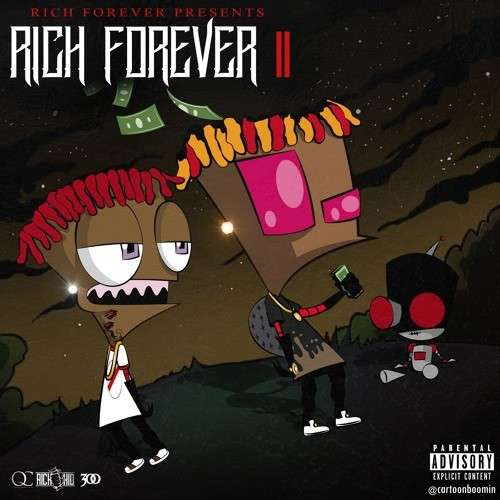 Album Review: Rich The Kid - Rich Forever II
Artist Name:

Rich The Kid

Album Name:

Rich Forever II

Release Type:

Mixtape

Release Date:

Record Label:
Label Location:
Review Author:
Review Date:

EM Review Rating:
Rich the Kid  surprises fans with the unexpected drop of the 'Rich Forver II' mixtape. After the first instalment that was released in April, the mixtape brings together Rich Forever Music's first signee Famous Dex, and heavy hitter's such as: Wiz Khalifa, Young Thug, Lil Yachty, Playboi Carti, and Jaden Smith  to give the people the new era of hip hop bangers.
"Plug Calling" featuring Famous Dex gives the listener an understanding of the album right out of the gate- with it's heavy use of adlibs and onomatopoeia you immediately feel the turn-up vibe.  Money fuelled trap ambition and flaunting of possessions expressed with lyrics like, "I got the key wrapped up in the Louis V now they call me the plug" is exactly what most listeners look for to gain a false boost of confidence.
Moving down the line, "That Way" with the feature from Lil Yachty treats us with something special to hold us down until the prolonged official release of 'Lil Boat and the GOAT' which was expected to arrive April 1st. Although it is Famous Dex's song, it was still pleasant to hear Rich the Kid and Lil Yachty together on a track that will have you dabbing all through your house.
Other noticeably fire collaborations include: "Like This" featuring Jaden Smith and "No Pressure" assisted by Playboi Carti. The precise 4 bar switch between Jaden Smith and Rich the Kid trapped me inside the track, where I didn't leave until I listened to it twice around like a pleasant form of Monopoly jail. "No Pressure" on the other hand was appealing in a different sense, for the fact that I am an avid Playboi Carti fan. The track had an overpowering Carti vibe which I myself enjoyed, but a person looking for a more 'in-your-face' styled beat might not be as happy. It definitely stood out from the rest of the songs for that reason, and I feel people will like that for the tempo change.
Overall I did enjoy the tape, and I would recommend it to anyone who needs that little ego boost you get when listening to music of this nature. Along with most artists in this era, it targets the fact that almost everyone wants to be a gangster, and if not that- almost everyone wants to feel like a big shot. Play this entire tape at a house party or hear one of these at the club, and I can almost guarantee it will pump up your energy and self confidence levels.