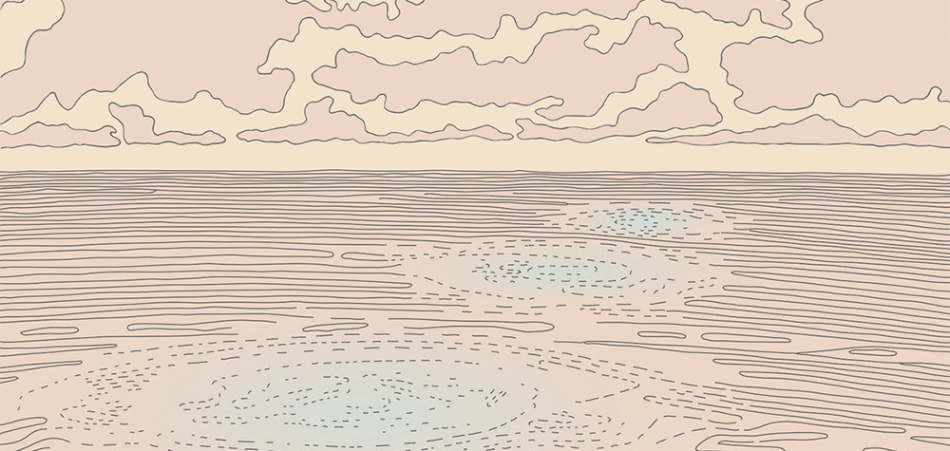 Album Review: Mutual Benefit - Skip A Sinking Stone
Artist Name:

Mutual Benefit

Album Name:

Skip A Sinking Stone

Release Type:

Album

Release Date:

Record Label:
Label Location:
Review Author:
Review Date:

EM Review Rating:
When I was a sophomore in college, Mutual Benefit graced our campus with a tiny, sublimely intimate performance of Love's Crushing Diamond. They set up a makeshift stage in the otherwise stressful poli-sci room and played into the morning, allowing each of us (most of which had never heard of Mutual Benefit before, and had simply wandered in, entranced) to drift into a glistening coma state of light and relaxation. That night, I thought my sudden affection for the band was due to the timeliness of their dose—it was finals season, and we all needed a mental detox.
I know better now: No matter where you are in life, it's just not possible to listen to Mutual Benefit, the ethereal indie project of Jordan Lee, without your heartbeat slowing, your muscles loosening. Entering "Madrugada," the first track on Mutual Benefit's shimmery sophomore album, feels like slipping into a hot spring. A few higher piano notes chime, strings sweep, oboes hum, and soft drums roll until the pieces all cascade together, creating a sonic patchwork so blissful that one can't help but close their eyes and submerge themselves into Lee's fantastical vision.
[soundcloud url="https://api.soundcloud.com/tracks/257293427" params="color=ff5500&auto_play=false&hide_related=false&show_comments=true&show_user=true&show_reposts=false" width="100%" height="166" iframe="true" /]
Skip A Sinking Stone is a lush continuation of 2013's Love's Crushing Diamond, building more layers onto Lee's carefully constructed landscape. While this work includes the same plucky mysticism and instrumental greenery that filled out Mutual Benefit's debut, he sprinkles in a little extra of each ingredient this time around: light synths, minimalist vocals, and colorful violin, each birthing an even warmer and more sedative ambiance.
"Getting Gone" might be the closest thing Skip A Sinking Stone has to a single, not that it needs one. Its upbeat strumming is a welcome roll in Lee's tide: Instead of drifting too far into spa-soundtrack territory—a sleepy locale the band shores up on at various points in their short history—Lee echoes Conor Oberst in his transitional crises. "Now we're back on the road," he sings, "Another season of shows...and we're just rolling along/All good times go, and hard times, too." It doesn't even take him a full song to surrender control to some benevolent higher power and accept his fate, a peaceful mindset that defines the rest of the album.
This cinematic cohesiveness might be Skip A Sinking Stone's heaviest anchor, for better or for worse. While Mutual Benefit's debut took listeners on a far more dramatic journey with songs like "Golden Wake," expanding into seven-minute daydreams that climaxed in goosebump-inducing emotional clarity, this collection of songs blends together in a singular watercolor. It's calm, muted, and decidedly gentle on the mind and body. Lee has settled down, and he'll help you do the same. Fans will just have to decide whether or not they're alright with this level of comfort, a true rarity when it comes to indie rock.
Skip a Sinking Stone is out May 20 via Mom + Pop. Until then, the full album is available to stream on their Hype Machine page.
Connect with Mutual Benefit: Soundcloud | Facebook | Twitter