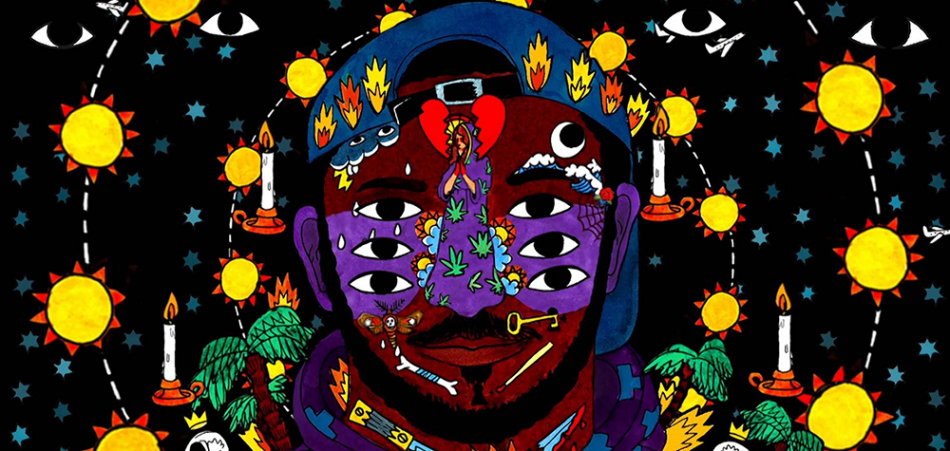 Album Review: Kaytranada - 99.9%
Artist Name:

Kaytranada

Album Name:

99.9%

Release Type:

Album

Release Date:

Record Label:
Label Location:
Review Author:
Review Date:

EM Review Rating:
Proving he is in fact a master of his own domain, Kaytranada has dropped a real soul experience with his long awaited LP, '99.9%'. The producer kept giving us tastes of his LP, releasing "Drive Me Crazy" with Vic Mensa, Shay Lia and his collaboration "Leave Me Alone" and his fire cut with Anderson .Paak, "Glowed Up." We felt good with those tease of tracks but now he has finally given us the full body flavor. 
It's an eclectic experience, and that is all a part of the excitement; mixing funk, R&B, soul, jazz, hip-hop, synthetic sounds, producing for dreamy vocals yet hard spitting bars - Kaytranada is a godfather of innovational sound circa 2016. 
Since it's hard for me to classify this in any sort of genre, I'm going to paint a picture I feel when "Track Uno" drops. You're lying in your bed, hands crossed over your chest with your headphones on, like you some kind of Dr.-Dre-Straight- Outta-Compton type shit, dreaming of the possibilities. You enter that weird space where you may be dreaming, you may still be awake, no one knows where the fuck this space is, but I think they refer to it as limbo, maybe purgatory. Then, the door slams open and there is a light. You feel good, AF. 
The pulsing, low-key eerie chords hit and you've risen from your bed by an involuntary force. Drawn towards this light, you walk into a room full of smoke. It smells so strongly of weed, but no one is smoking. It's. Just. That. Lit. Naturally. Oh shit, there's AlunaGeorge, effortlessly looking fine as all hell. You then catch a quick glimpse of Syd the Kyd, and she stealing your chick. Before you even have time to acknowledge your heartbreak, you see Craig David. Resurrected from the muthafuckin dead. Anderson .Paak is just cheesin over in the corner with Vic, shooting the shit, maybe even rhyming a lil bit. 
You've become more woke.
In the back of it all, is the Haitian Sensation rolling his neck clockwise, lifting his 99.9% karat out of his shirt, situating his glasses and winging his fur coat. 
You wake up confused if that was an acid trip, Great Gatsby party, a questionable dream, or maybe you died for a hot second and came back to life; either way,  "Track Uno" is done and you open your eyes for "Bus Ride" has begun.
99.9% is a vocally gifted project, but of the few instrumentals the second track strikes as the most ethereal. With assistance from Karriem Riggins & River Triber, the project starts off with the jazzy dim light bar vibe. Next on the track is the comeback of Craig David, coming in as smooth as ever he sounds like he never left. If anyone has the ability to build a frame and showcase a prime example of vocal immortality, it's Kaytra. For "Together", the producer brought the popsex vocals of AlunaGeorge and paired it with the vibrant bars of GoldLink, making for an upbeat electronic-hop cut. Even though Kaytra released "Drive Me Crazy" before the album drop, Vic's flow hits just as hard the 69th time around. Sidenote: Slapping this track on bumpin speakers is a must. The production genius shows his versatility through his collab track with Toronto trio, BADBADNOTGOOD. He even pays homage to OG's giving Phonte a full track to showcase not only his delicate R&B vocals but his bars as well. "Despite The Weather" acts as a perfect upbeat instrumental yet still jazz influenced preface to my favorite cut off the album, "Glowed Up". I may be a biased fan of .Paak since I've been listening to him as Breezy Love Joy, but MAN has homie found his place. I feel like Kaytranada blended his old alias as Kaytradamus and .Paak came back as Breezy Love Joy for a hot second and then they finished in this crazy harmony of their current personas. Just watch the video to see where both their minds are at.
"Breakdance Lesson N.1" comes in as the funkiest of the instrumentals bringing us to my second favorite track on the album, "You're The One" ft Syd The Kyd. I had Kaytra & Syd's first collaboration, "Girl" on repeat for months, and it's about to be no different for this tune. I think Kaytra may have pushed Syd a little bit out of her comfort zone, making her incredibly more powerful on the vocals. And I fuck with it. So hard. "Vivid Dreams" lowkey comes to me as a relationship. Tiber's vocals come in so sultry and smooth making you enticed and then he speeds up the beat towards the middle of the song, probably where shit got super real and intense and then winds it back down after you have presumably calmed down and are potentially going separate ways. 
"Lite Spots" is technically an instrumental, but the vocal samples are so fucking dope, that it's hard to classify it as so. Just watch the video, and if you don't learn this choreography, you're blowing it.
The last track, "Leave Me Alone" featuring Shay Lia is a match made in heaven between the duo. Almost an opposites attract sort of thing. He provides the more upbeat backdrop to her sultry tone. In fact, if I could have sex with any female vocals,  it would be her. 
Lastly, I think of Kaytranada as a therapist. All these features are his clients. They come into the office, he figures out the missing link. Builds the framework for their masterpiece, and then they both execute, together. He seems to bring out the best in every feature, pushing them to execute their most perfected work yet.
Stream 99.9% From Spotify:
Connect with Kaytranada: Facebook | Instagram | Twitter | Soundcloud