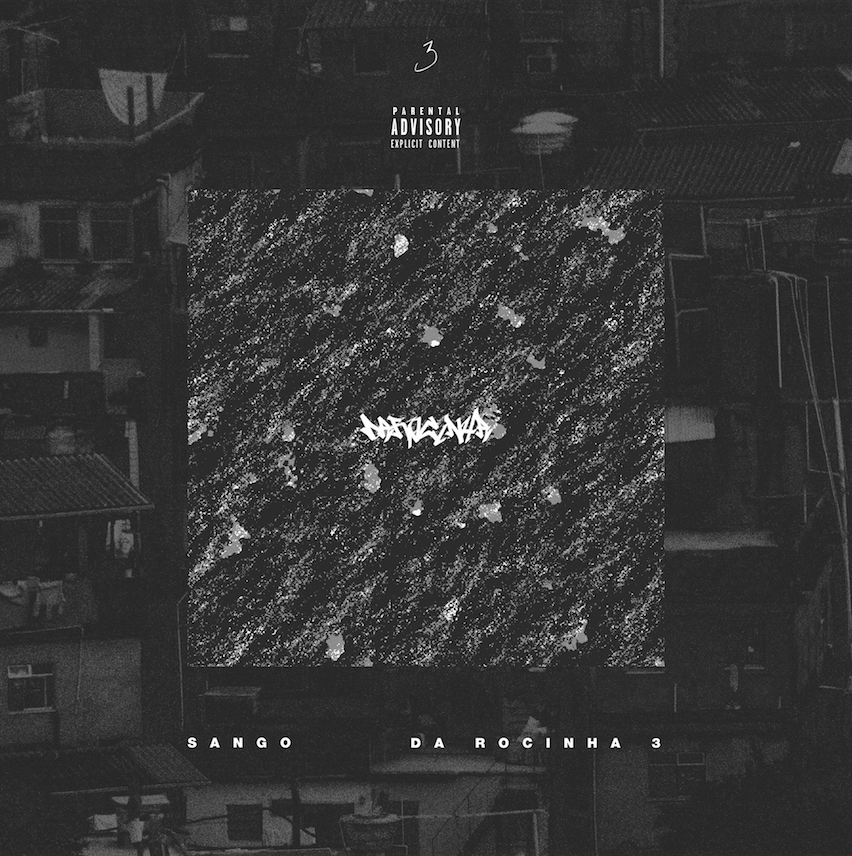 Last week, Sango dropped the third installment of his De Rocinha series. It hasn't been swapped out of my rotation since it's release, and yet I have the hardest time finding the words to say about it. Over the course of three albums, the series has gradually built up to this apex; getting ever funkier as reflected by Sango's mastery of blending the sounds Brazilian funk, electronic music and R&B. This is the best installment in the series, hands down.
While it is pretty evident that one of the major reasons for this series was to bring more attention to the rising international popularity or Baile Funk,  a summation of the sounds and techniques used on this project versus it's predecessors really wouldn't do it justice, as the driving force behind De Rocinha 1, 2 & 3 has been pure energy. Rocinha, located in Rio De Janeiro, is one of the most popular Favela's in the city, and with help of Brazilian artist such as MC Nem, MC Delano and Esta, the DJ has definitely grasped the nature and pulse of the city's energy. 
In 2008, I had the opportunity to visit Rio on foreign exchange. My first night on the town, accompanied by my buddy, musician John Bohannon, (known better by some as Ancient Ocean) we decided to explore a little.  Like real American idiots, we didn't feel the need for a guide, but instead to wanted experience our first night in a foreign country at our own expense. We caught a cab and asked the driver to take us to a lively bar, specifically non-touristy. He gave us a thumbs up and replied "No Problem". Our cabbie was pretty cool. His English was shotty and so was our Portugese, but the awkward silence was thwarted by radio - not surprisingly, Baile Funk. Even though this was almost 10 years ago, the music was not in its infancy stages. It had taken the city by storm. About two and a half miles into our trip, our taxi breaks down right in the middle of the street. We get out and help our cabbie push his car for about a block and a half before we realize how much time we were killing. We throw him a couple of dollars and start hoofing it. 
The night is perfect. The humidity gives everyone a slight glaze, but no one looks uncomfortable or is sweating profusely because of the cool air rolling in off of Copacabana, the beach we were closest to.  Rio is a cesspool of lights, beautiful people and beautiful architecture. Art, whether it be graffiti or a mural, litter the walls of alley ways and some major residential complexes. You look up and hear music, conversation, or smell food coming out of the windows. Food is everywhere and it all smells appetizing. A woman looking down on us from her suite wearing shades and a tiara begins to sing into her brush and waves at us. People are dancing on patios outside of restaurants and corner bodegas. Everyone is happy. It becomes clear to me why Christ the Redeemer's statue looks over this wondrous, and surreal city; It is a little slice of heaven. 
This was just the beginning of our travels across the country, but I am not about to turn this into a recap. Listening to De Rocinha 3 definitely brought me back to that place. While I wasn't fortunate enough to visit the favela of Rocinha, the music coming out of there has been growing  to the point of being the definable sound of the country much like Bossa Nova, Tropicalia or MPB was in it's past. Sango states it best; to summarize, the  album "is about keeping the funk roots true and paying homage to the ones that helped start it. I want to respect and show Rocinha in a positive light with this record while staying true to my sound."