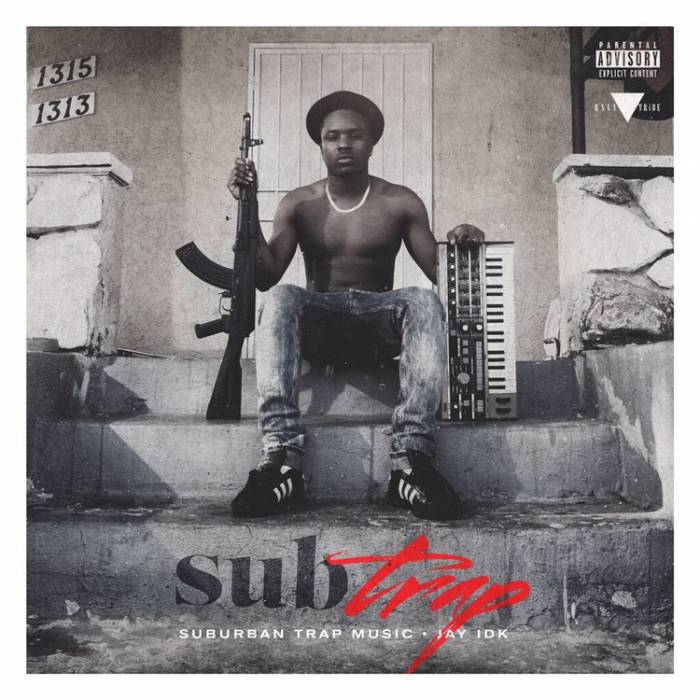 It's a very interesting time to be an artist in the DMV right now. Considering the success of D.R.A.M's "Cha Cha" topping the charts and the areas inconsistent history of breakout musicians, it's a bit difficult to imagine anyone escaping his growing shadow - save for maybe his longtime collaborators Sunny & Gabe. On the contrary, however, this seems to have only made the work rate from others making music much higher. For the first time, we're actually witnessing not only the development of a musical identity, but also the formation of a musical community along this Mid-Atlantic region. 
Maryland bred rapper, Jay IDK, has been working carefully at building a buzz for himself in that community. With his debut LP,  SubTRAP, the wordsmith has embedded himself as one of the major players. The press kit, which vaguely described the album as a paradox for trap music with substance or "Suburban Trap" if you will, sounded about as interesting as Terrence Howard in the role of a gangster. But instead, we find a richly layered and conceptually compelling project. This isn't a mixtape posing as an album. In fact, when you combine that with razor sharp clarity from engineer Delbert Bowers, it's an album as thick in admonition, as steady in pace and as grand as good kid, mA.A.d city...yeah, I went there. 
Jay opens the project up with "Sexy Bartender Pt1". This track actually sets the tone for the rest of the album in a couple of ways. Over a very minimalist beat, Jay breaks down his infatuation for a bartender; "I would steal bricks/from Griselda Blanco's kids/and drop my ID inside they crib/just to get a kiss/ cause she was that bad..." A bit of an odd way to start an introductory LP, right? The sexy bartender acts as an object of lust for the MC on a personified level, however she is also a metaphor for hip-hop prestige and thus what make her so desirable. At around 1:45, the recordings' subtle production and eerie atmosphere transform into an upbeat revival. It's at this point that Jay makes a more formal introduction, breaks down the fourth wall and very clearly lays out the concept as to what you are about to hear. 
The project, which is loosely based on Jay IDK's life, is told through his own perspective along with that of five other personas; Chris, Jon Jon, Matt, Ed and the nefarious King Trappy III. Trappy is as garish and elusive a character as Guwop himself. Well, that may be a little strong, but in this world that Jay has managed to build, he is the closest thing to him. He is a diabolical genius. Not only is he the central figure in the featured single, "The Plug", he's also  the driving force behind one of the LP's central motif's -  drugs.  Between 2009 and 2012, Jay was in and out of jail for drug related issues. These characters that push the narrative are reflections of people he met and their stories. 
SubTRAP on the surface level may seem to be exactly what one would expect it to be; a typical come up story of an "inner city youth" gone by the wayside, but it's much more than that. This project holds an essential message about survival. It sheds a very powerful light on fact that the line between good and evil, righteousness and immorality can become real blurry when one has to do what they have to too get by. Not a single character on this project falls on a particular side of the fence; there is no black and white, only gray. 
[soundcloud url="https://api.soundcloud.com/playlists/137847875" params="auto_play=false&hide_related=false&show_comments=true&show_user=true&show_reposts=false&visual=true" width="100%" height="450" iframe="true" /]
Summary
Written By
Review Date
Release
Rating