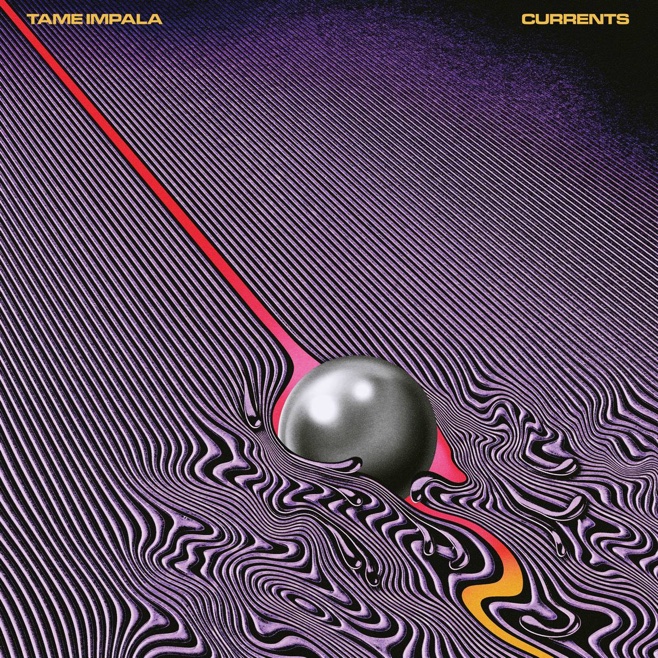 Album Review: Tame Impala - Currents
Artist Name:

Tame Impala

Album Name:

Curents

Release Type:

Album

Release Date:

Record Label:
Label Location:
Review Author:
Review Date:

EM Review Rating:
Kevin Parker is the embodiment of Tame Impala. His will is his command, as Tame Impala braces for the reviews to start rolling in with their third and latest full length album Currents. New fans and old, up until now, have been wooed by their psychedelic style and their songs' raw nature. They exploded into the scene with their highly praised debut album Innerspeaker five years ago. In that particular album, we got a full assault of 60's psychedelic revival with Parker's majestic voice which is eerily similar to that of John Lennon's. With no doubt in anyone's mind, Tame Impala would soon be one of the most watched bands in the next decade.
Their sophomore album, Lonerism, further solidified their status back as a rock powerhouse in 2012. It transcended expectations and propelled them into stardom. We saw a slight departure from that raw psychedelia, finding a near perfect equilibrium of modern indie rock and their signature psych style.  After landing #1 on many prominent media outlets such as Rolling Stone and Triple J, many already had begun to speculate what will come of their inevitable third album.  
Fast forward three years, and we land ourselves in a new era for Parker and the rest of Tame Impala. Intermittently throughout this year, they have given us singles off of Currents to feed us hints in what to expect in the upcoming album. When they dropped the lead single "Let It Happen", critics and fans were drooling at the mouth. It was a nod to the fine production, detail, and style put forth in Lonerism with plenty of new elements to keep us salivating for more. The song serves as a lengthy opener, clocking in just 15 seconds shy of eight minutes. It's a rollercoaster of changing tempos and loops, as you find yourself progressing through Parker's haunting chorus into a prolonged, glitchy outro jam.
 After the massive opener, Currents transitions into an extremely unique and different song. "Nangs", is almost the complete opposite of "Let It Happen". This short song is quite ambient, focusing on deeper thoughts like a fleeting feeling or memory. Here, we get our first glimpse of a changing Tame Impala. The track itself lacks any comprehensible verse or chorus. A simple high-hat and snare beat holds it down while a lo-fi-esque loop pulsates quickly, weaving in and out of the foreground. All the while, you can hear Parker's lingering vocals regurgitating a single line in what we believe he is saying, "But is there something more than that?" It is known that Parker is trying to become a better producer and while he is not working on Tame Impala. He dabbles in electronic music, which leads us to believe that the reason why this tune is so different is that some Parker's interests may be leaking into Tame Impala. This is not the last time in this album that we will hear something so different compared to their previous material. In an interview with Rolling Stone back in mid May, Parker explains in regards of his side projects,
"That was just something that just spilled out of me. It's a side project that serves as a spit valve for Tame Impala. It's like on the trumpet, you release it, and all the spit that's in your trumpet comes out. You have to let it drip out. Disco-funk is the build up of saliva from Tame Impala..."  
This particular line used in "Nangs" is in parallel with much of the lyrics and subject matter you will find throughout the album. In a subtle way, Currents as a whole is essentially a love song with the continued ideology of isolation and separatism conveyed in Lonerism. However, the subject matter in the songs also doubles up as a message for the fans. After your first listen, you can come to a solid conclusion that Tame Impala has moved even further away from their psychedelic roots. You can argue that Currents is more pop than anything, with their early styles sprouting through every now and again. 
Take the song "Yes I'm Changing", for example. The track is essentially void of any prominent guitaring, which seems to be the start of a trend for the Aussie band. Instead, it's got a slow, emotional take to it which was almost non-existent in the other two albums. You can also hear it clearly in "'Cause I'm A Man", in which Parker channels his inner r&b spirits and exudes them with his stylized falsettos.
The only thing that we wish for Kevin Parker and the rest of Tame Impala is to not eventually completely disregard their roots and their sounds that had won them legions of fans in the start of it all. Parker is striving for change. In interviews, he states that he doesn't want to be just stuck in psychedelia. In fact, he doesn't even consider Lonerism psychedelic. Parker is all about change which is actually subtly conveyed in the cover art of not just Currents but in all of the cover art they used. In the same Rolling Stones interview, he explains, 
"I had this concept, a core idea that we needed that we needed someone to bring to life. It's based on this scientific diagram where it shows an airplane wing and the flow of air around it and shows how the air in front is calm and still and undisturbed. But as the wing moves through space, it disturbs everything and the air behind it is mangled, warped, and disturbed. Slackness versus turbulence. The last two covers were about organic things- a photo in each instance- and fucking them up, taking something that's real and warping it until it's weird to look at..."  
In relation to Innerspeaker and Lonerism, Currents is objectively very different. Parker is well aware that he may disappoint fans that are keen to that raw, psychedelic sound. Instead, he has moved towards the realm of pop where we may never see Tame Impala revert back to their roots. This path is somewhat parallel to the now massive The Black Keys. At the start of their career, they too had this raw garage band vibe. As time went on, they their production and song-writing style changed. Inevitably, they had a loss of their once rawness and had become more radio-friendly. This is in no way an indication of loss of quality, but a path that is more common than one may think.
Currents as an album overall is fantastic. There are plenty of catchy grooves and lyrics which makes the entire album have high replay value. However, we can't help but feel that they played it a little too safe. Fans around the world were awed by their unique and relatively strange songs when they first started to hit the airwaves. Songs like the jam-fest rollercoaster "Runway Houses City Clouds" off of Innerspeaker or "Be Above It", the quirky, loop-based opening song for Lonerism caught everyone's ear whether they are a fan or not. The songs from these albums had this certain edge and energy which seems to have run dry or is in short supply throughout most of Currents. To give credit, along with the rockin' singles of "Let It Happen" and "Eventually", there are spurts of that edge and energy shown in "Reality In Motion", "The Less I Know Is Better", and the 70's radio-esque quickfire song "Disciples". 
Despite being all about change, Tame Impala played it relatively safe with a pop and r&b state of mind. Currents is an album where you need little to no acquired taste. It is an easy album to like no matter what type of music you are into at the moment. If that is one of Tame Impala's objective, then they had most certainly hit the nail on the head. We can only now vaguely speculate where Parker wants to take Tame Impala in the years to come. All eyes and ears are on them.
Stream Currents in it's entirety via Spotify below.
Tame Impala
Currents
Modular Recordings
7/17/2015
Summary
Written By
Review Date
Release
Rating