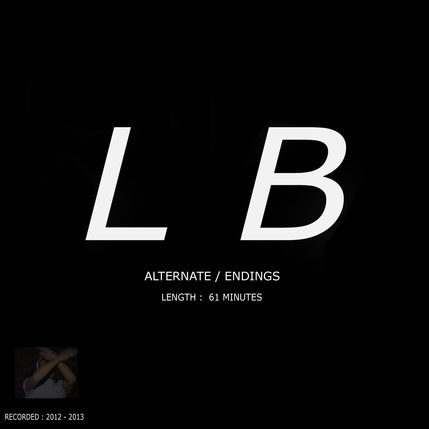 Album Review: Lee Bannon - Alternative/Endings
Artist Name:

Lee Bannon

Album Name:

Alternative/Endings

Release Type:

Album

Release Date:

Record Label:
Label Location:
Review Author:
Review Date:

EM Review Rating:
Lee Bannon is a new artist emerging in jungle music after previously having produced for hip hop artists, such as Joey Bada$$. After spending the last six months working on his LP Alternative/Endings, EARMILK finally has the chance to give our readers a first listen of the new album. While most musicians find inspiration for their work from other musicians, Lee Bannon is influenced in a different way. He finds his tracks often reflect his interest of film, taking ideas from directors like Paul Thomas Anderson and cult classics like There Will Be Blood and Requiem for a Dream. The gritty, violent, and menacing atmosphere from  There Will Be Blood reflects the drum'n'bass structure throughout the composition of the tracks. While Requiem for a Dream shows how Bannon can replicate a beautifully haunting melody.
A curious addition to the album is how many of the tracks have a split title, similar to the album title. Lee Bannon commented himself saying, "Originally, a lot of the songs on this album were two separate songs but as I went further into creating the album they began to consolidate themselves together and so did the titles." 
 "Resorectah" perfectly blends a dreamy melody with a drum'n'bass tone as it hops between two completely different speeds, repeatedly slowing down and picking up. This track finally finishes on a recording of someone speaking about the complexity of pi, which brings an interesting start to the LP. The initial aggressive pace of the first few songs comes on sporadically as it constantly changes tempo. 
Stream:
Lee Bannon
 - Resorectah
The next few tracks are almost pure jungle, "NW/WB" uses samples and a panicking beat to build the tension and intensity. The haunting melody is repeated as washed vocals fade in and out. Not for the faint heartened; this is a heavier side of jungle music. "Shoot Out The Stars And Win" has a similar high bpm structure but sounds more ambient with dreamy singing played quietly overtop. 
Stream:
Lee Bannon
 - NW/WB
Shoot-Out-The-Stars-And-Win--EM1213
Stream:
Lee Bannon
 - Shoot Out The Stars And Win
"Bent/Sequence" and "Phoebe Cates" use slowly mixed vocals with a break beat pattern. The high rush of a fast bpm with an eerie synth creates a dark soundscape. 
Stream:
Lee Bannon
 - Bent/Sequence
Stream:
Lee Bannon
 - Phoebe Cates
My personal favourite work features a powerful piano introduction yet completely shifts in structure. The piano for the start was recorded by Montreal based artist Black Atlass. "216.2" emerges into the typical frenzy of a fast bpm and a powerful underlying melody. 
Stream:
Lee Bannon
 - 216.2
Tracks like "Cold/Melt", "Pefect/Divsion", and "Value 10" are eerie, melodic and sound as if they've been stolen from a dream. Fragmented vocals are scattered throughout the soundscapes while the beat is layered over top to confuse your ears and mind. What really made these tracks so unique is the composition of the music; Bannon switches sounds often using soft whispers of noise to heavy bass thrown around to what sounds like a recording of someone placing a phone inside their pocket. Lee Bannon just released a short video for "Value 10", using double exposure and multilayered images, it gives the impression of a somewhat dream tracing a woman's body.
Stream:
Lee Bannon
 - Perfect/Dvision
Stream:
Lee Bannon
 - Value 10
Stream:
Lee Bannon
 - Cold/Melt
http://www.youtube.com/watch?v=mMGszKtSn5E
 The last few tracks on the album really calm their speed, "Readly/Available" extends over nine minutes and draws the album close to its end. The final three minutes of this track really stuck out to me as it's beautifully composed without almost any sound but just a light piano and stifling beat. With one last touch of jungle, "Eternal/Attack" and "Alternative/Endings" bring the LP to a soft finish as they both are a lighter side to a darker whole. 
Stream:
Lee Bannon
- Readly/Available
Stream:
Lee Bannon
- Eternal/Attack
Alternate_Endings--EM1213
Stream:
Lee Bannon
- Alternate/Endings
What makes this entire piece of work so spectacular is how there is some contingency strung between all the tracks. Although we find two completely different songs from "Resorectah" to "Readly/Avaliable", the path between seems steady. With albums becoming a rare commodity, constantly loosing market when against EP's of remixes and singles, the value of making a progressive list of songs is ever increasing. Lee Bannon manages to do just this with complexity and skill in his production.