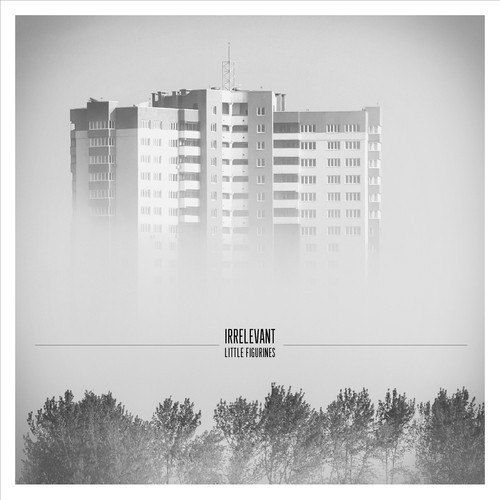 Album Review: Irrelevant - Little Figurines
Artist Name:

Irrelevant

Album Name:

Little Figurines

Release Type:

Album

Release Date:

Record Label:
Label Location:
Review Author:
Review Date:

EM Review Rating:
London-based bass label Kokeshi are presenting the new Irrelevant LP as a follow up to the Colchester born producer's debut LP, I'll Be Ok released in 2011. The twelve track chillstep journey entitled Little Figurines is a great example of how this producer's sound has been influenced by so many genres of electronic music emphasised by his DJ sets that span anywhere from house to drum'n'bass. This release sees a more controlled sound and a clear thought process involving cinematic ambiance and a scattering of dub elements which exemplify Irrelevant's deeper understanding of electronic production.
The first stand-out track on the album is "Heartbeats (Love's Gone)" which comes in after the opening two tracks serve as an introductory soundscape that guide you into the relaxing, yet complex ambience that Irrelevant is able to produce. The track opens with a distant and intriguing bed of pad sounds filling out a huge space in the back of the track; this paves the way for the introduction of the sporadic and scarcely placed percussion. As it moves forward a collage of finely chopped vocal samples start to appear exponentially with syncopated kick drums and euphoric delays.
Heartbeats-(Loves-Gone)--EM1213
Stream
:
Irrelevant - Heartbeats (Love's Gone)
After another short interlude the energy starts to pick up a bit with the next track entitled "Hollow Shadows". Gated pads instantly stamp a huge amount of groove on this track introducing the base ideas of the piece before offering a small breather which warns of the electronic onslaught you are about to experience The real icing on the cake is the tiny glitches in this track, high pitched squeals  and almost hyper sonic tweets paint the perfect picture of harmony between man and machine.
Stream
:
Irrelevant - Hollow Shadows
Coming in at track seven is the title track "Little Figurines" offering a wink and a nod to a classic garage sound with an acoustic drum pattern built with small clicks, rim shots and pops.  Again, Irrelevant brings in some beautiful vocal samples fluctuating between octaves to create an choir like effect. The huge breaks in this track are perfectly timed giving you just the right ratio between huge soundscapes and jumpy rhythmic patterns. Towards the end of the track we hear the most obvious example of the producer's cinematic inspiration with a single violin that rests on top of the track and brings it to a close.
Stream
:
Irrelevant - Little Figurines
Going straight from the title track into "No One Else" is extremely satisfying and showcases the great deal of thought that has gone into the track order of the LP. A similarly up tempo track that has a deeper drum sound with an equally vivacious rhythm using charming percussive samples. By this point in the LP it is clear that Irrelevant is a fan of vocal samples with huge reverbs on them, not to say that it gets boring, somehow the producer manages to select and spread the samples out in such a way that they almost act as a guide or a narrator through the journey.
Stream
:
Irrelevant - No One Else
As we reach the end of the album we are greeted with "Have You Noticed (Feat. Atsubox)" which starts to wind down the whole LP right from the beginning of the track. The distant industrial percussion pulls the track forward in a machine like mechanical fashion whilst we are rewarded with longer vocal samples. Although this track may seem like it lacks some of the impressive factors that were present throughout the LP it really acts as an epilogue showcasing the relationship between human and electronic elements which is a strong theme throughout the whole album.
Have-You-Noticed-(Feat.Astubox)--EM1213
Stream
:
Irrelevant - Have You Noticed (Feat.Astubox)
Little Figurines is an excellent body of work that shows a much deeper understanding of musical qualities since the release of the producer's debut. It is an album that begs to be listened to from start to finish and not something that serves as a catalyst for showcasing singles. The more attention you are willing to give it, the more rewarding it is. It is by no means an album that works hard for your attention, but almost actively excludes those that are not willing to immerse themselves in it. In the last track, a beautifully simple soundscape, this concept is solidified with the spoken word sample of "it's not about who you did it for, it's about doing it".